Yakiniku Like Review: Popular Japanese Yakiniku Restaurant For Solo Diners Opens In Singapore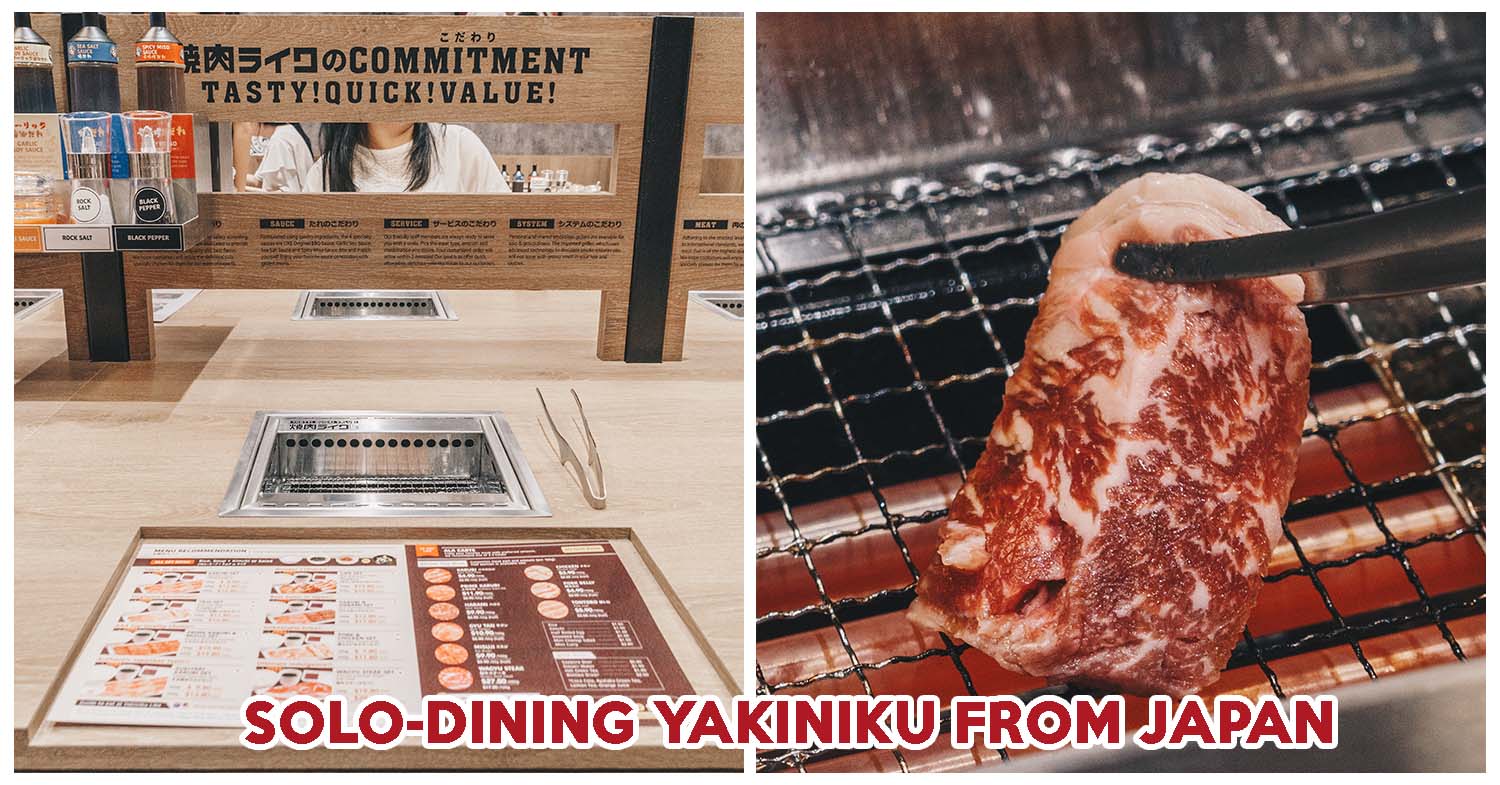 Get your meat fast at Yakiniku Like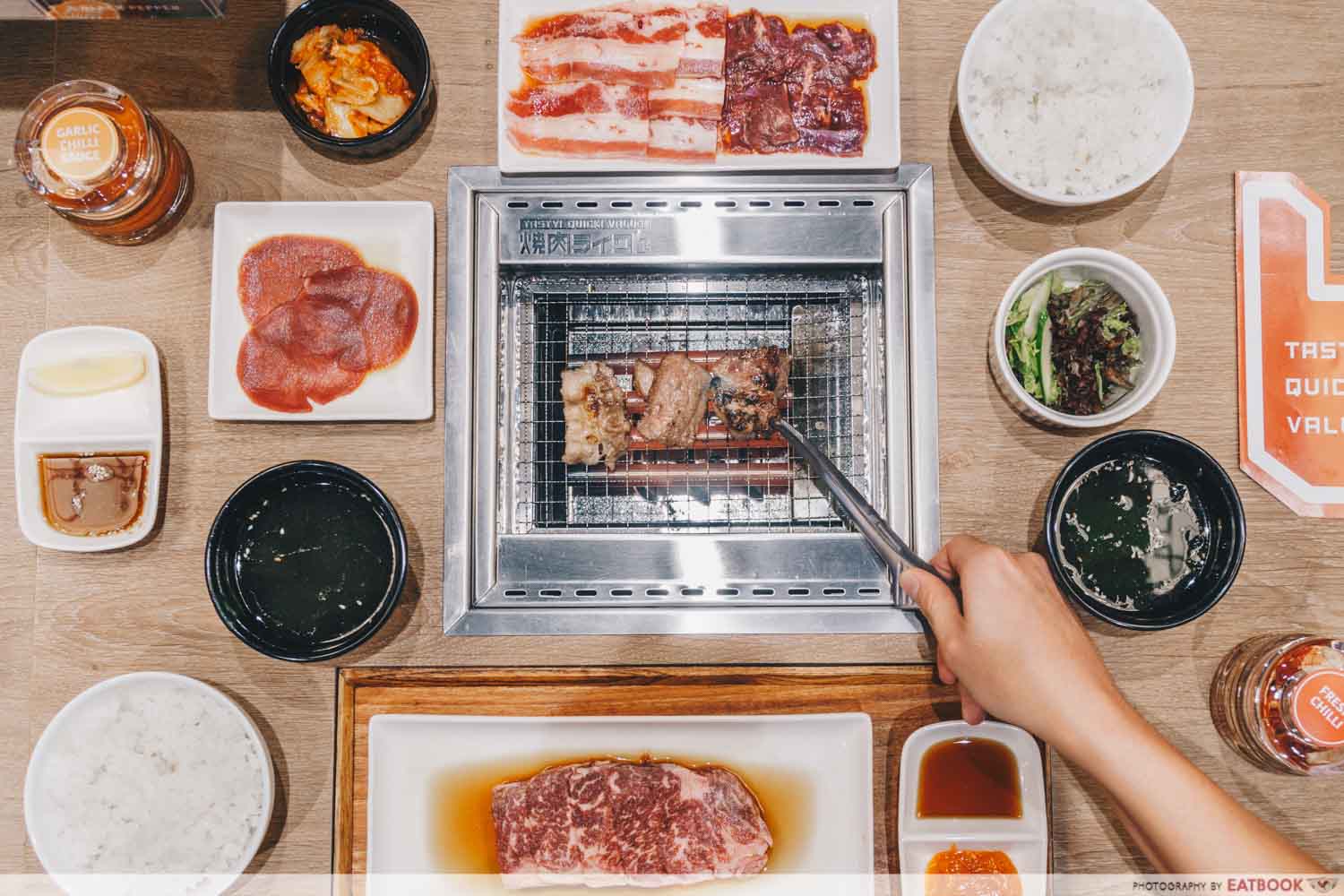 Ive always found yakiniku to be a little intimidating. While nothing can quite beat watching juicy cuts of meat sizzle over a hot grill, the high prices and the need to come in large groups tend to be daunting. Freshly brought in from Japan, Yakiniku Like recognises all these problems and offers a quick and affordable barbecue experience for solo diners and small groups.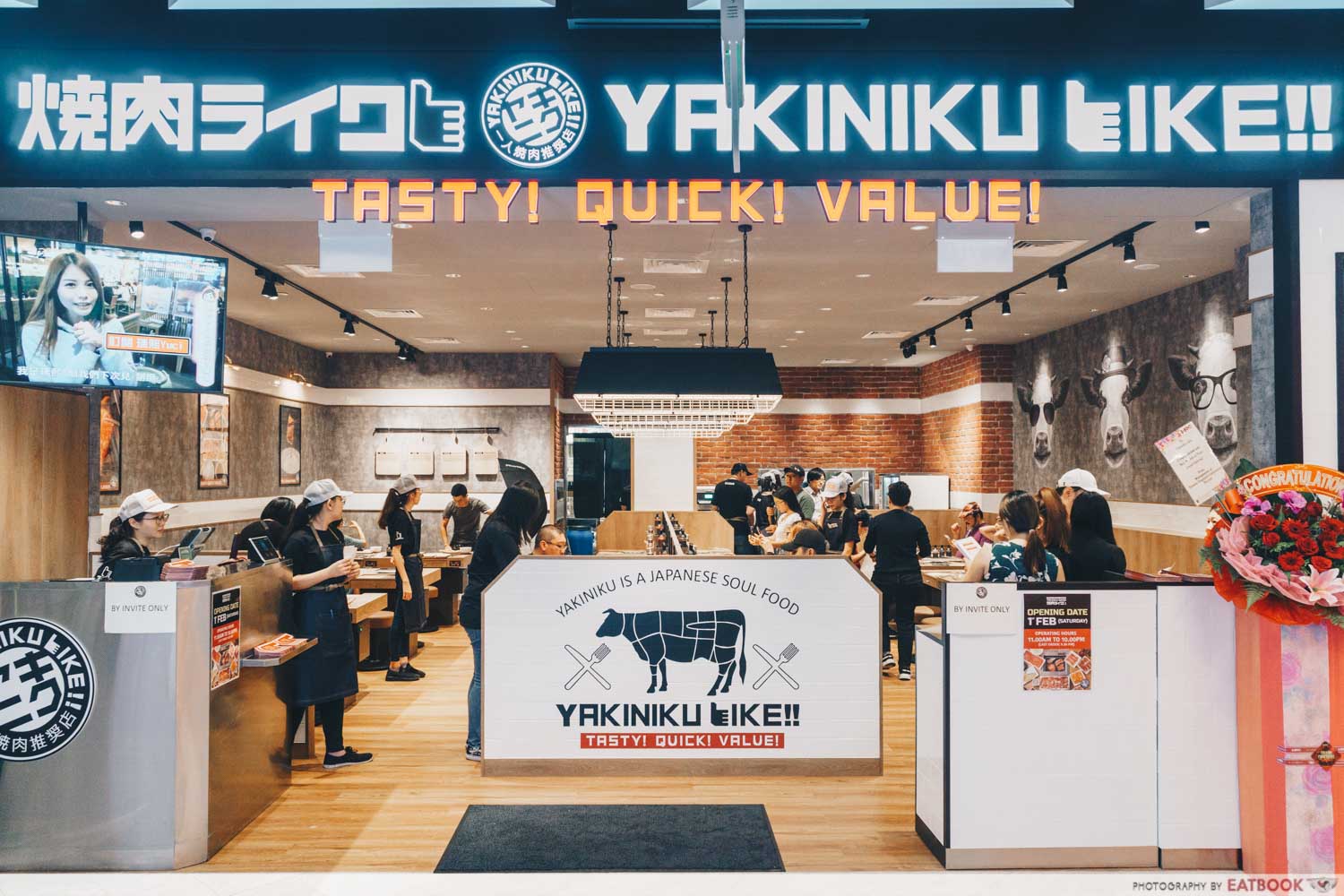 Despite starting up in Japan two years ago, the popular yakiniku chain now has 30 branches across Asia, and is arriving in Singapore on 3 February 2020, with its first outlet at Paya Lebar Quarters.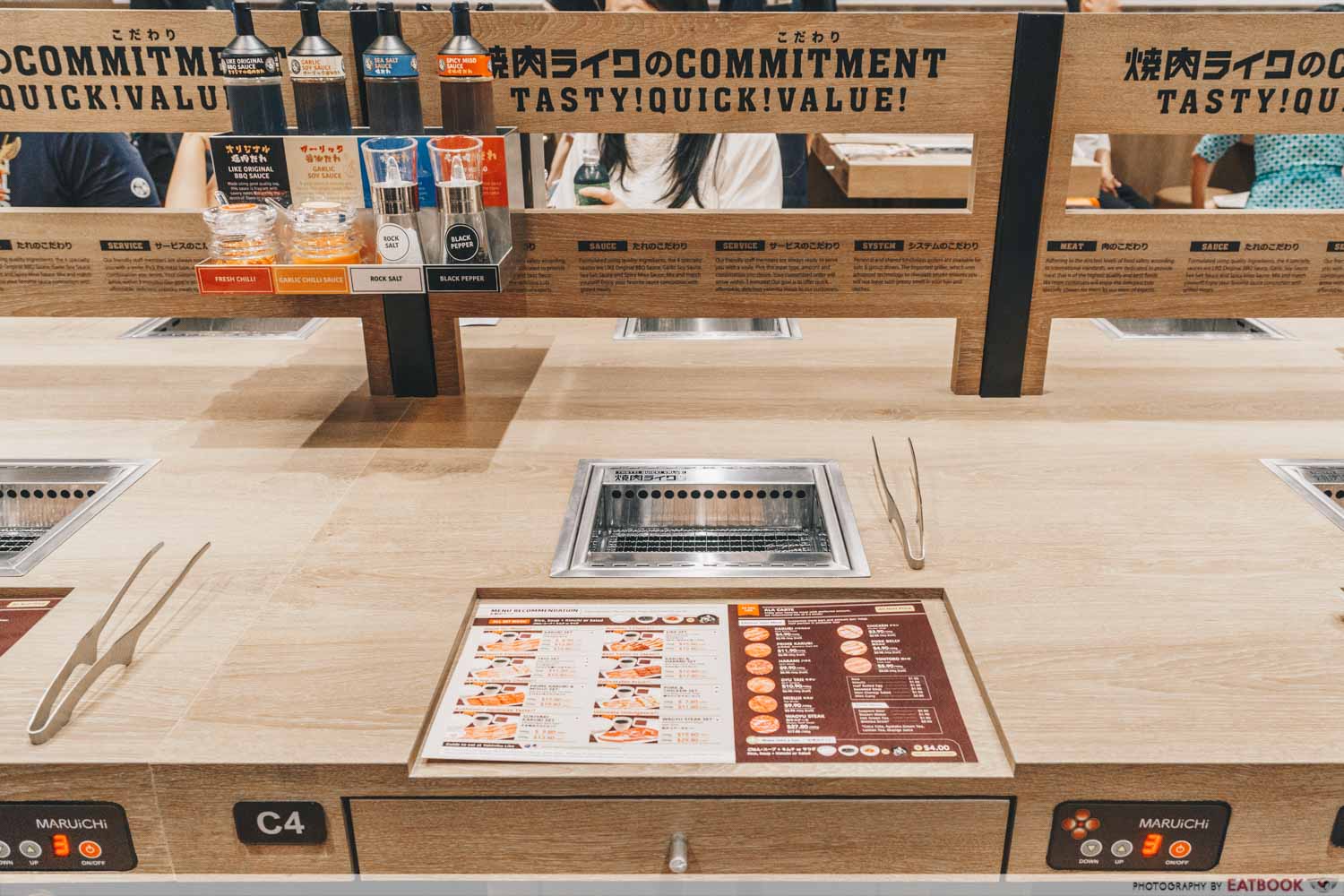 What makes Yakinikul Like special from others is its state-of-the-art electric smokeless grill. Theyre imported from Taiwan and are specially customised for the Singapore outlet. This cute-looking grill is designed pretty well, and sticks through to its promise of not drenching my t-shirt with the wondrous smell of barbecued meat.
There are 16 solo grills available, and theyre also nicely spaced apart so that each diner gets personal space.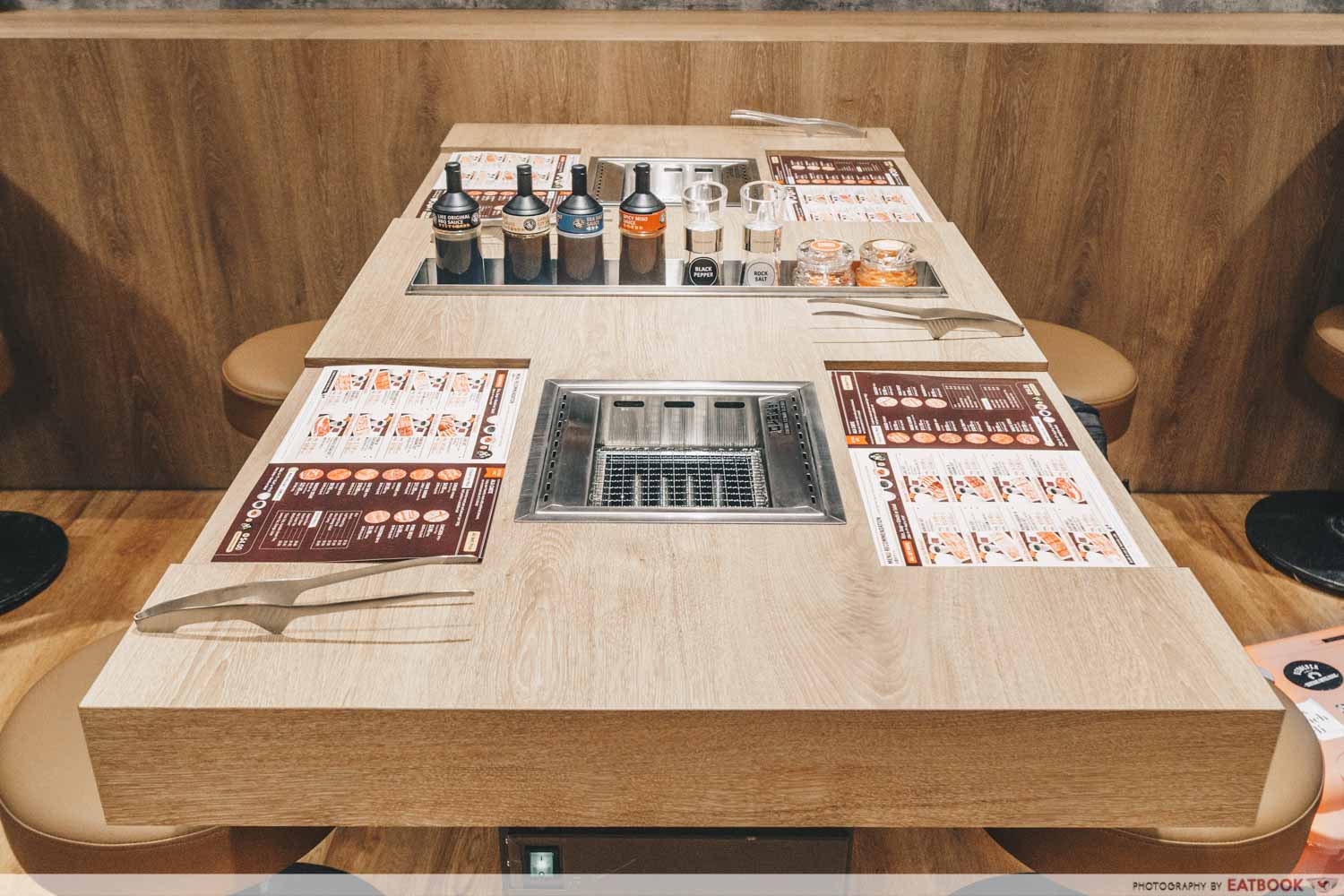 A large grill is also available for couples. I would recommend couples to get this instead as the solo grills are spaced quite far away from each other. Theyll have to lean slightly off their seats to speak to each other.
Food at Yakiniku Like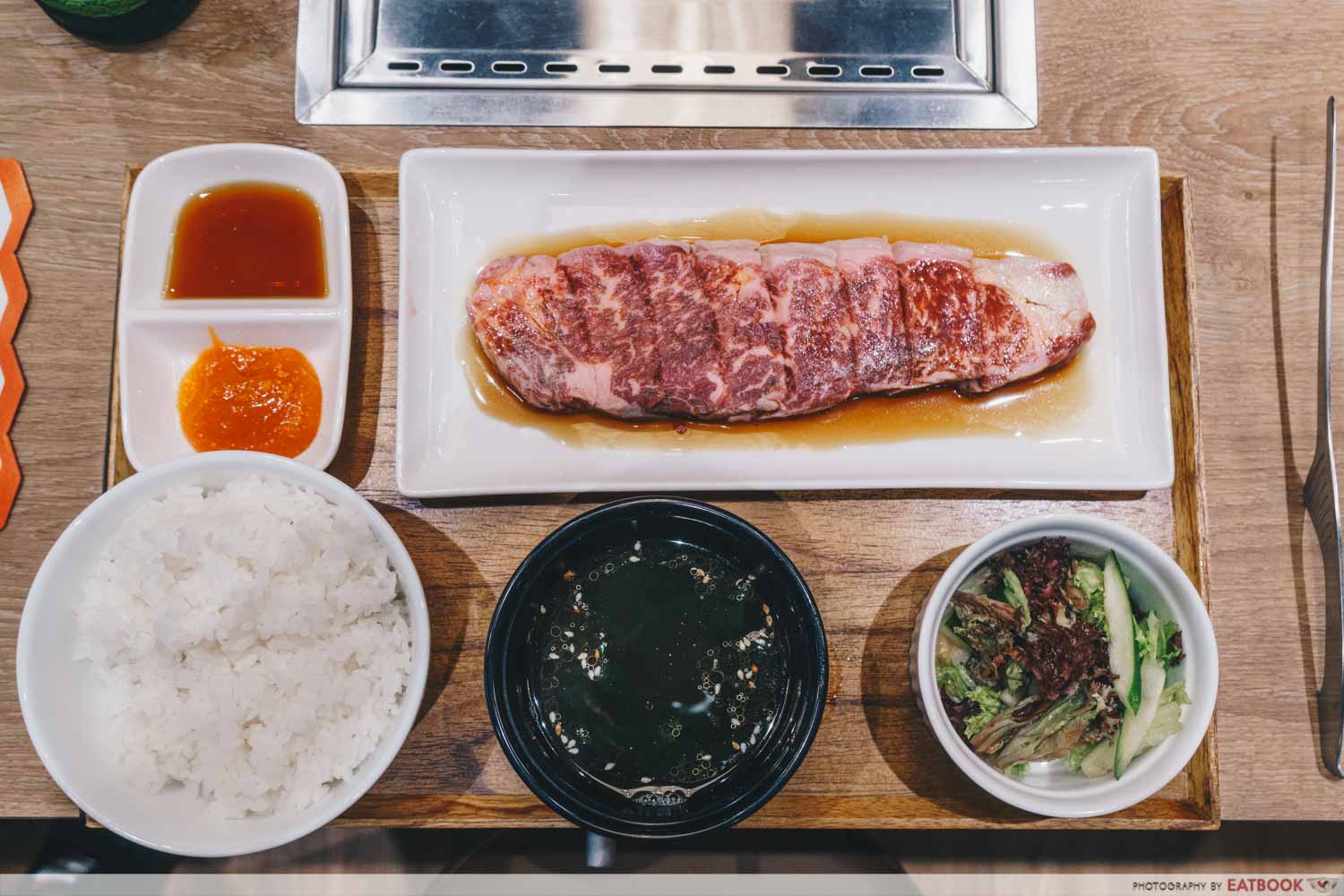 Prices start from $8.80 for a set meal that comes with meat, rice, soup, and a choice of kimchi or salad. Despite having the food brought to our table by servers, prices here are nett.
The set menus are priced according to the portions of meat, and there are a few meat sizes to choose from. The restaurant recommends 150-200g of meat for males and 100g for small eaters.
The most expensive item on the menu is the Wagyu Steak Set 200g ($29.80). This slab of Australian Wagyu sirloin steak comes with a marbling score of seven to eight, which is equivalent to Wagyu grade A4.
The meat is served in a pool of the house special soy sauce marinade, which was a little surprising. Most yakiniku joints prefer not to marinate their beef, to bring out the beefs natural flavours.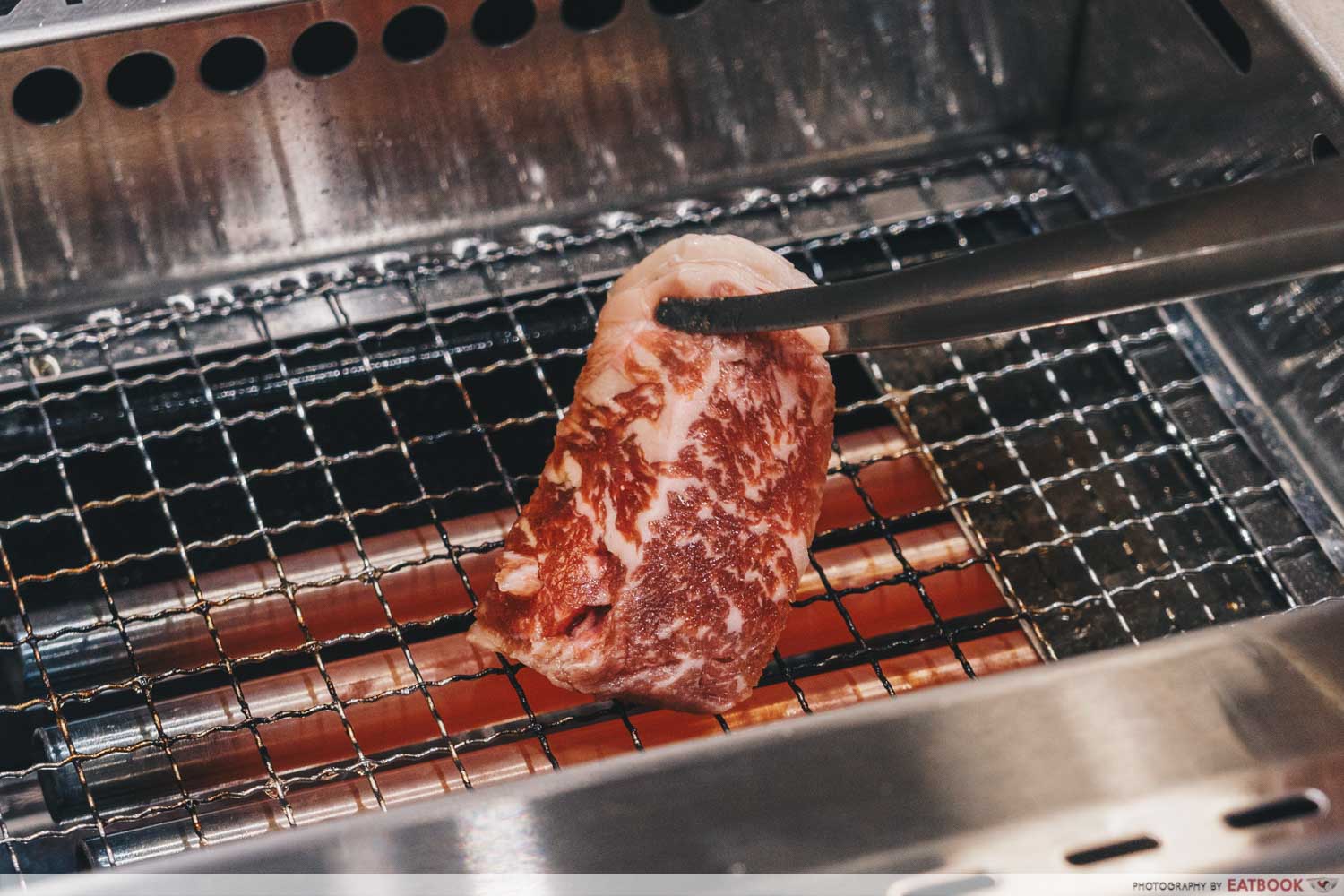 Still, I have to admit that the meat looks pretty impressive, and it comes with generous streaks of fats that made our tummies rumble even before we cooked the beef.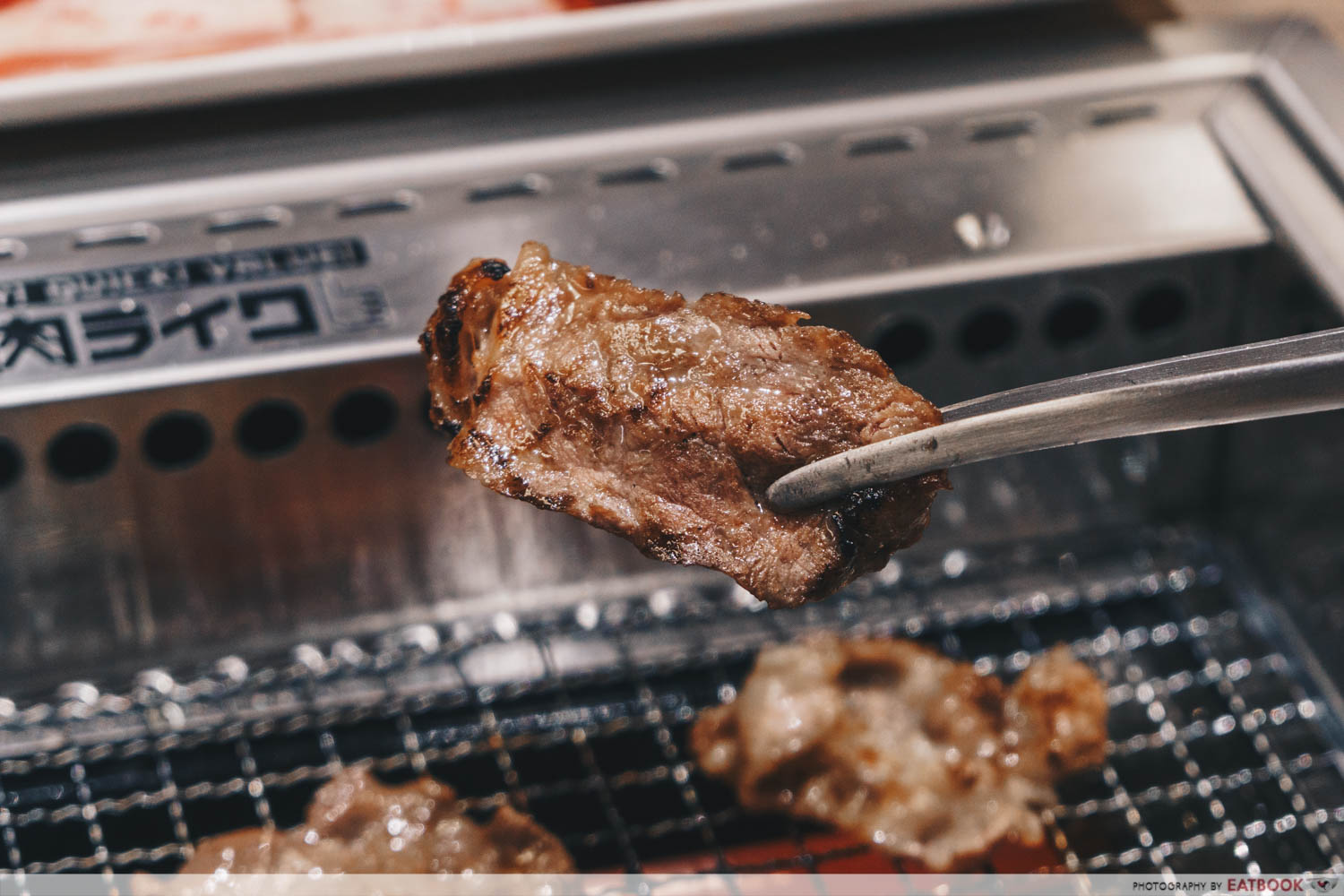 The meat was decent, but did not have the coveted melt-in-the-mouth texture that was expected of A4 Wagyu. While it remained juicy and succulent, it didnt knock our socks off.
I also found the marinade to be a little too overpowering. It gave a tinge of sweetness that drew too much attention away from the rich beefy flavours.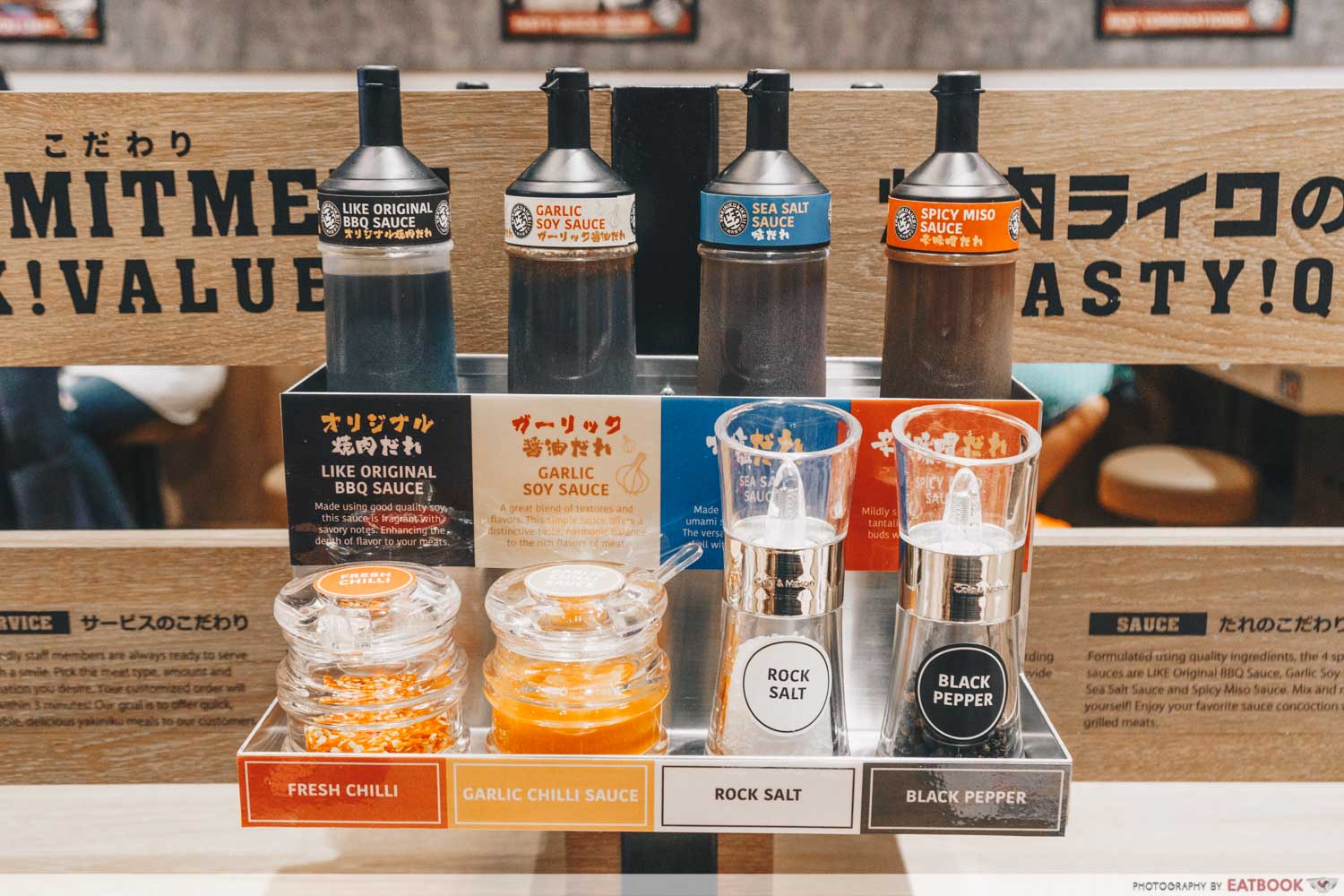 Staying true to a legit yakiniku experience, there are plenty of dipping sauces and condiments to choose from. For Singaporeans that like their food spicy, the restaurant also stocks up on garlic chilli and chilli padi.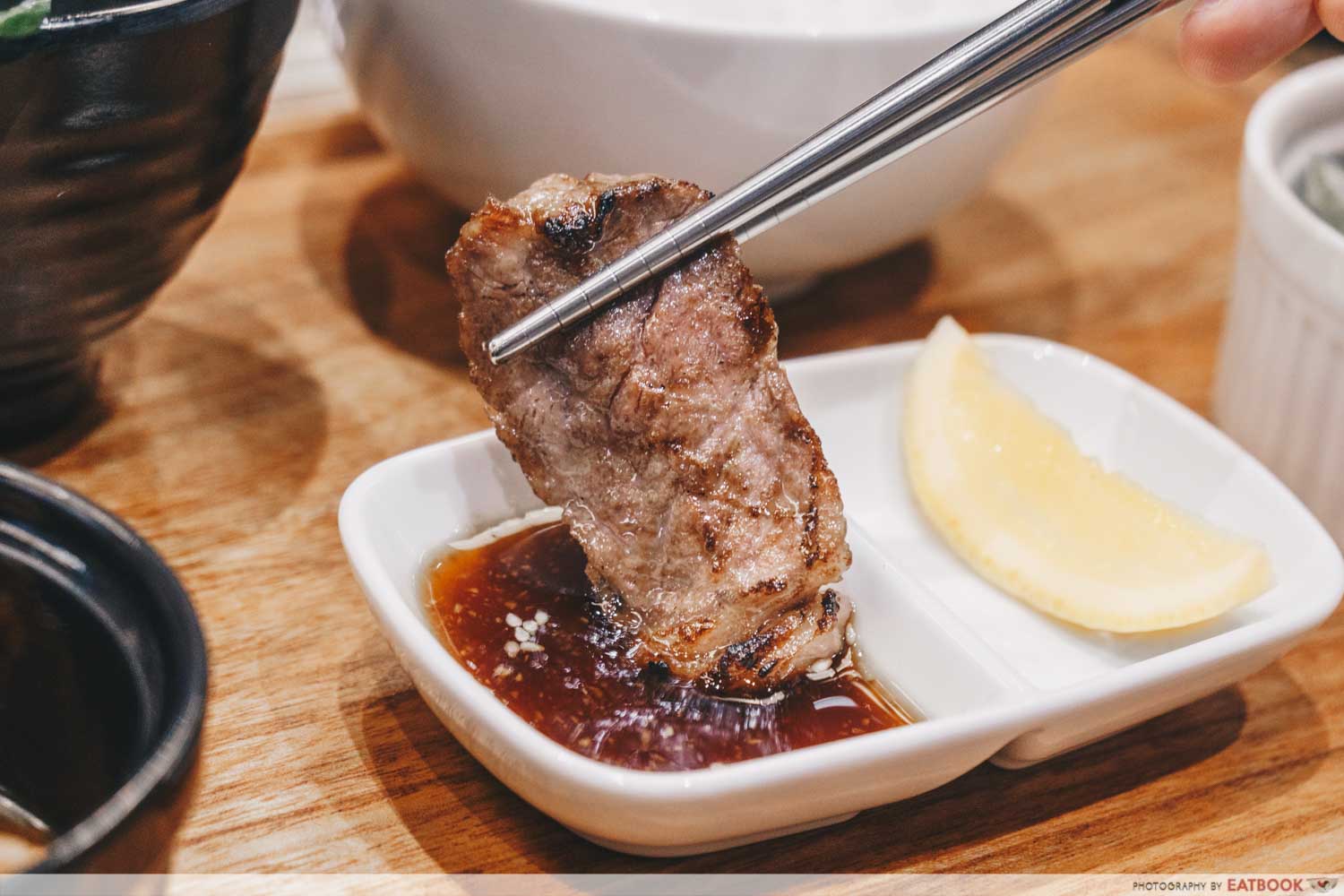 Its easy to get spoilt for choice, but I thought that the garlic soy sauce was great in giving a sharp kick of flavour to the meat.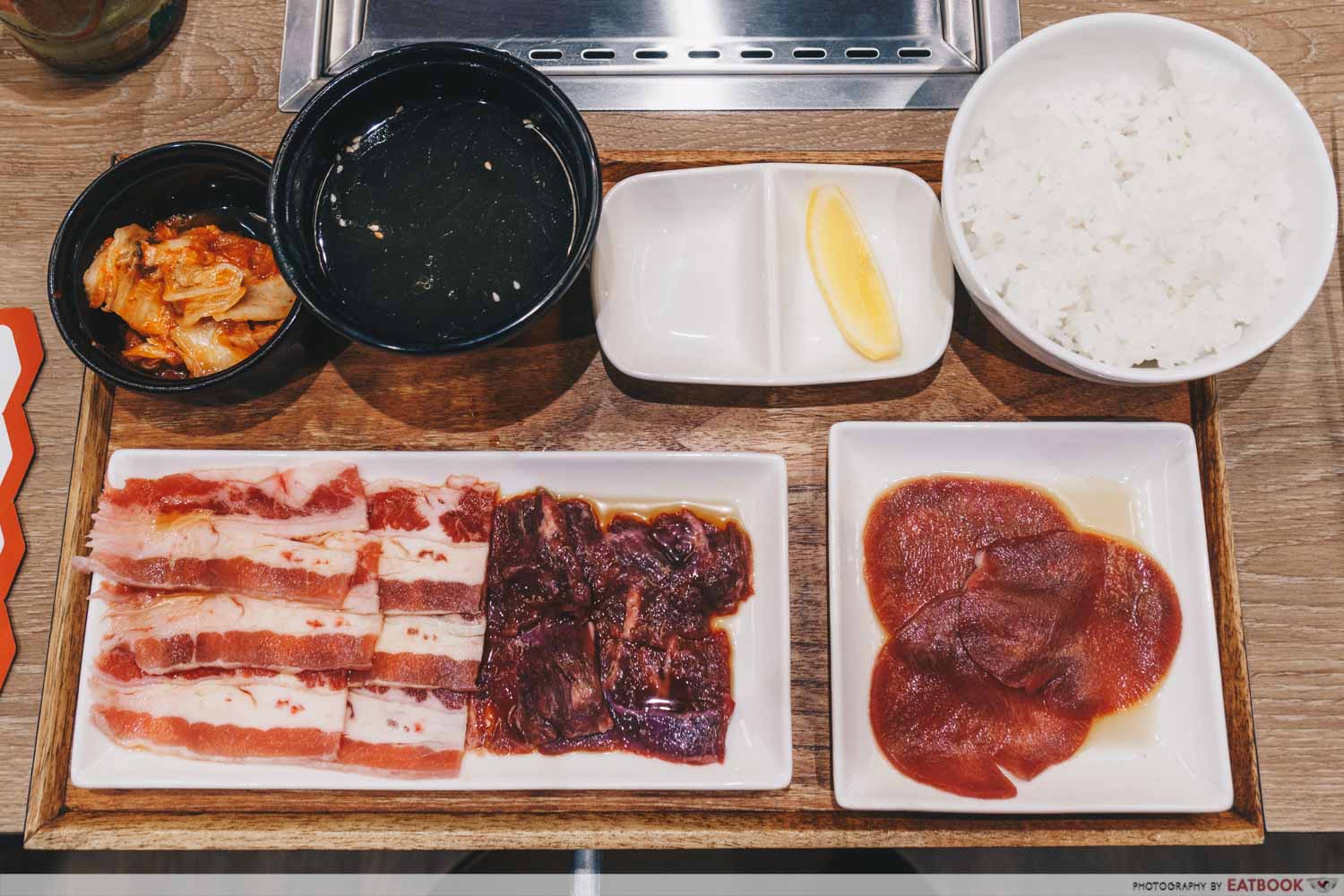 We also got a chance to try the Like Set 250g ($19.80), which features beef tongue, skirt steak, and beef short plate. Its quite a good variety of meat for the price we were paying, and each cut of meat gave a good variance in texture and flavour.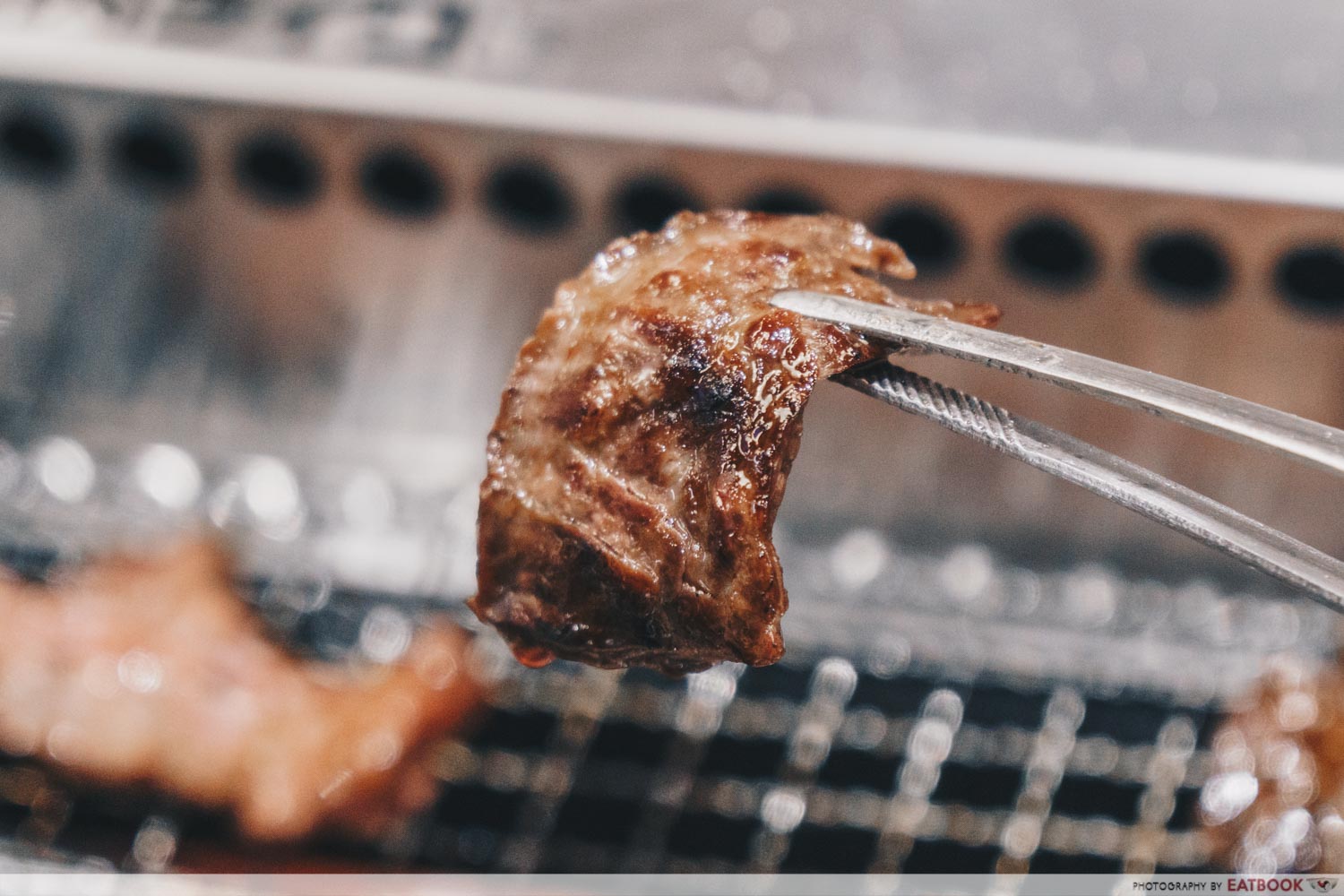 The beef was also sliced pretty thinly, and they seem to be a little thinner than the standard yakiniku cuts. This gave a less desirable texture, and it would have been juicier if theyd been sliced thicker.
My favourite out of this lot has to be the beef short plate. This popular yakiniku cut has a good amount of fat, which gives a velvety mouthfeel thats accompanied by beefy flavours.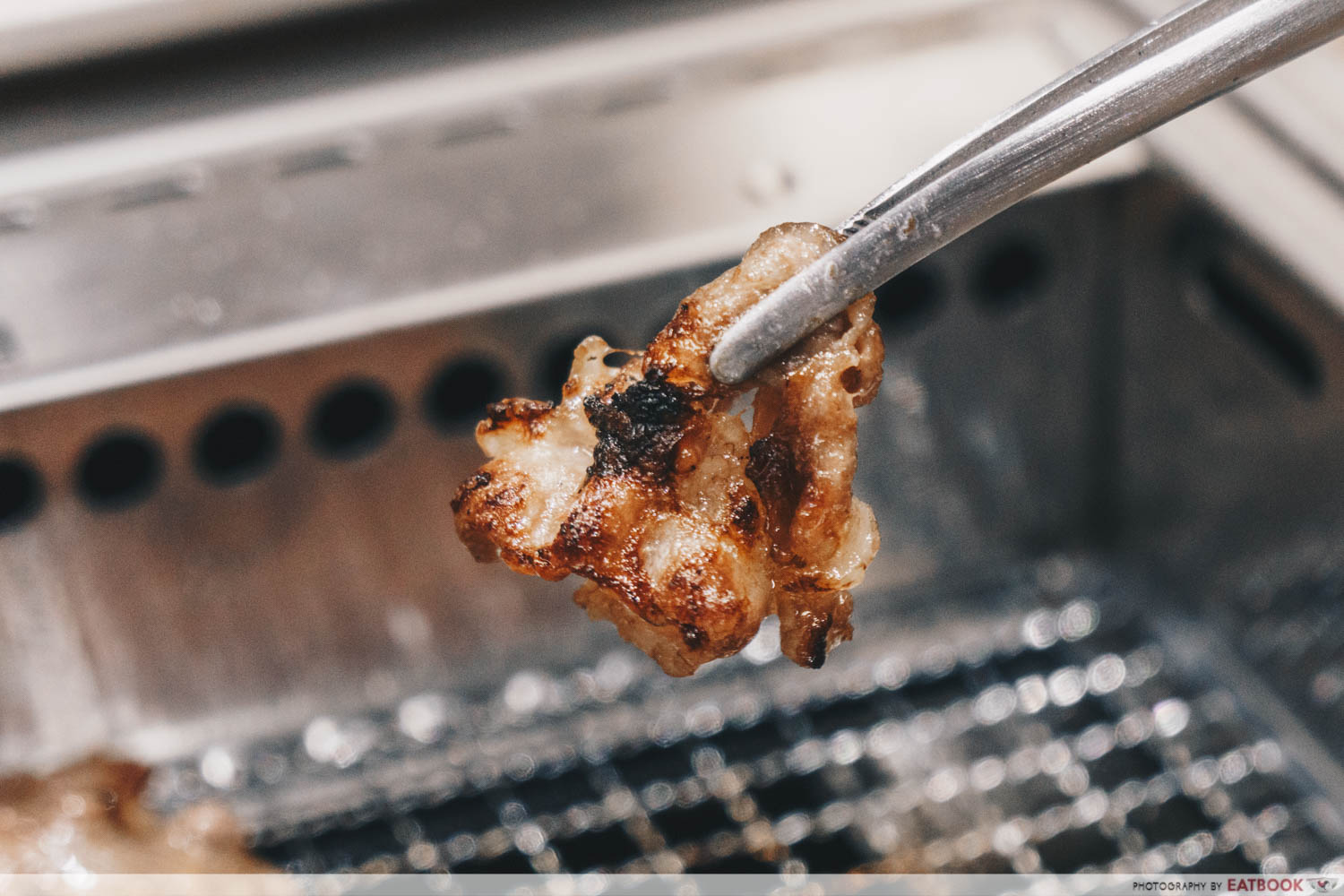 The chewy tongue was also tasty, and it came with a decent bit of gaminess that wasnt too off-putting.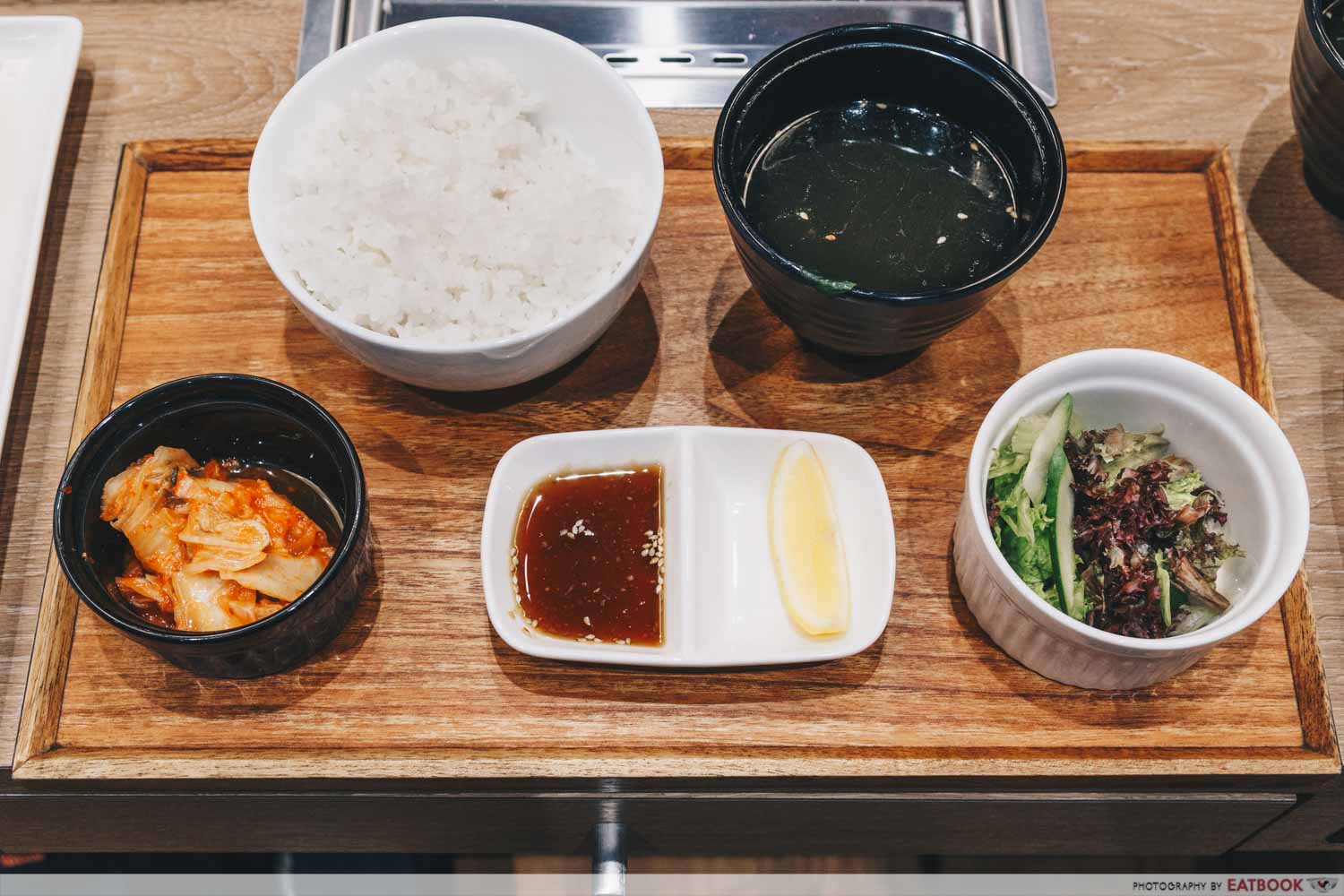 The sides comprise a choice of kimchi or side salad, soup, and rice. They give a good respite from the hearty meat, and made it quite a balanced meal.
A la carte options are also available, and thats where we got the chance to try some items that are not available on the set menu.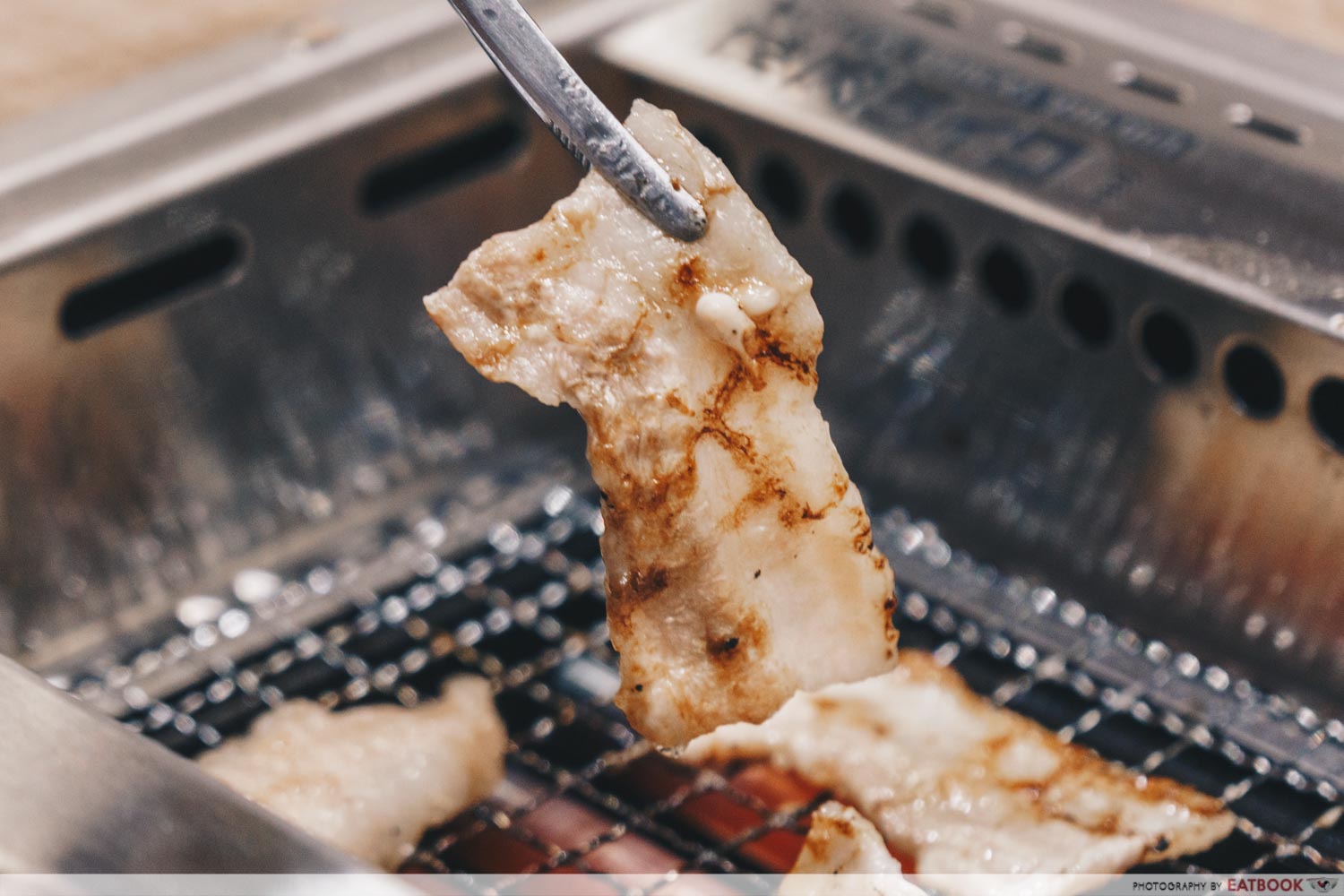 The Tontoro 100g ($5.90), fatty pork, won us over with thick and meaty slices of succulent pork. Searing all the fats under the hot grill sealed up all of its juicy goodness, and my dining companion and I both unanimously agreed that this was the best meat in the house.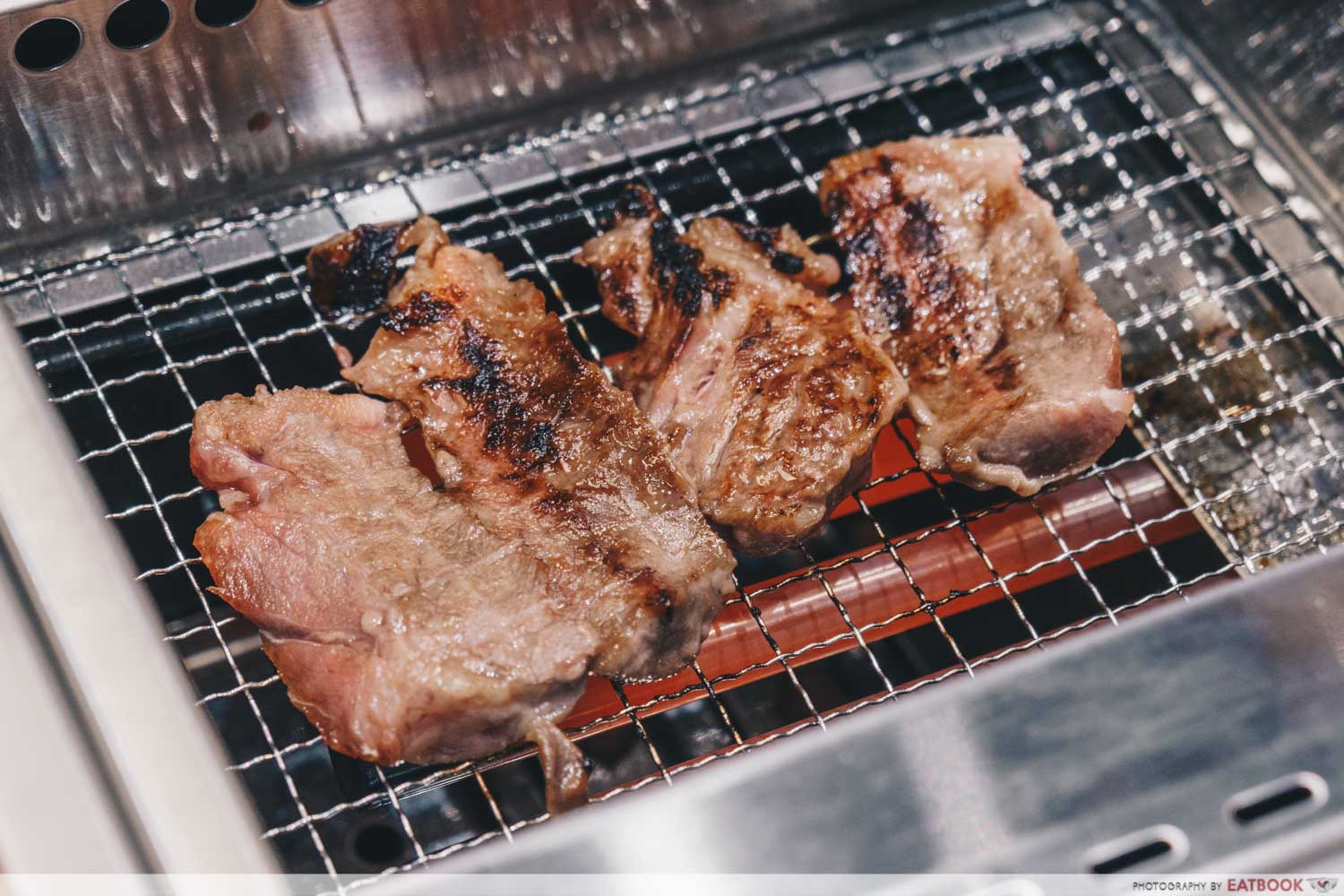 Grilling the meat in the fancy grill was quite an experience. I was impressed with its heating capabilities, despite its compact size. However, one thing to note before grilling your meat is to understand how there might be cold-zones in the grill. As a result, some parts of the grill will cook meat faster than the others. Its not a big deal, but it made us spend more time cooking the meat.
Ambience at Yakiniku Like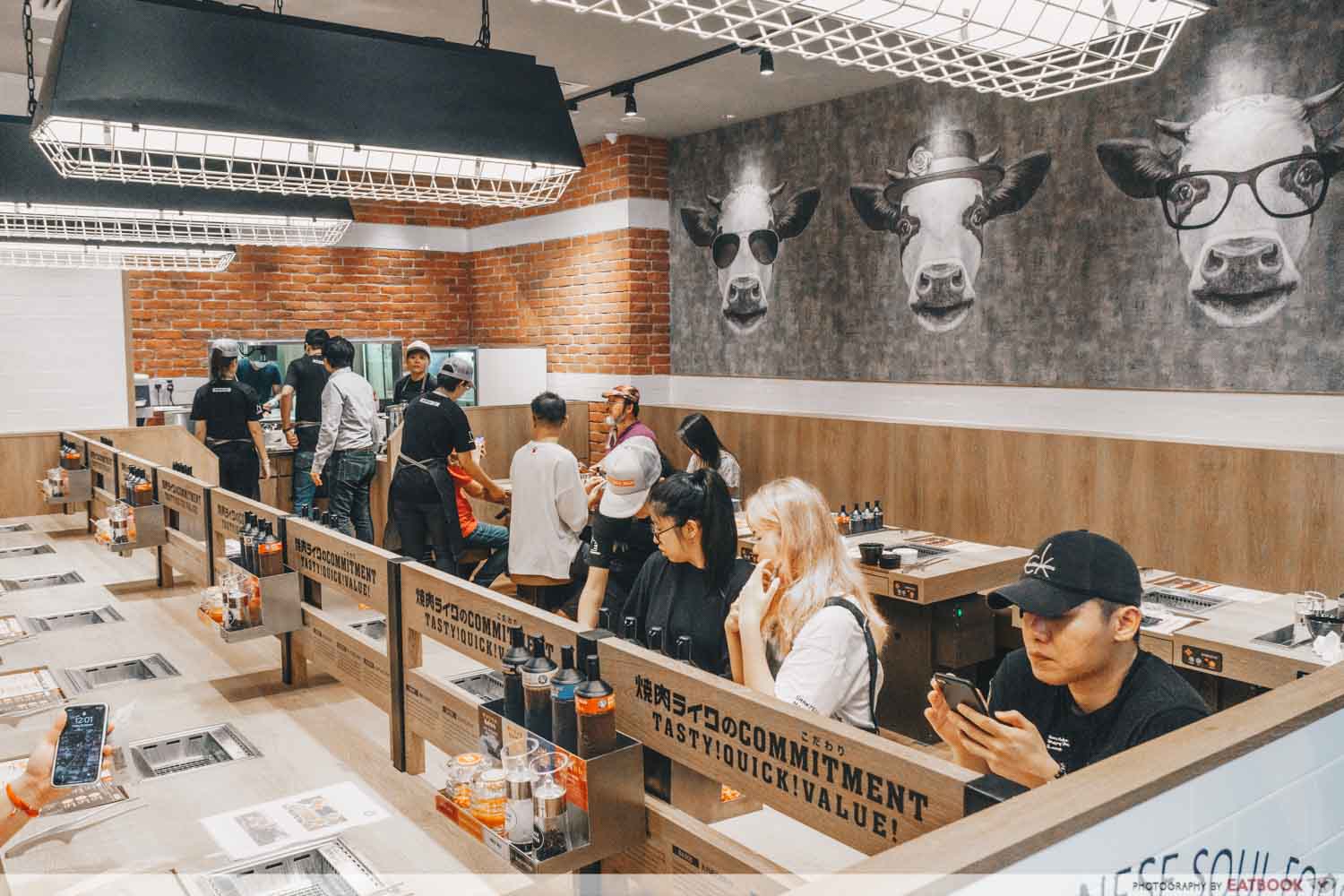 There are only 42 seats in this cosy little restaurant. The service crew were attentive and friendly, quick in helping out with any problems faced.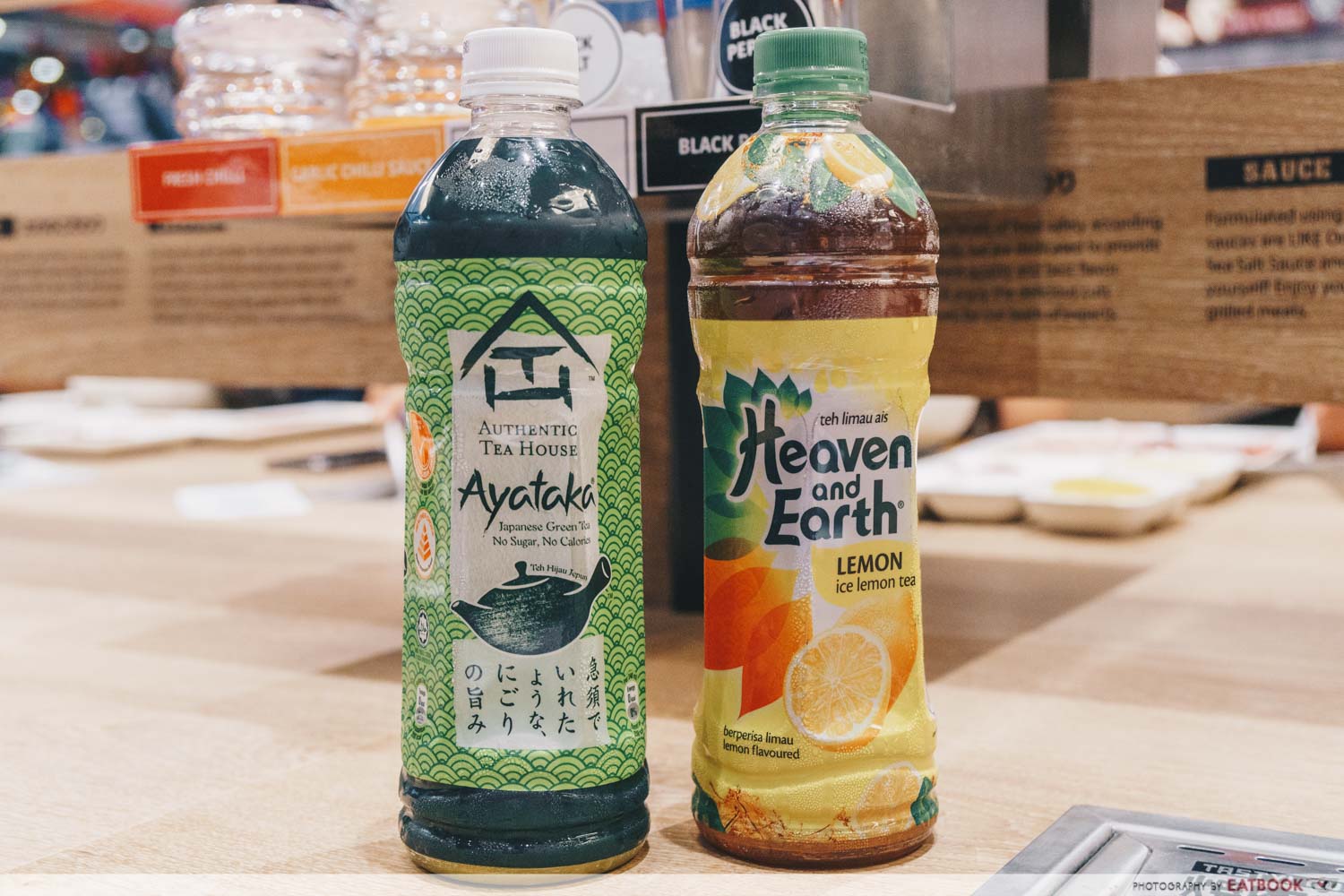 Drinks were served in plastic bottles and were similar to restaurant prices. While they were chilled, it would have been a good touch to have them served with a cup of ice.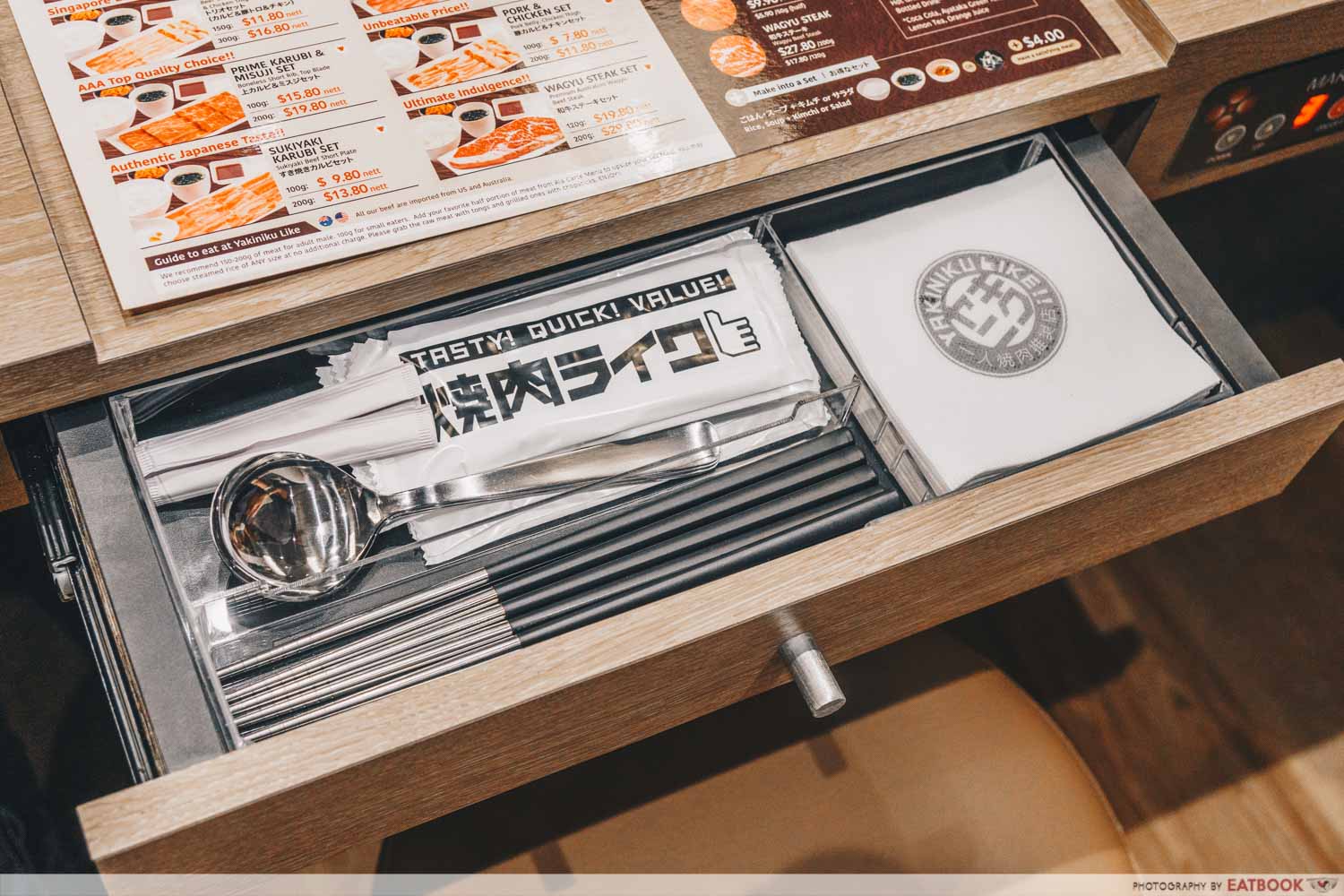 True to its Japanese origin, everything seems to be well-planned and designed to fit a certain purpose. I was busy looking for cutleries, and the friendly service crew were quick to direct me to a drawer underneath the grill that was stocked full of chopsticks, wet wipes, and napkins.
Ordering the food is quite a high-tech experience, and we were given a QR code upon being seated. All we had to do was to scan the QR code on our phones and place the order through a web browser. This saves time in flagging down a waiter and is quite a neat touch.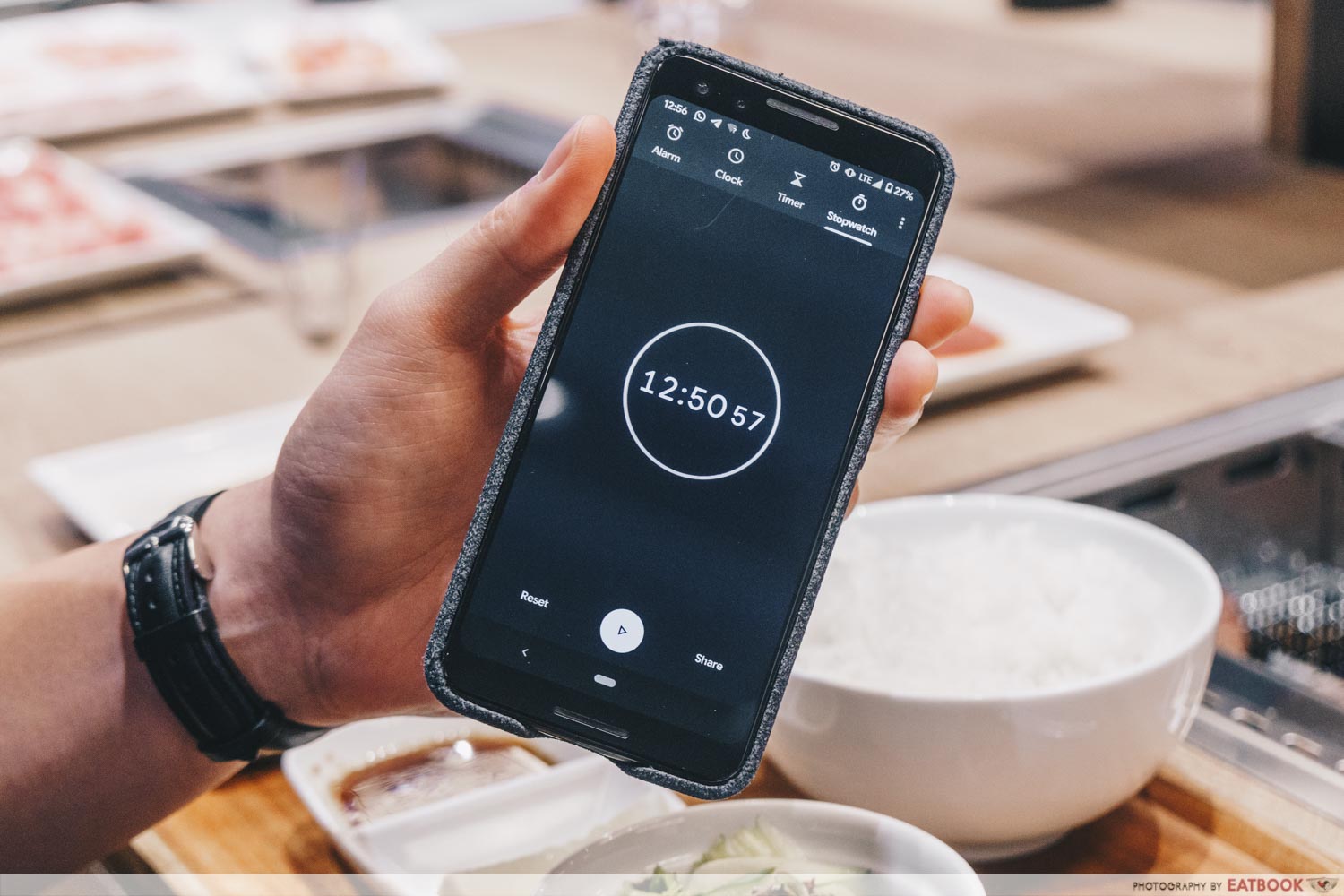 Another thing that makes Yakiniku Like special is how they aim to serve each order within three minutes. I was a little sceptical about this. Three minutes is quite a tall order, and this has to take into account the hectic rush hour as well.
In the end, we waited for more than 12 minutes. I tried again with another round of order an hour later and had to wait for six minutes. Understandably the restaurant is still not fully operational and the staff will need some time to get used to the operational process. Itll be interesting to see how theyll be able to deliver on the promise when it opens next week.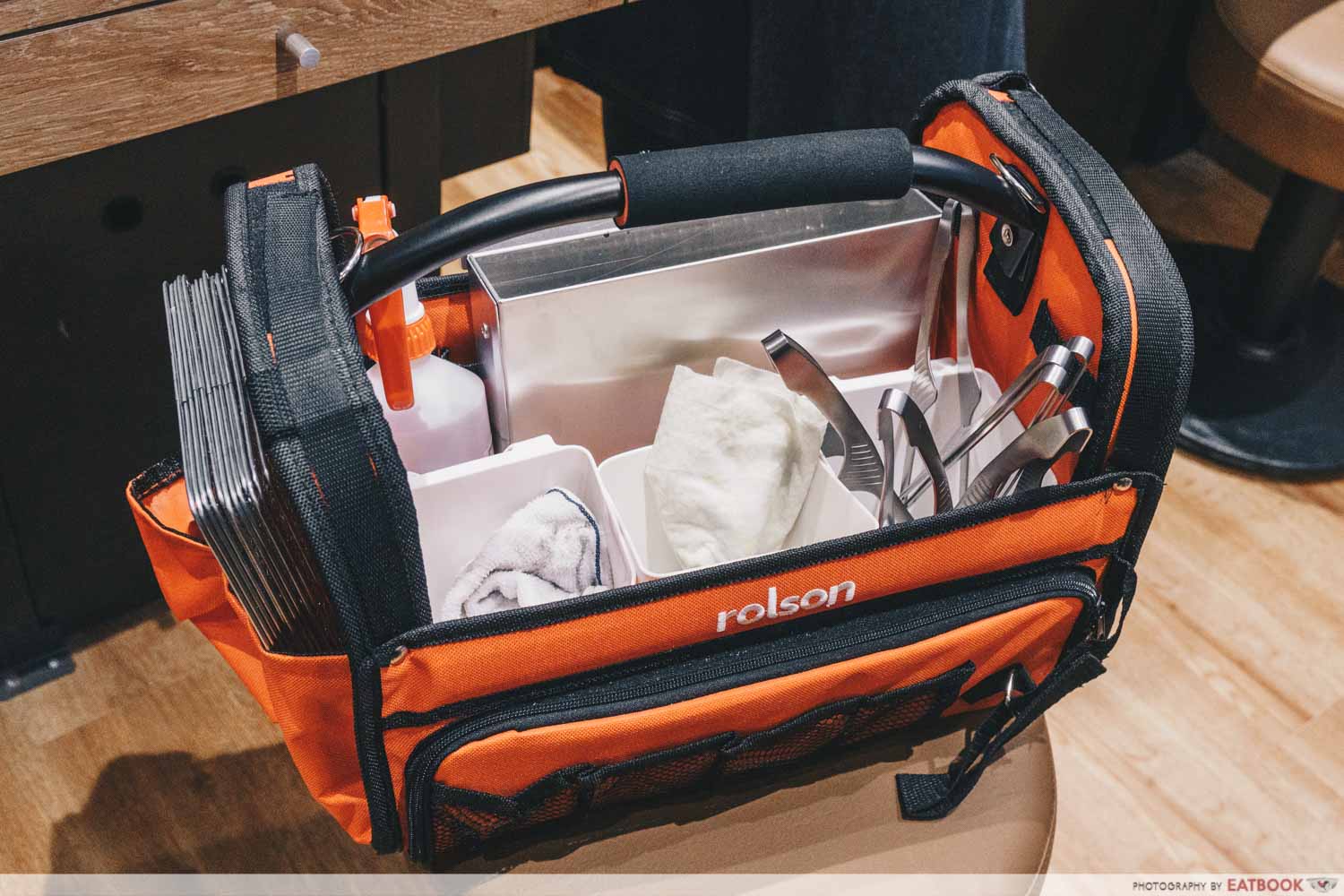 I was also quite fascinated with the way each grill got cleaned after a customer leaves. The staff are given a stylish cleaning kit that stocks up on all the essentials. Cleaning was efficient and tidy, with the table being spotless, and most importantly free of oil and grime.
The verdict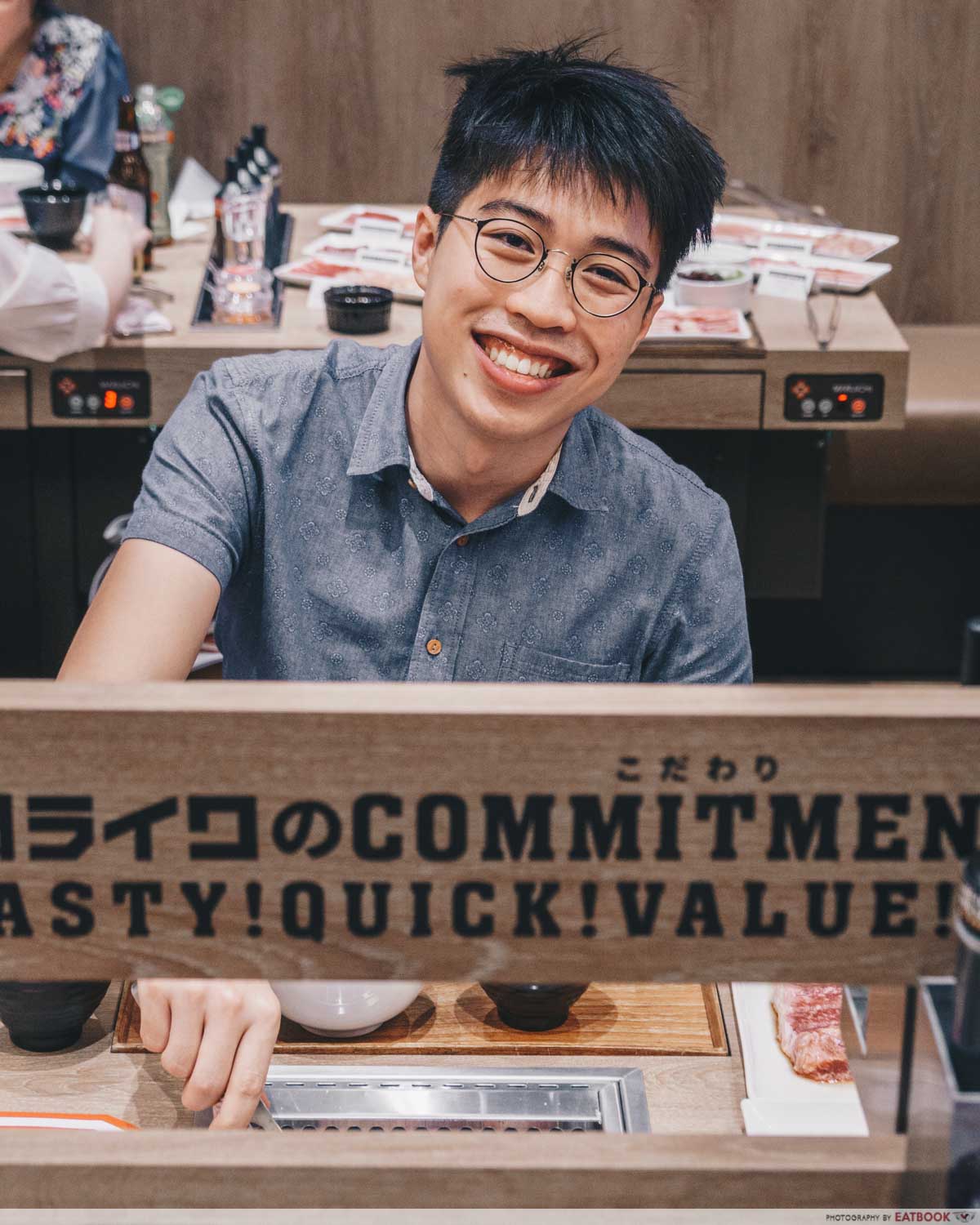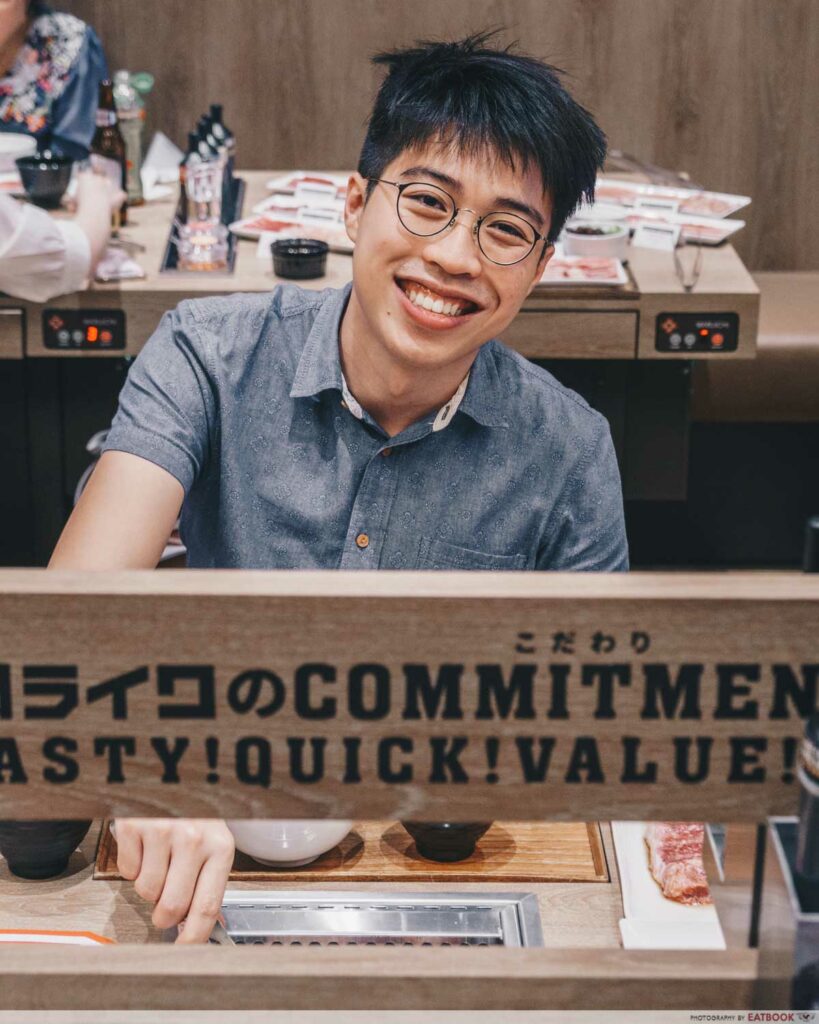 Yakiniku Like offers a fuss-free barbecue experience that is great for all occasions. While its by no means a substitute to a yakiniku restaurant, it stands out with its novel concept and affordable meat. I would expect this restaurant to be quite popular in the upcoming weeks.
The restaurant is also offering an opening day promotion on 3 February 2020, where diners can get the Karubi Set at a discounted price of $2.90++. The original price is going at $12.80++. This set will be available from 5pm onwards, and is valid for the first 290 customers only.
If youre daunted by the long queues here, be sure to check out Kanda-ya at Paya Lebar Quarter Mall. This popular Japanese ramen restaurant originated from Fukuoka and serves up rich and delicious Hakata-style ramen. Alternatively, if youre looking for a place to chill out, head down to kmma Social Cafe!
Address: 10 Paya Lebar Road, #B1-28, Paya Lebar Quarter Mall, Singapore 409057
Opening hours: Daily 11am to 10pm
Website
Yakiniku Like is not a halal-certified eatery
Photos taken by Huang Xiao.
This was a media tasting at Yakiniku Like.
The post Yakiniku Like Review: Popular Japanese Yakiniku Restaurant For Solo Diners Opens In Singapore appeared first on EatBook.sg - New Singapore Restaurant and Street Food Ideas & Recommendations.