Extreme How To - DIY Home Improvement
By Matt Weber
Equipment Storage for a Basement Workshop
I shudder to think how many hours of my life Ive spent searching for lost tools or equipment. When you tackle a lot of home projects, tools and supplies get moved around and often misplaced or hidden by associated clutter. The result of all the searching due to disorganization can be a big, aggravating waste of time.
Having moved to a new home last year, I no longer have a detached garage as my workshop. Frankly, this breaks my heart, but such is life. Now Im converting a basement garage into my project headquarters and reorganizing all my gear.
The three driving factors for setting up a home workshop are Organization, Storage and Visibility.
Where to Put What
Organizing your tools in a logical manner makes it easy to know where to go to get what you need. Over the years Ive developed a method for grouping tools by size, shape and application.
Organizing by size is often self-explanatory, because large items such as large table saws, miter saws, pressure washers and air compressors are heavy enough to require floor space. Aside from locating them in the most lightly trafficked area of the workshop, these things are generally stored wherever space is available and often become the obstacles around which to arrange the rest of the shop. The more large items you can store elsewheresuch as an outdoor shedthe more layout options and elbow room youll have for everything else.
At the opposite end of the spectrum are very small items, which can be stored in cabinets and drawers. These easily stored items, however, can be difficult to find if theyre stacked and concealed. To make things easy to find, I have a tool cabinet where I keep one drawer dedicated only to drill and driver bits. A second drawer holds blades for jigsaws, recip saws and other cutting tools. All the drawers are organized this waysorting by both size and utility.
I have too many sockets and wrenches to occupy a single drawer, so I have an entire toolbox dedicated to storing box-end wrenches, socket wrenches of varying sizes, a wide range of sockets and their corresponding extensions and fittings. Ive found that keeping a toolbox full of these mechanical tools makes the entire kit easy to grab and go, when its time for to work on an automobile or assemble furniture.
For the home handyman, the bulk of the small items will over time consist of accumulated fasteners in all shapes and sizes. From nuts and bolts to nails and screws, I have too many boxes and too little space not to stack the containers. This can make finding the right box difficult, so I mitigate this by storing a sampling of the most commonly used fasteners in small labeled containers mounted to a wall.
After sorting the large items and small items, I store everything else either by shape or application. A rake and a shovel serve wholly different uses, but their long-handle designs mean I hang them side-by side, inches away from long-handled pry bars and push-brooms, because Ive found doing so to be an economical use of storage space.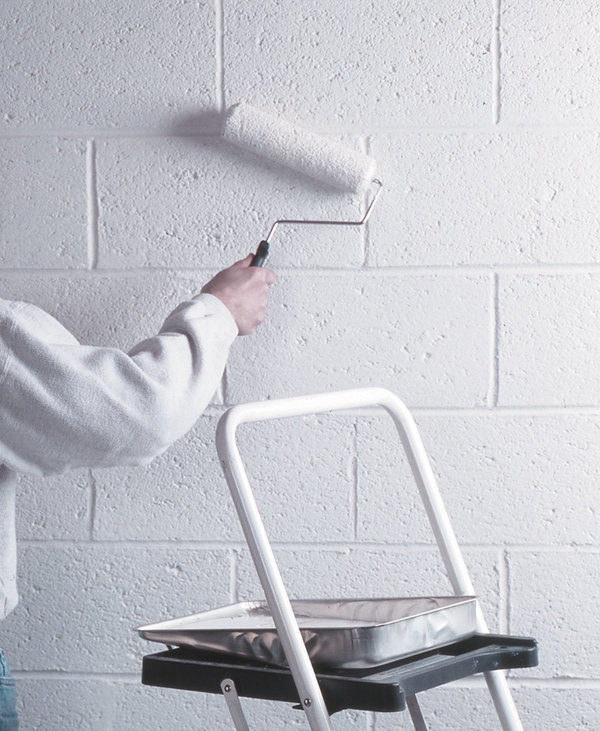 Many of my power tools come in their own hard cases, which makes them flat and sturdy for easy stacking. In fact, a hot trend among manufacturers is to design stackable tool cases that interlock with similar cases above and below. I store my power tool cases stacked onto tool shelves, and top the cases with the lumpier tools that come in canvas bags.
Some tool categories dont match in shape or size but do in application, so I group them accordingly into bins, which I then stack on shelves. I have a bin full of painting toolsrollers, trays, brushes, tapes, sprayers, scrapers and more. I have another bin full of tile tools that includes grout floats, sponges, trowels, nippers, spacers, cutter, etc. Keep all these bins clearly labeled.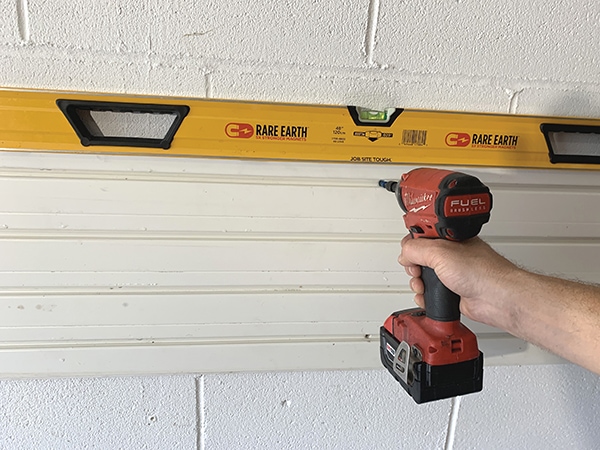 You might notice that words like hang and stack suggest a vertical means of storage, and this is to keep the floor space as unoccupied as possible to leave room to maneuver and allow ample square footage for a work table or benches. Youll find a zillion plans online to build your own plywood-and-lumber storage shelves, or you can always install simple wall shelves using support brackets fastened to concrete or wall studs.
Wall-Mount Storage Systems
Wall-mount storage systems present another option. Slat-wall type wall storage systems are growing in popularity and for good reason: theyre versatile, clean-looking and store tools and supplies conveniently off the floor for easy-to-see organization. Most of these wall-panel systems are made from PVC and are sold under the names Proslat, FlowWall, and the VersaTrack system from Craftsmanjust to name a few. The panels are moisture-resistant and simple to clean, usually available in 4- to 8-foot lengths.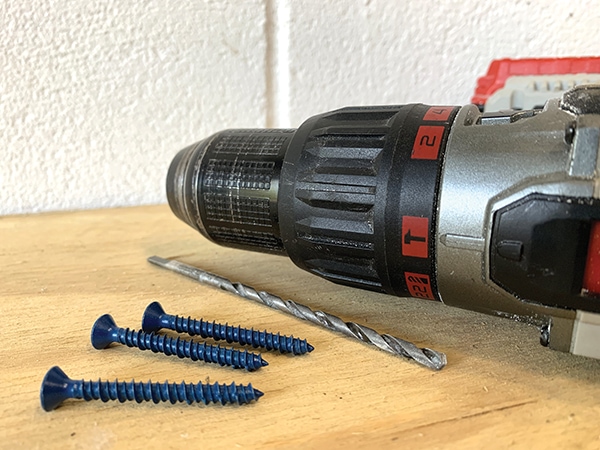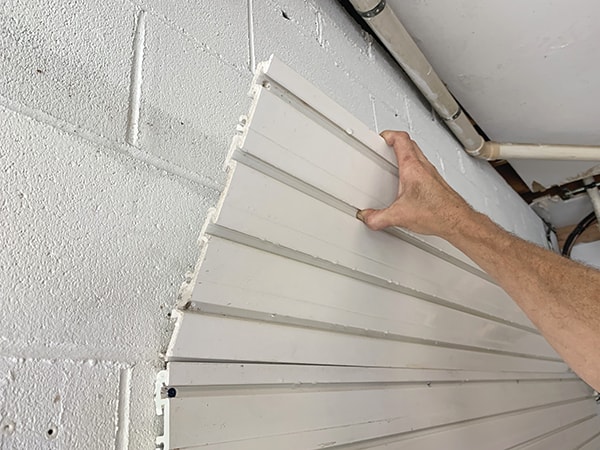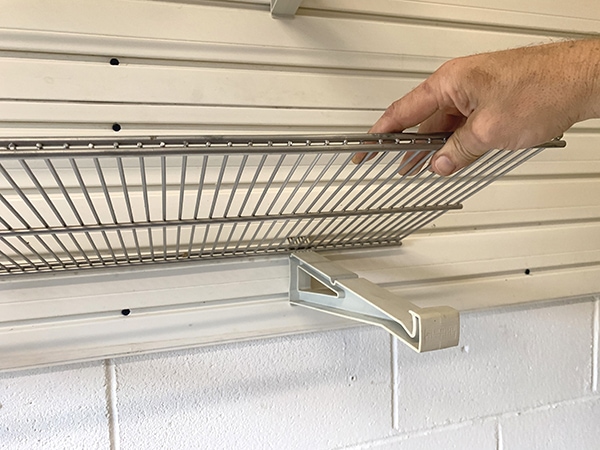 The panels install simply by screwing into the wall studs.
Once installed, you can equip the walls with a variety of snap-in accessories, from baskets and shelves to a wide range of hooks. Depending on the accessory, these storage systems are strong enough to store shovels, sledge hammers, string trimmers and more. Youll even find wall brackets with the holding capacity to store a ladder a few feet off the floor.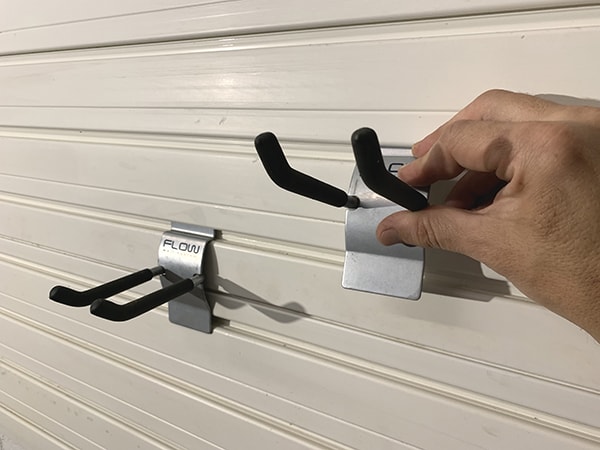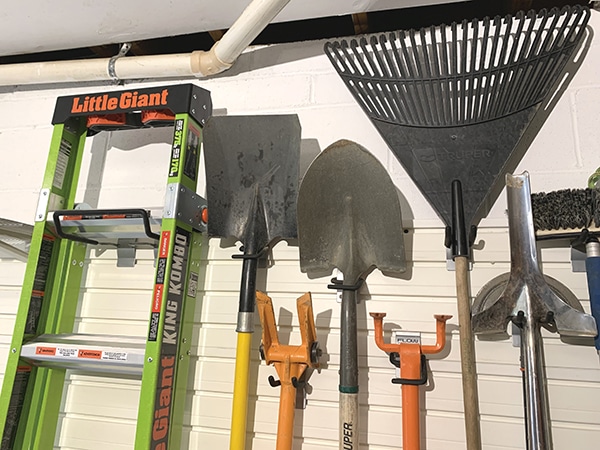 For smaller tools, arranging tools on a pegboard panel is a tried and true way to keep items in plain view and easy to grab. When a fiberboard pegboard wont cut it, theres AlligatorBoard manufactured from 20-gauge steel to be much stronger and more durable than ordinary pegboard. The metal wont warp, tear, dis-color or rust, and AlligatorBoard features strength-reinforcing dimpled holes, making it easier to install tool hooks than on other pegboards.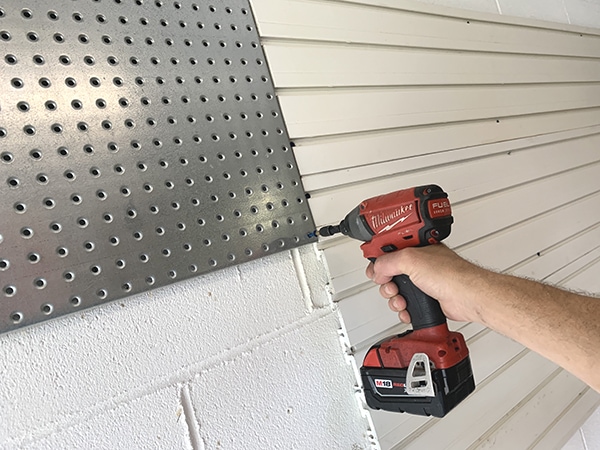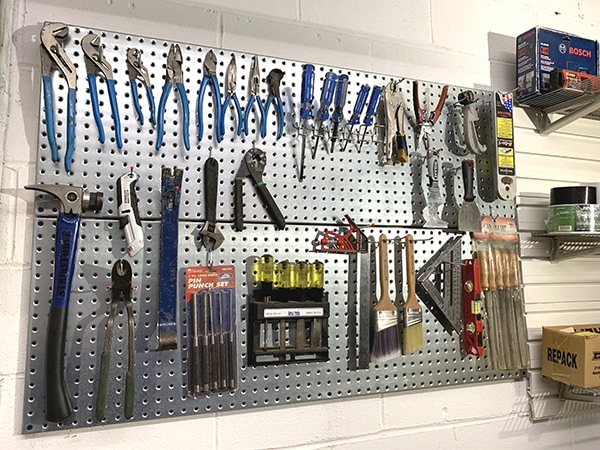 For any type of pegboard, hardware stores sell a huge variety of clips, hooks, holders, and clamps that fit the handles and contours of hand tools ranging from screwdrivers and hammers to wrenches and squares.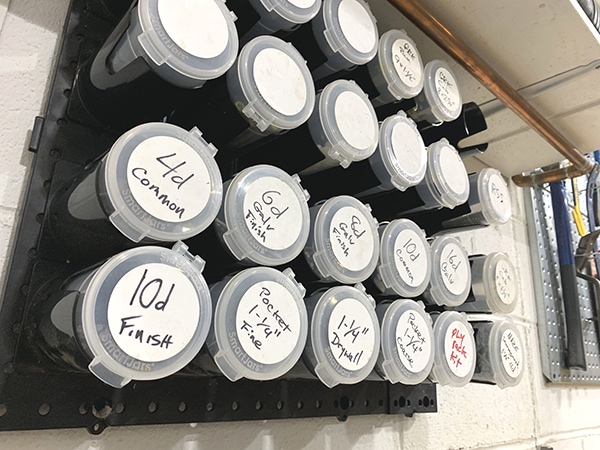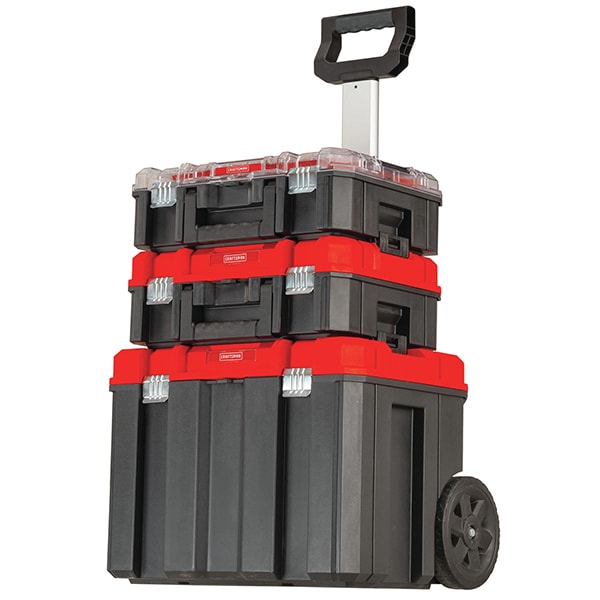 Workshop Lighting
Visibility is crucial to an organized workshop, and this requires good lighting. To upgrade the ceiling light in my garage-turned-workshop, I replaced an 8-foot fluorescent tube fixture with Striker Concepts new MPI Multi-Point Illumination Motion Ceiling Light. Unlike a traditional single-point light fixture, the MPI creates five points of light from a single standard bulb fixture. These five lights are designed to illuminate all corners of the room and reduce shadows.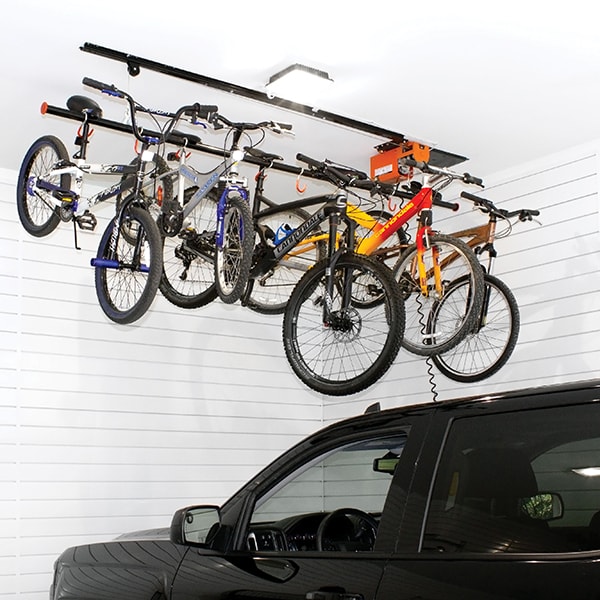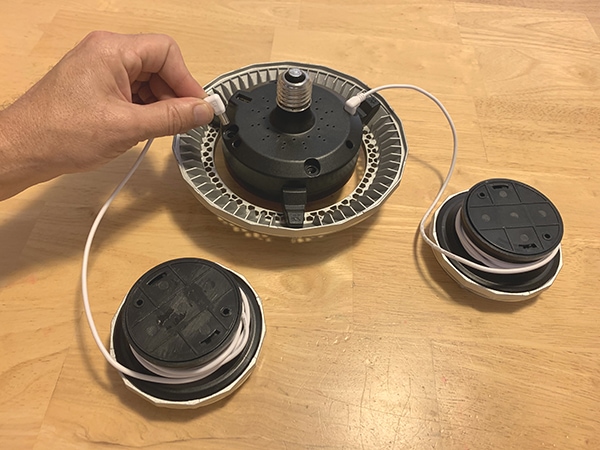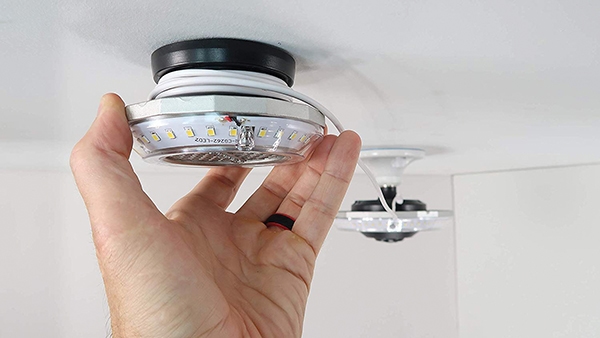 The MPI system is simple to install by simply screwing the central hub into bulb fixture, so there is no need to hire an electrician. The surrounding light pods connect to the central hub with push-fit cables and extend up to 9.5 feet, where they can be screwed to the ceiling exactly where you need them. Simply twist the light pods to tighten the cables.
After installing the system, Im pleased to report the combined light output of the MPI far outshines the 8-foot tube, lighting the peripheral edges of the room much more thoroughly than the old central fixture.
The MPIs motion sensor keeps the light off until I walk into the room, and a well-lit workshop is crucial to searching for all those tools that tend to go missing.