TikTok's Grated Egg Hack Is the Secret to Fluffy Avocado Toast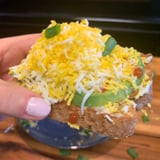 Image Source: POPSUGAR Photography / Chanel Vargas
Some TikTok food hacks are so good they change your entire mealtime routine, while others leave you wishing you'd scanned the pantry one more time instead. I had my reservations when Sarah Thomas-Drawbaugh's "grated egg" recipe landed on my FYP, but this is one recipe that's earned a permanent spot in my mental cookbook.
Sharp cheddar, tangy lemon zest, raw zucchini? Sure. But shredding a slippery egg into ribbons of confetti as part of my lunch routine isn't usually my first thought when I step into the kitchen. Still, TikTok convinced me to like berries in coconut water, so why not this? Armed with a ripe avocado and a full carton of eggs - just in case - I decided to put the grated egg hack to the test, and the end result was maybe the fluffiest slice of avocado toast I've ever eaten.
At its base, the recipe is pretty standard. Toast some bread, spread on some kewpie mayo - cream cheese also works - and mash your avocado on top. Then comes the hard part, where you take your boiled egg and carefully grate what feels like an extra soft ball of mozzarella against the one microplane (or box grater) that's been taking up an awkward amount of space in your kitchen drawer. Precision here is key, because the shredding will get messy, but the magical little pile of egg fluff stacked on your avocado toast when you're done is absolutely worth it. Once you've cleared any stray egg ribbons from your countertop, top the toast with salt, pepper, a little bit of Sriracha or red chili flakes, and enjoy.
At the end of the day, is it still a boiled egg on a piece of toast? Well, yes. But the mouth-feel is the big win here. The boiled egg confetti, as I've come to call it, adds a height to the toast that makes for a more satisfying bite and eliminates the sometimes rubbery texture of a standard boiled egg. Plus, if you pre-cook the eggs and keep them in your fridge, the entire meal takes less than five minutes to make.
If you're looking to take a break from your standard poached egg on avocado toast, see the full recipe ahead and take a peek at the original TikTok video for a mini cooking tutorial.
Grated Egg Avocado Toast
Sarah Thomas-Drawbaugh, TikTok user healthyishfoods
Ingredients
1 boiled egg
1/2 avocado
1 slice bread of choice
1 tablespoon Kewpie mayonnaise
Sriracha (optional)
Salt and pepper to taste
Information
Category

Eggs, Breakfast/Brunch

Yield

1 Slice

Prep Time

5 minutes

Cook Time

20 minutes

Total Time

24 minutes, 59 seconds