The Best Sewing Tables For Home
Well admit that were not necessarily themost advanced sewing enthusiasts in the world, but now that weve been practicing and creating simple things for a while, we still think its high time we invested in a good workspace for the sewing that we do! After all, one of the best ways to improve your skill at something is to make sure you give yourself the proper equipment, even if you strive to save a little here and there and choose a slightly less fancy version sometimes. We kept that in mind when we started researching sewing tables last week!
As usual, we decided to do a little bit of research before making a final decision regarding the kind of sewing table wed like to but. Were big fans of lists, so we like to bookmark things and make lists of our favourite options; its just really satisfying! Part way through, it occurred to us that other people might benefit from what we found as well, so weve decided to share the list of our top options to help other sewing enthusiasts out too.
From the outset, we felt determined to find something that would give us lots of free space to work withand a little bit of storage. Thats what initially drew our eye to this first option from Costway!
As if a wide tabletop, shelves, and a drawer werent enough perks to make you pay attention to this design, then perhaps the adjustability of the tables height and front sewing machine section will be. A moving platform lets you drop or raise the part of the table that your sewing machine sits on in order to customize the experience to what youre working on. We also love the surprisingly low price for something with so many great features!
View price on

Amazon
Are you actually very interested in the idea of having at least a semi-adjustable table top section but youre just not sure that you need the extra features, since your crafting room has so much external storage? Then wed suggest giving this slightly more simplified design from Sew Ready some consideration!
This particular model is around the same price as the first but its built with minimalist function and durability in mind. It features a base shelf at the bottom, but the rest is strong leg support, wide open tabletop, and an adjustable panel to make using your machine the most comfortable experience possible.
View price on

Amazon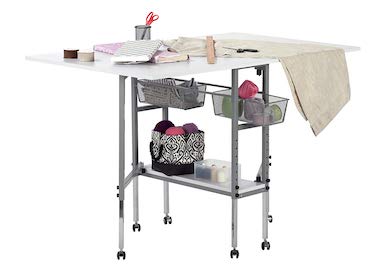 Have you actually been on the hunt for a slightly more multi-purpose crafting table rather than just a sewing table, but now weve got you feeling intrigued about the idea of desks with a little more storage? Then maybe youd get along a little better with something like this crafting table from Sew Ready!
Below the rather expansive top of this table, youll find a base shelf thats easy to set things on and two baskets that will help you keep things organized. The table is also adjustable in height and made of durable material that can withstand a decent amount of weight and pressure. Its quite a bit more expensive than some of the other options youve seen so far, but its worth every penny.
View price on

Amazon
Are you feeling slightly intrigued by this whole concept of an adjustable platform for your sewing machine but youre more interested in the concept as an option for moving your machine out of the way for other crafting without having to lift it? Then we think you might have a little more success with something like this sinking platform design from SewingRite!
Rather than just adjusting in table heigh around the spot where your machine sits, this table offers the option to actually sink your machine our of sight and cover it so you now have a full, empty table cloth for other projects! Youll preserve your usual sewing station without having to lift the machine on and off every time you want to use the table for something else.
View price on

Amazon
Perhaps weve really caught your attention with this concept of work stations that will adjust and let you change your space around a little without totally deconstructing it? Then weddefinitely suggest checking out this table from Southern Enterprises!
Besides having a number of storage shelves, this table also has an extension on one end that you can fold down when you dont need so much working space or prop up when you need a little more length. The table also has wheels, meaning that you can move it around the room whenever you need a little more floor space for whatever youre working on or whatever else that particular space might be used for.
View price on

Amazon
If youre going to pay for a desk that has some storage involved, would you rather get a little more than the flat shelves youve seen so far? In that case, wedabsolutely suggest taking a look at this folding craft desk offered by Giantex!
This desk is like a compact little dream station for people who dont have extra space they can permanently dedicate tojust crafting. Open it out when youre using it and youll have a wider tabletop and access to the shelves and such inside. When youre done and youll need that space for other things, close it like a cupboard to keep your supplies contained inside and shrink the table down to be more easily rolled aside and out of the way.
View price on

Amazon
Have you actually been scrolling through our list and feeling totally enamoured by not only the idea of a crafting table with wheels on it, but also the idea of one with drawers, only youre hoping for more drawers than you saw on the previous design? Then we think you might get along a little better with a model like this one from Sullivans!
While this desk is a bit more expensive and doesnt adjust, its also a much more spacious worktop option for those who really need the width and length. Additionally, its got a whole tower of useful drawers that will help you keep all of your supplies organized. As if thats not enough justification for the prices, its also on wheels, meaning you can push the desk to the side quite easily if you need to rearrange things or clear some space.
View price on

Amazon
Did wealmost make you feel decided when we started talking about the idea of a folding table that you can shrink the size of to share space, but youve actually been on the lookout for a table that will suit a more neutral, wood-heavy aesthetic? Then we think youll get a kick out of this stunning folding crafting and sewing desk from Mainstay!
This desk, which resembles a homemade piece of furniture, is made from durable and lovely looking solid pine. Besides the useful convenience of cupboard shelves and some inner door baskets, this piece is also awesome because it has a place to stash your sewing machine when youre not using it and folding door action that shrinks the table my half so you can move it out of the way on its wheels.
View price on

Amazon
Are you actually a crafter on the go, frequently moving from studio to set to community centre and taking your supplies with you? Then perhaps youll need something a little more genuinely portable, like this folding design from Sullivans!
This table, which is possibly the most affordable option on the whole list, folds into a small square of wood with handles thanks to the way its legs collapse inward underneath it. In its top, there is an indented section at one end for your sewing machine to fit comfortable into. Its not a super adjustable little shelf like some of the others you saw, but the lightness and easy portability of the whole design makes up for that!
View price on

Amazon
Conclusion
Do you another sewing and crafting enthusiast who could really use a better work surface in their creative room but who you also know could use a little help deciding which design is best? Share this post with them so they have all kinds of awesome things to consider!
The post The Best Sewing Tables For Home appeared first on DIYs.com.