The Best Front-Load Washers of 2021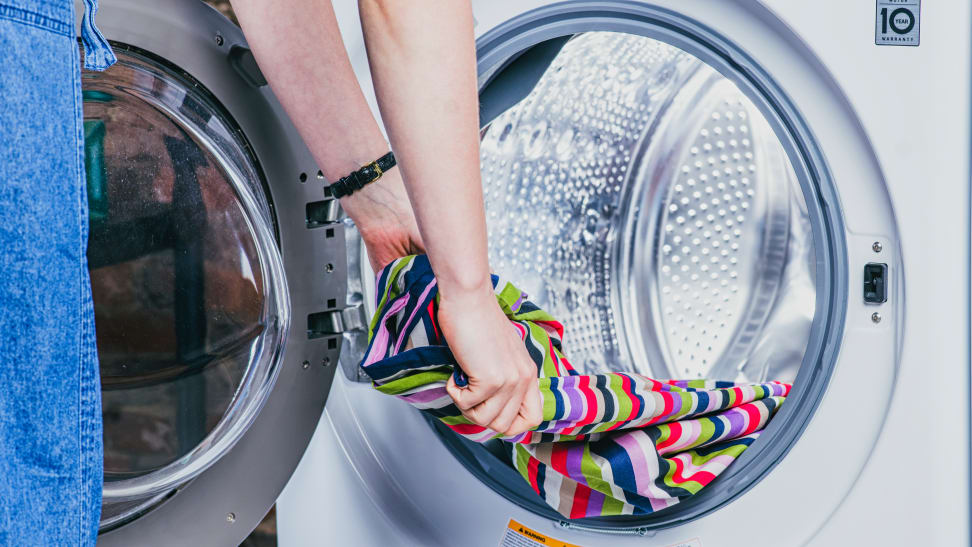 — Recommendations are independently chosen by Reviewed's editors. Purchases you make through our links may earn us a commission.
Top-load washers might have nostalgia factor for some, but many are embracing the latest development in laundry—the front-load washer.
Front-loaders have come a long way since their inception: Modern models run more efficiently and get clothes cleaner when compared to top-loaders. Best of all, most front-load washers embrace both form and function, and often have neat features and beautiful finishes to complement their strong cleaning performance.
Once you've decided to buy (or replace) a front-load washer, the next step is to actually pick one out. The process of actually selecting a front-loader can be overwhelming since every major appliance manufacturer makes at least one front-load washer. That's where we come in: We've compiled a list of the best front-load washers available on the market today.
Our current favorite front-load washer is the Electrolux EFLS627UTT (available at AppliancesConnection for $1,073.10) because of its top-notch cleaning performance, steam features, and detergent pod dispenser.
These are the best front-load washers we've tested, in order:
Electrolux EFLS627UTT
Electrolux EFLS527UTT
LG WM3700HWA
LG WM9000HVA
LG WM3500CW
Maytag MHW8630HC
LG WM8100HVA
Samsung WF45R6300AV
Samsung WF42H5000AW
Samsung WF50K7500AW
Maytag MHW6630HC
Samsung WF45R6100AW
GE GFW850SPNRS
Whirlpool WFW9620HC
Kenmore 41983
Whirlpool WFW6620HW
How We Tested
The Testers
Hi there! We're Reviewed's appliance testing team. Between the three of us (Jon Chan, Kyle Hamilton, and Julia MacDougall), we've spent many years testing major appliances including washers, dryers, refrigerators, dishwashers, vacuum cleaners, and robot vacuum cleaners.
We have plenty of experience testing these products in the lab, but we've also used them like normal people would in the course of their daily lives, which means that we have a great sense for what appliances are bargains at their price points, and which appliances have really useful extra features (as opposed to the kitchen-sink approach to features).
With all this in mind, you can feel confident that when we recommend a product, we're giving it our Reviewed stamp of approval, which means two things: firstly, this appliance performs well, and secondly, this appliance is easy to use. We're always reviewing new products, so stay tuned for our reviews and roundups of the latest products in laundry, refrigerators, dishwashers, and vacuum cleaners.
The Tests
Every washing machine that comes into Reviewed's labs gets put through the same testing regime, which addresses both performance and user-friendliness. Performance tests include:
• Stain removal – Using a strip of AHAM-approved stains (which includes cocoa, sweat, pig's blood, red wine, and oil), how much of each stain can this washing machine remove?
• Wear and tear – During a given cycle, how hard is the mechanical action of the washing machine on your clothes?
• Water retention – How much water does your washing machine spin out at the end of the cycle?
• Cycle time – How long is each washing machine cycle?
The best washers have solid stain removal abilities, do not damage your clothes, retain little water, and have short cycle times.
Beyond these performance tests, we also assess the usability of each washing machine, based on our experience, both during testing and during more casual use (one perk of working at Reviewed is that there are plenty of laundry machines on premises!). Our main goal is to get the answer to one question: How easy is it to actually use this washing machine? This involves cumulatively assessing the control panel, the door, the detergent dispenser, and any smart features that are included.
By combining the performance data with our own observations, we can make solid recommendations for someone looking for any type of washing machine at any price point.
What You Should Know About Front-Load Washers
Front-loading washers are a relatively new addition to the laundry pantheon. While previously found only in laundromats, residential front-loader popularity is on the rise. Front-load washers are exactly what they sound like—instead of lifting up your washer's lid and arranging your clothes in a circle around a pole agitator or impeller, the door opens from the front, and you put your laundry in from the side of the machine.
While putting your laundry into the top or front of your washer may not seem like a big deal, it really makes a difference in terms of the appliance's engineering. Additionally, front loaders tend to outpace top-loaders when it comes to cleaning performance and efficiency.
Cleaning Performance
Some studies, including our own, indicate that front-loaders may do a better job at cleaning dirty laundry than top-load washers do. This may have to do with the dynamics of a horizontally-oriented washer drum: in a top-loader, stains are removed from clothes by being in contact with the pole agitator (the big spiral column in the middle), the outside of the washer drum, or rubbing against other nearby laundry. That could mean that some clothes that are stuck in the middle might not experience as much mechanical action (the back and forth motion that lifts stains out of clothing) as a piece of laundry that's closer to the agitator or the wash drum.
In a front-loader, the stain removal happens when clothing interacts with the wash drum and when it spins to the top of the wash drum and then falls down onto the laundry at the bottom of the drum. Because each piece of laundry will go through this process multiple times, there's an increased likelihood that stains will be removed from all of your laundry.
Efficiency
Unlike a top-load washer, a front-load washer does not have to fill a tub with water. Because the drum is oriented horizontally, the washer relies on the fact that your load of laundry is going to be mingling with all of the other laundry a lot, whether they're spun on the drum together or whether they're squished together when wet laundry falls from the top of the wash drum. Front-loaders use water much more efficiently than top-loaders because all they have to do is spray water while spinning the drum. This gets all of the clothes wet in two ways: firstly, most of the clothes will get wet because of the water spray, and secondly, those that don't get hit with the initial spray will absorb water from other wet clothes during the spinning-and-falling process. By using less water in each wash cycle, front-loaders are typically more efficient (i.e. they cost less to operate on a per cycle and per year basis) than top-load washers.
---
Other Front-Loaders We Tested
More Articles You Might Enjoy
The Best Front-Load Washers Under $1000
The Best LG Front-Load Washers
How to clean your smelly washer