Spice up Your Kitchen with an IKEA Pull-Out Spice Rack
How to Take Advantage of Every Inch of Your Kitchen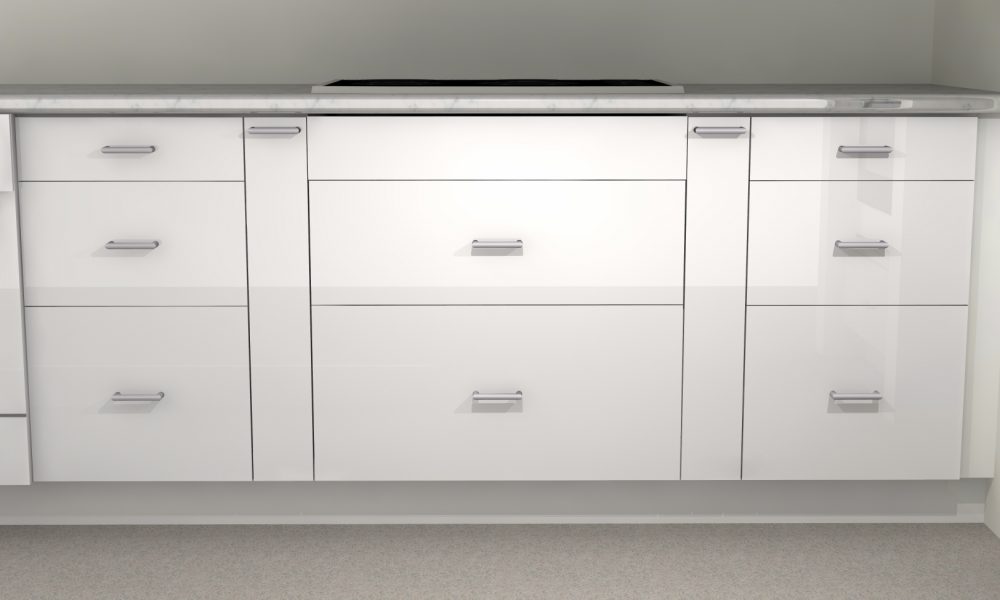 We've found that our kitchen design customers who enjoy cooking are challenged by IKEA's lack of options for storing spices.
Sure, there's the VARIERA drawer insert for spice jars, or if you want to nail something to the wall, there's the BEKVÄM spice rack. You could also conceivably store your spices in a butler's pantry.
These options are usually inadequate for the serious chef who loves to add an impromptu twist to their favorite meals. Like adding some cayenne pepper and brown sugar to a handful of roasted almonds or chili seeds to your favorite guacamole.
Those bottles need to be easy to find and to reach! A kitchen for serious chefs needs a pullout spice rack, but IKEA doesn't sell one.
A custom and more useful alternative is to create a pullout spice rack out of a SEKTION 12"-wide base cabinet frame.
If you have a few inches of unused space in your kitchen layout (at least 3" wide and 30" tall), that filler could become the perfect spot to keep your spice bottles organized with this easy-to-reach solution.
We'll Design Your Ideal IKEA Kitchen Easily, Affordably, and Online
Our IKEA Kitchen Design Package is everything you need to complete your new kitchen with confidence.
GET STARTED TODAY
The Best Place for Your IKEA Rolling Spice Rack
The ideal location for spices is one that's convenient for you and safe for your spices.
Storing them next to an oven is not recommended as the heat affects their flavor and longevity. And, we typically discourage clients from putting spice racks between wall cabinets.
These spaces are too shallow to provide enough storage, and the higher shelves are often hard to reach (that is of course, unless our customers specifically tell us that they're tall people).
Possible locations include:
Best option: Next to a cooktop, or at both sides of a cooktop if you own a lot of spice bottles. In these cases, the heat is concentrated at the countertop level and upward, far enough from the contents of your spice rack.
Alternate option: The gap between two base cabinets (remember, you need a space 3 inches wide and 30 inches tall).
We'll explain the best option here.
How to Make this Spice Drawer Organizer
The IKD solution involves putting a pullout accessory inside of a customized 12"-wide SEKTION base cabinet.
This cabinet will need to be cut to a narrower size. After that, you'll need to install the pullout accessory.
Note: IKEA does not sell the kind of pullout accessory you need.
This is an example, but there are others from different companies. No matter which one you select, the accessory needs to fit inside a 3.5″ opening as this is the available space inside a 5″-wide IKEA cabinet.
For our example, we'll cut the cabinet's width down to a 5"-width. You can do this by cutting the back panel from a 12" width to a 5" width. After cutting the back panel, you assemble the base cabinet by attaching the side panel included.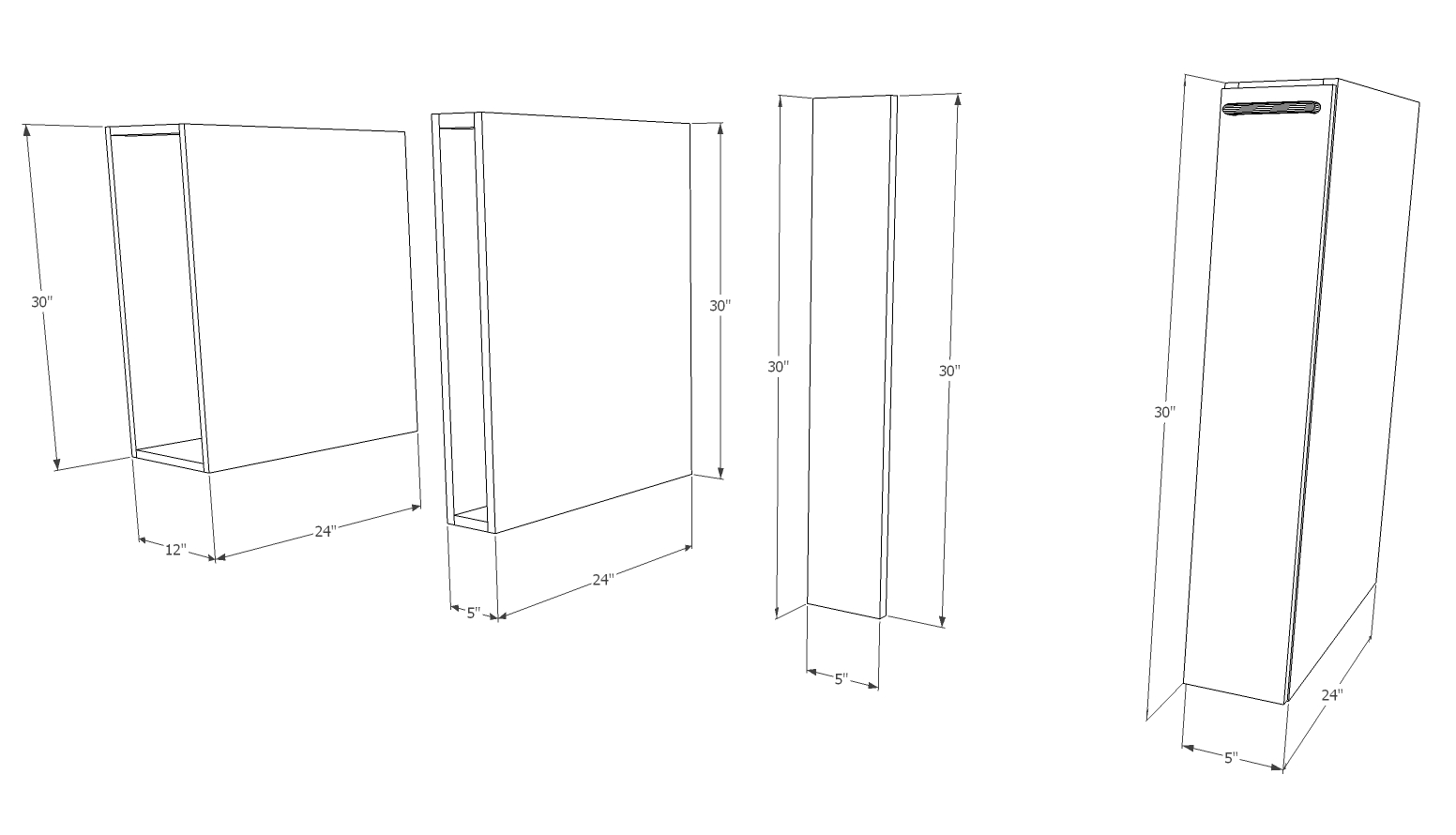 5 Steps to Make this Custom IKEA Kitchen Spice Rack
To summarize:
Cut the back of your 12"-wide cabinet frame down to 5"
Assemble your cabinet as you would any other IKEA base cabinet
Drill holes for concealed hinges for your 5"-high and 30"-wide drawer front. We'll place this drawer front vertically and use it as our door.
Install your pullout accessory.
Attach hinges to the front and attach the hinges to your cabinet frame
Ready, set, go!
This is easy enough to be tackled as a weekend project. Those few hours of work will be worth it once you can find that elusive jar of star-anise for that warm Asian beef broth you have been craving for months.
List of IKEA Materials Required for this IKEA Pull-Out Spice Rack
Assuming you love the popular RINGHULT high-gloss door style, here's what we estimate the IKEA parts will cost you.
IKEA Item
Cost
(1) SEKTION Base cabinet frame; white;
12″ x 24″ x 30″
$34.00
(1) RINGHULT Drawer front; high-gloss white;
30″ x 5″
$79.00
(1) SEKTION Leg /4 pack
$10.00
Grand total for this hack
$123.00
Cost estimate based on prices accurate as of 5/9/22.
Get a Professional IKEA Kitchen Design – All Online
Work with our certified kitchen designers to get a personalized kitchen designed around your needs and vision. If you're interested in learning more about our service, make sure to check out our IKEA Kitchen Design Services.