Oven Baked Thai Green Chicken Curry
There is nothing more satisfying than a curry that pretty much bakes itself in the oven. This Oven Baked Thai Green Chicken Curry recipe is not only super delicious but a lifesaver. Plus it smells and tastes exactly like the curries at the restaurant with the addition of all those perfectly roasted golden, caramelized bits. It is made with easy to find ingredients and the paste can be made ahead and stored in the fridge.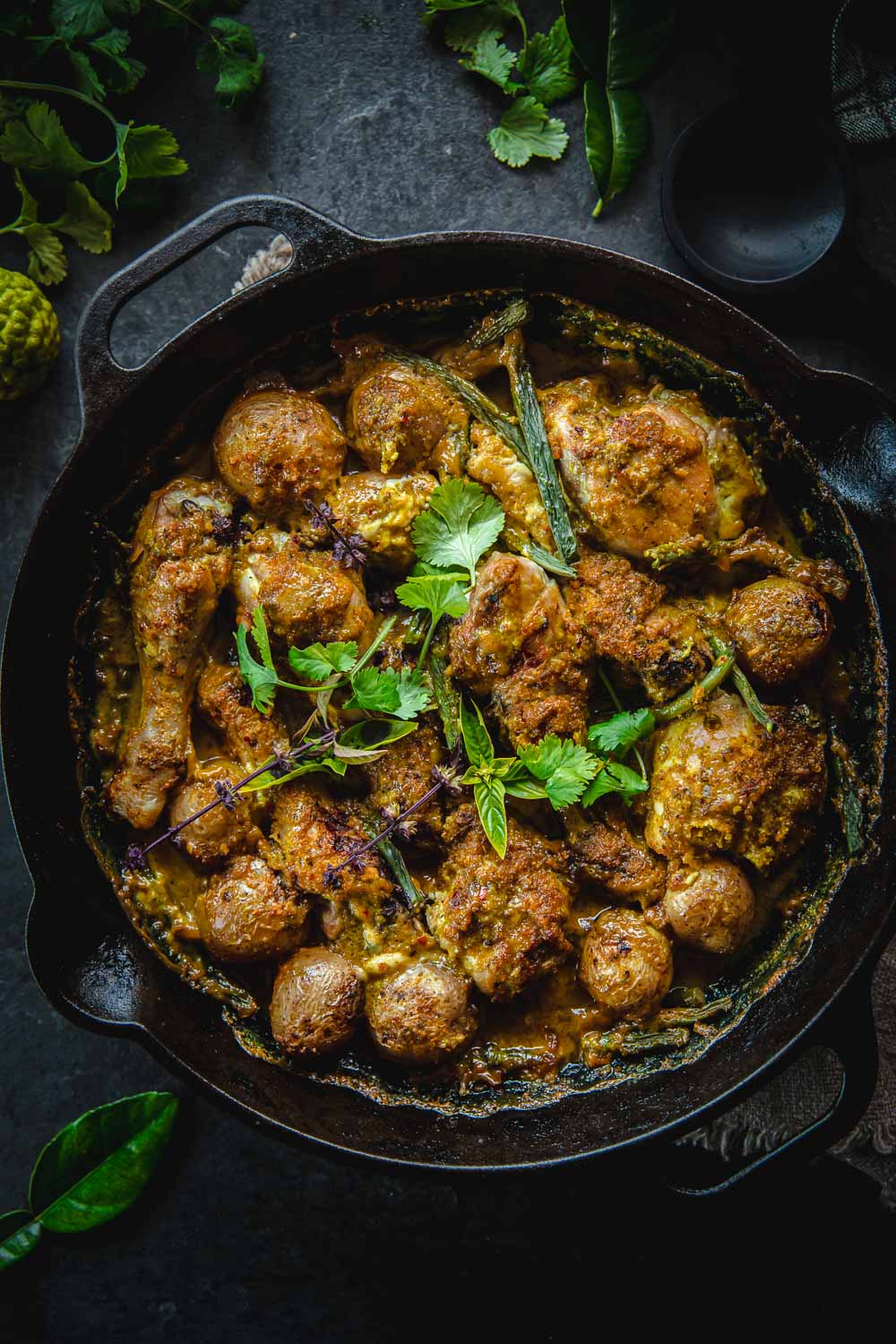 Instant Homemade Thai Green Curry Paste
This recipe is a slightly simplified version of my authentic Thai Green Curry Paste. It has eliminated some key components like belachan (shrimp paste) and galangal which are quite hard to find on a whim. Simplifying the recipe to include easily sourced everyday ingredients makes this curry more approachable and a regular in the cooking roster rather than only reserved for special occasions. The ingredients you see in the picture below are easily available year-round in Australia – fresh garlic, ginger, turmeric, coriander root and stalk, eschalot, lemongrass and kaffir lime (makrut) leaves. And they are essential to that authentic Thai green curry taste.
I love making curries from the entire South-East Asia region and to remedy the easy availability of herbs and spices, I have planted a lot of very useful trees in my garden. Kaffir lime (makrut), Thai Basil, Vietnamese Mint, Lemongrass (that grows in giant clumps), Bay leaf, fresh root ginger and turmeric, curry leaf and of course chillies. But I also keep a well-stocked spice drawer and shelf that houses more than 100 varieties of spice and mixes. And my most prized are the Kaffir Lime Powder, Galangal Powder, Lemongrass Cuts and Organic Ground Turmeric. These will make your curries sing and are great to have in your pantry if you don't have easy access to the fresh counterparts.
My Instant Homemade Thai Green Curry Paste can be blitzed in a food processor in just a couple of minutes and keeps well in the fridge for up to three days. You can make a double or triple batch and portion it in ziplock bags to be frozen for up to a month. Super handy when all you want to do is add some protein and coconut milk and have some time off while dinner cooks by itself.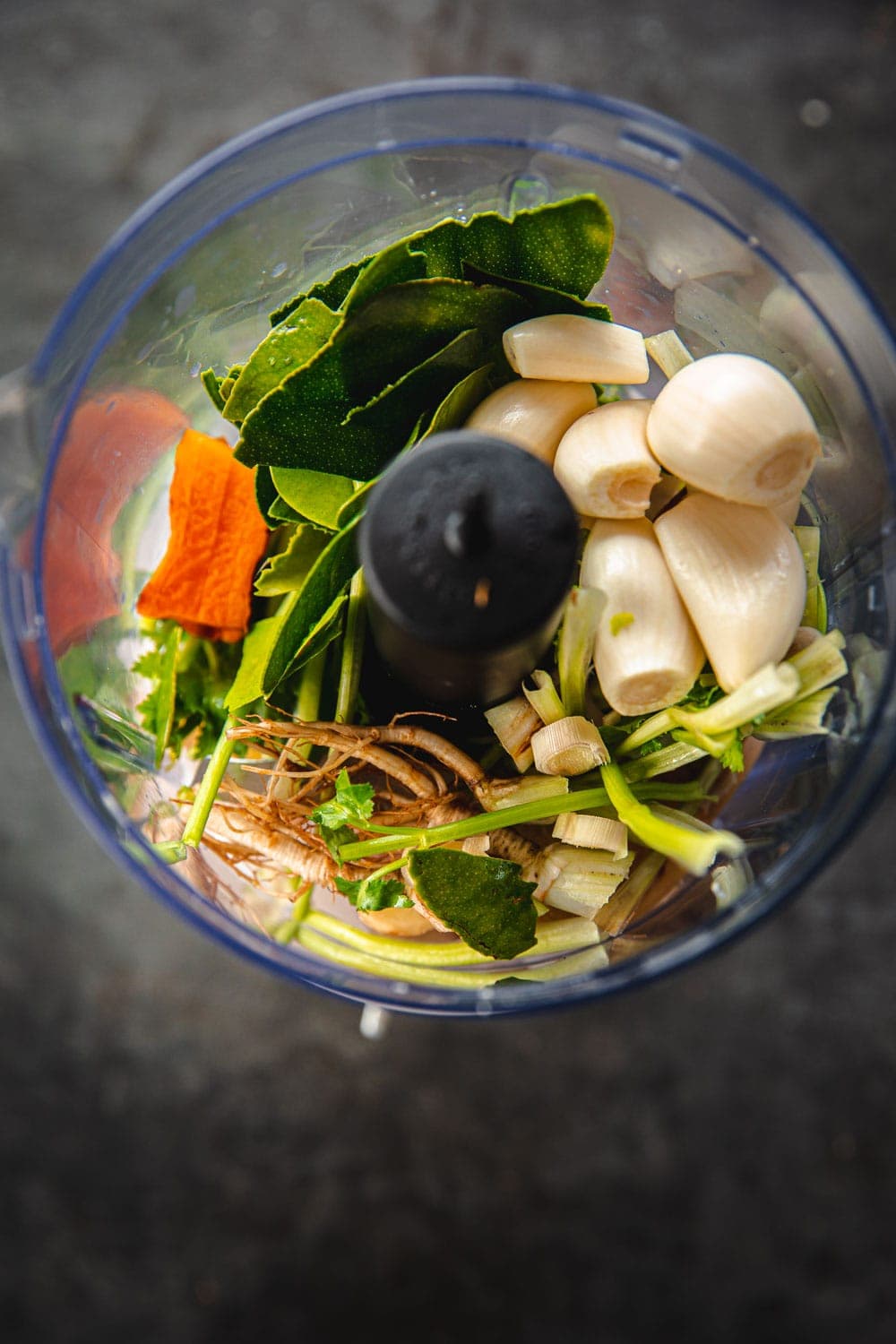 The Right Pan For An Oven Baked Chicken Curry
This is a favourite of my boys and preserving the recipe here on the blog makes me feel like it will always be there for them when they want to cook it in their own homes. An oven-baked Chicken Curry is the easiest thing you will make. Brown the chicken in a pan on high heat, add the homemade curry paste and coconut milk. Mix and bake in the oven until golden and caramelized and supremely aromatic. Jazz it up with fresh herbs and serve with steamed rice. It really couldn't be simpler than that.
I have made several batches of this beautiful Thai Green Chicken Curry in foil BBQ trays for friends to be dropped at their doorstep. If making in foil BBQ trays, skip the cooktop step of browning the chicken. Instead add chicken, potato, oil, salt and pepper to the tray and roast in the oven for 25 minutes until golden, then follow the rest of the steps of adding the paste/coconut milk and baking further until done.
I make this curry in a wide (30-36cm) chef's pan/sauté pan that allows me to brown 8 pieces of chicken and 10 potatoes easily without overcrowding. Just like my Oven Baked Mushroom Curry, a wider pan provides even caramelization and thickens the sauce to perfection. A deeper pan with a smaller diameter will cook the curry well too, it will just be more liquid and less roasted.
This Oven Baked Chicken Curry keeps in the fridge for up to three days and freezes well for up to a month. When re-heating/thawing, you can add a quarter cup stock to loosen the curry.
If you make this delightful Thai Green Chicken Curry, please let me know what you think in the comments below. Don't forget to show me your baked curries on Instagram by tagging #cookrepublic @cookrepublic. Happy Cooking lovelies!
Print
OVEN BAKED THAI GREEN CHICKEN CURRY
---
Author:

Sneh

Prep Time:

10 minutes

Cook Time:

1 hour

Total Time:

1 hour 10 minutes

Yield:

4-6

Category:

Curry, Dinner, Mains

Cuisine:

Thai, Gluten-Free

Diet:

Gluten Free
Print Recipe
Ingredients
8

pieces of chicken with bone (drumstick or thigh)

10

chat or baby potatoes

2 tablespoons

olive oil
sea salt flakes
freshly crushed black pepper

400

ml light coconut milk
a handful of green beans, trimmed
a handful of Thai basil/regular basil leaves
Thai basil and freshly chopped coriander, to serve
for the Thai green curry paste
2

eschalots, peeled and chopped

8

garlic cloves

1

-inch piece of ginger, sliced

1/2

-inch piece of fresh turmeric, chopped

5

lime leaves

1

lemongrass stalk, white part only (sliced)

1 teaspoon

red chilli flakes (or

half a

long red cayenne chilli)
a handful of coriander roots and stalk, washed and chopped

2 tablespoons

fish sauce

2 tablespoons

coconut sugar

1/2 cup

water
---
Instructions
Preheat oven to 200C (180C fan-forced).
Place all ingredients for the Thai green curry paste in the bowl of a small processor and blend to a smooth paste. This can be store in the fridge for up to three days ready to use as needed or can be frozen in ziplock bags in the freezer for up to a month.
Heat oil in a large oven-proof sauté pan (30cm diameter) on high heat. Add the chicken, potatoes, salt and pepper. Sear on high heat for 6-8 minutes until starting to brown. Reduce heat to medium and continue cooking, tossing occasionally for 15-20 minutes until the potatoes are slightly tender.
Add the green curry paste, coconut milk, thai basil and green beans. Mix well.
Bake uncovered in the pre-heated oven for approximately 35-40 minutes until curry is golden and thick and the potatoes are cooked when tested with a skewer. Turn off the oven and let the curry sit in the oven for a further 5-10 minutes if required.
Remove from the oven. Garnish with Thai basil and coriander leaves. Serve hot with steamed rice, freshly sliced chilli and lime wedges.
Notes
Substitutions – Fish sauce can be replaced by lime juice. Thai Basil can be replaced by regular basil. Fresh turmeric can be replaced with half a teaspoon of ground turmeric. Eschalots can be substituted with pickling onion or regular onion (make sure you blend to a really smooth paste to avoid graininess).
You can use boneless chicken, but chicken with bone imparts a lovely flavour to the curry and prevents the meat from drying out.
I often bake this in foil BBQ containers to give to friends or take for potlucks. It reheats well in the oven or BBQ in these foil containers.
Can be frozen for up to two weeks.
To reheat from fridge or freezer, Add a quarter cup stock to loosen and thin the curry.
The post Oven Baked Thai Green Chicken Curry appeared first on Cook Republic.