Our Home Tour On Atomic Ranch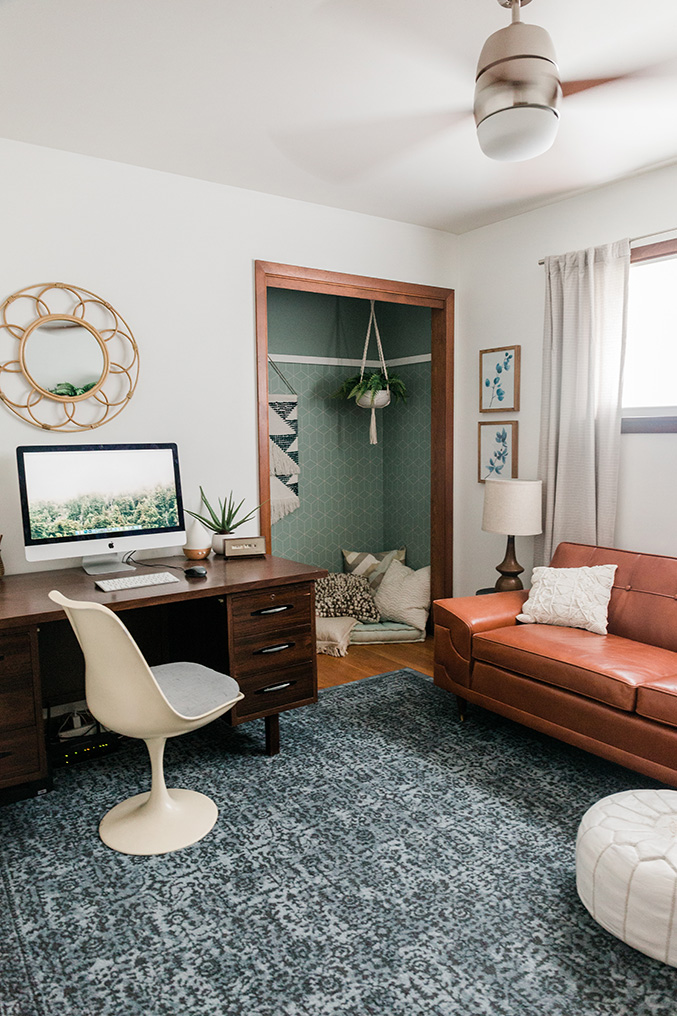 Well, I can officially cross off one of my biggest "Pinch me!" goals when it comes to my business because the one and only Atomic Ranch just published a tour of our 1960s ranch on their website!
I've been reading this magazine for years, and consider it my best resource for news and updates in the mid-century design world. The magazine is always full of gorgeous retro home tours, historic design features, and also a wealth of options for those of us who love filling our spaces with mid-century décor. It's actually one of the few magazines I've never even considered unsubscribing from despite the fact that we're quickly running out of storage space. Have you read it yet?
Anyway, I'm so incredibly grateful to the team for sharing a peek inside our retro home. This truly is such a humbling moment for me! Keep scrolling for a few of my favorite views from inside our little retro ranch (all of which were shot by me for this tour—how cool!), plus a few of my interview answers that didn't make it into the full Atomic Ranch story just in case they inspire some of you who are looking to nail that classic MCM look in your own homes.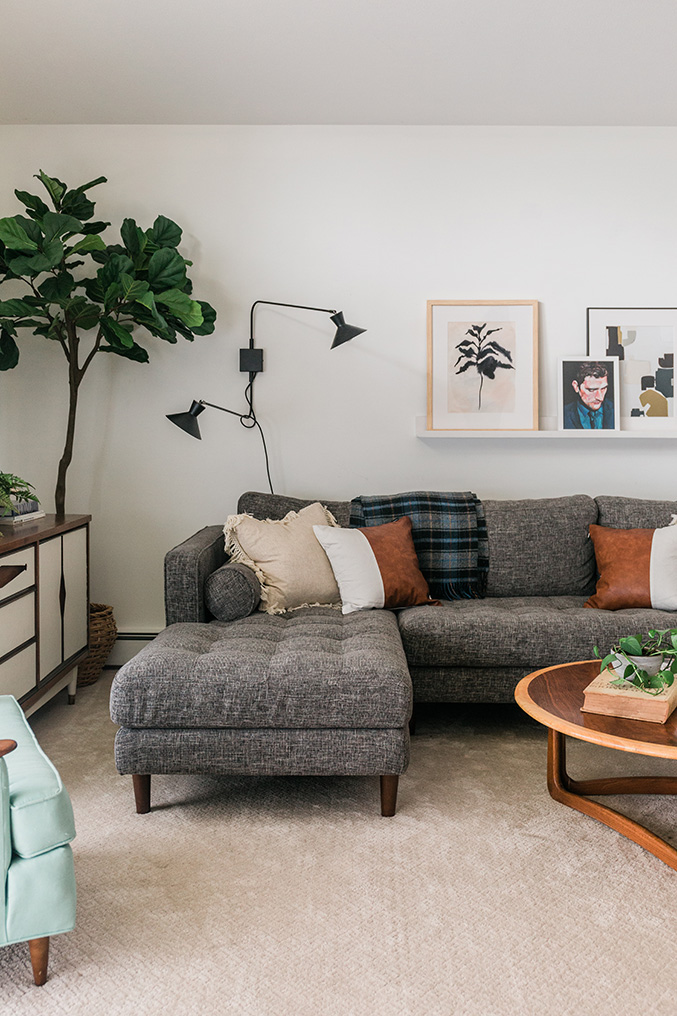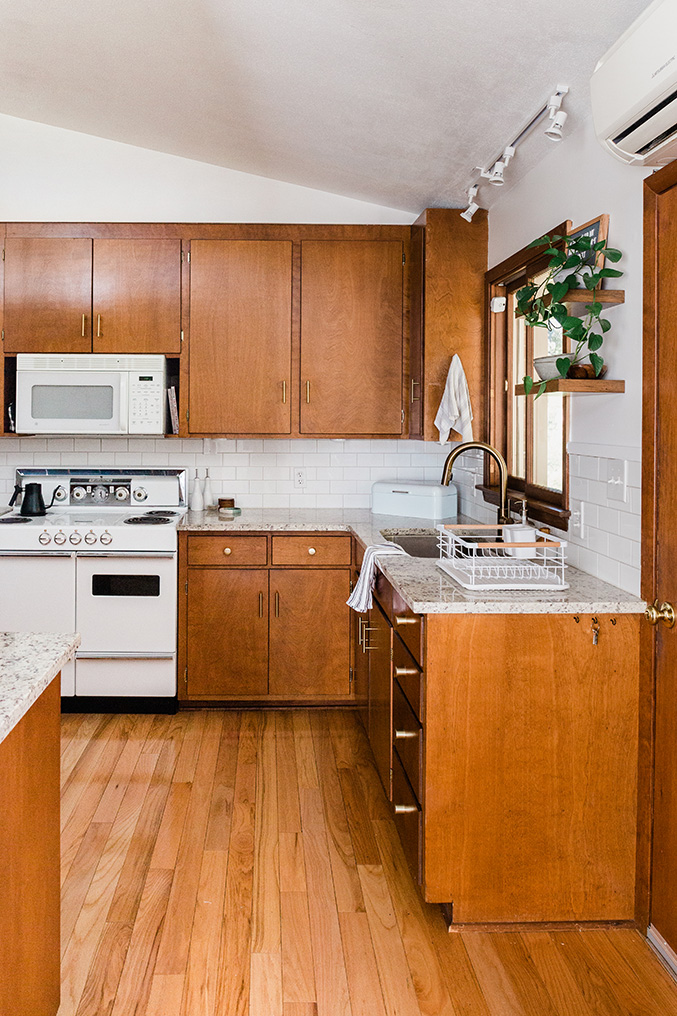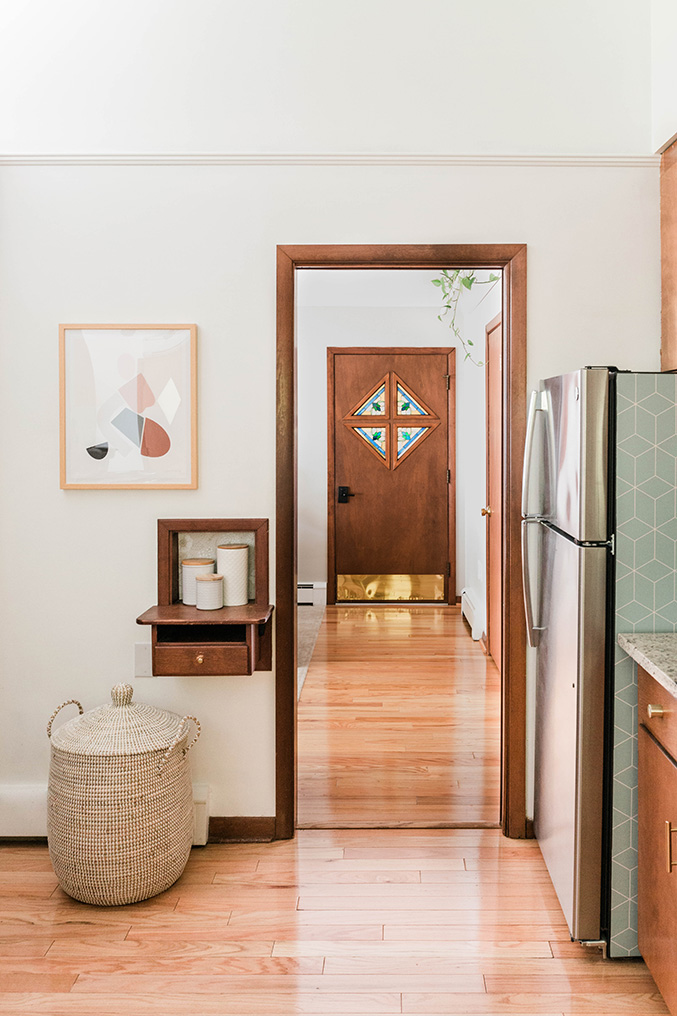 When did you purchase your home? When was it originally built? Do you happen to know the original architect?
We purchased the home in 2015. It was built in 1962. We don't know the original architect, but we were told the original homeowners built the home for themselves.
How would you describe your décor style?
I would describe our style as boho mid-century. I'm an eclectic, head-strong decorator. I like what I like, and rarely can be talked out of anything. Luckily, my husband and I share the same taste, so he rarely tries to talk me out of anything.
Is the stained glass on the front door original?
The stained glass door is original, and it actually is a side door—not our front door. It leads out to the sunroom, which we suspect used to be an exterior patio, but the previous owners closed it in with windows some time ago.
Are your kitchen cabinets original?
Yes, the cabinets are original. We thought about painting the uppers white last year, but decided to stay true to the original wood finish instead. I'm so glad we didn't paint!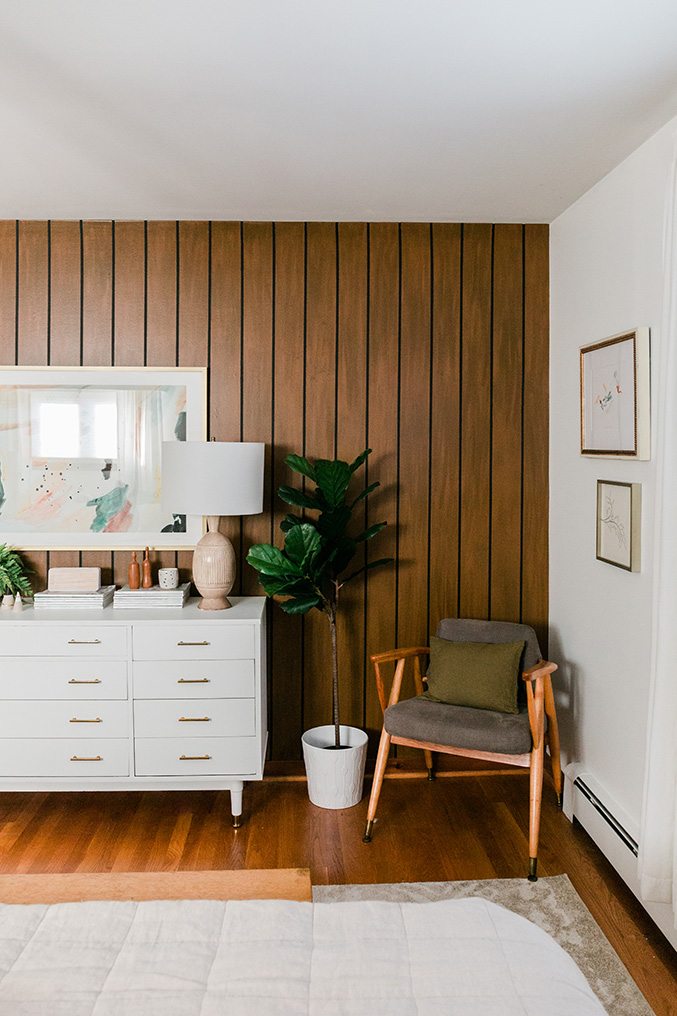 What renovations/refreshing have you done in the home?
Most of our renovating has been relegated to the bathrooms and kitchen, which we suspect were last updated in the '80s. In other words, they were the bad kind of "retro," at least by today's trends. We tried to bring them back to a more modern aesthetic by replacing dated wallpaper with fresh white paint, ditching formica counters for new granite, and adding a classic white subway tile backsplash in the kitchen. We've also updated all of the window coverings, replaced most of the light fixtures, and painted each and every room. We haven't done too much hard demolition or renovation in this home because we want to respect the original 1960s details as much as we can.
What are some of your favorite DIY projects on display in your home?
I'm pretty proud of the pint-sized woven macrame wall hanging that I made a few years back. I never thought I could do it by myself, but I did (thanks to this kit) and it was actually easier than I expected it would be. I also love the marble and metal plant stand I created from a couple of old cast-off supplies. I used the base of a vintage stool and a marble cheese plate from the clearance section of HomeGoods to create the stand, and it's one of the most-asked-about items on my Instagram whenever I share a photo of it.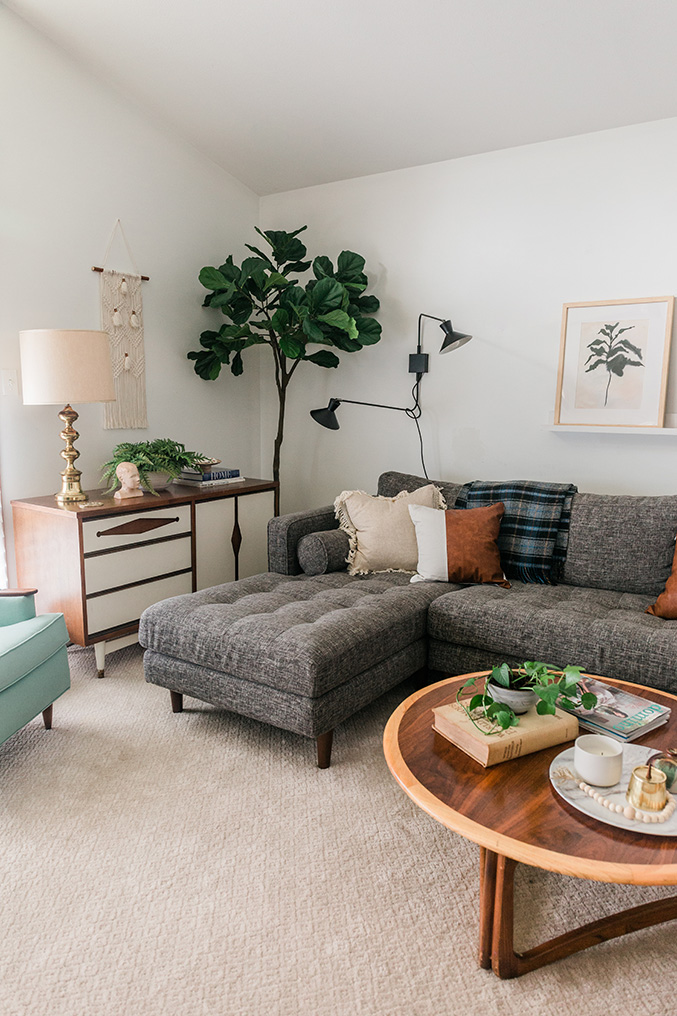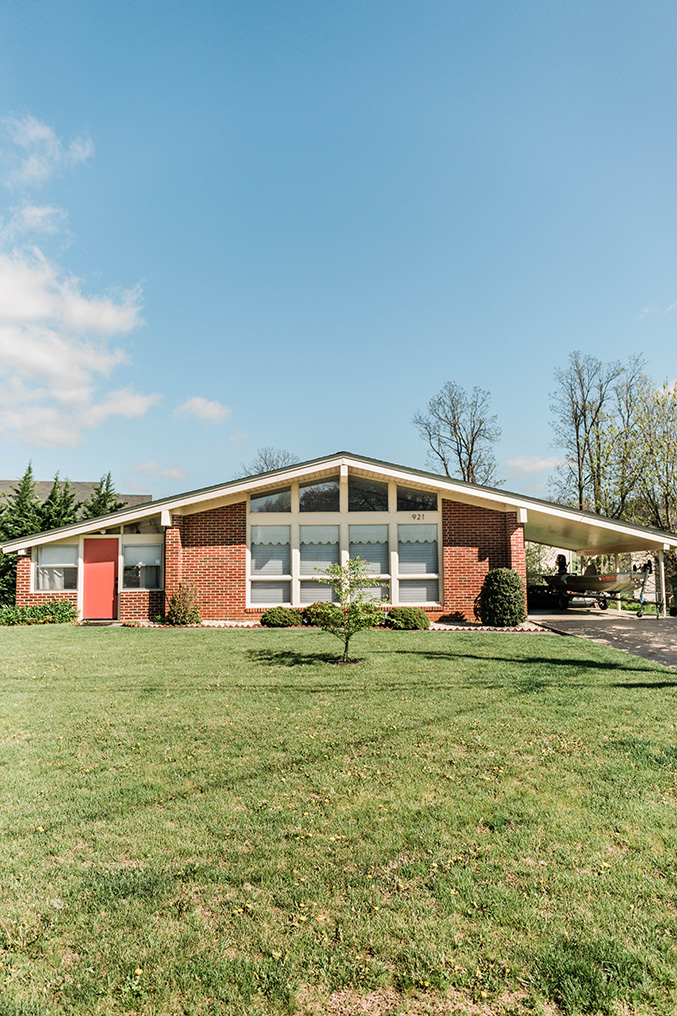 What are your best tricks for thrifting and shopping estate sales?
If your budget is tight and you don't have the luxury of splurging the moment you find a cool item at a local thrift store near your house, my advice is to take a photo of it with your phone. You can look back on it later when you're actually inside your home to decide once and for all if it's worth investing in. A little patience allows you to make a more educated buy that will last you for the long haul. If you decide to go for it and the shop allows, call ahead to put the item on hold. That way you won't miss out on the deal.
If you find a fantastic mid-century lamp, radio, or other electronic device, always, always ask to test it in an outlet before you buy. I've purchased things with an "It works!" tag on it several times before only to realize it doesn't in fact work when I got it home. Seeing is believing when it comes to retro electronics!
Don't let an ugly frame dissuade you from buying a gorgeous piece of vintage art. You can always have it reframed or use a different frame that you already have at home, and that could make all the difference when it comes to making a piece of art sing.
Draft a list beforehand. I was guilty of overbuying for years. I bought anything and everything I found that was a good deal and that I thought looked cool. And then, a few years later, I looked around and realized we were drowning under a sea of things we didn't actually need! So, now I keep a list on my phone of pieces that would actually serve a function in our home (think: a lamp for my desk, side table for the guest room). This method helps keep me on track, and now when I see a cool item that's a great deal, I pick it up, admire it for a moment or two, and then put it back down for someone else to snag. I've learned to appreciate a good deal without always having to actually buy it, which has saved me money and brought back much-needed negative space in our home.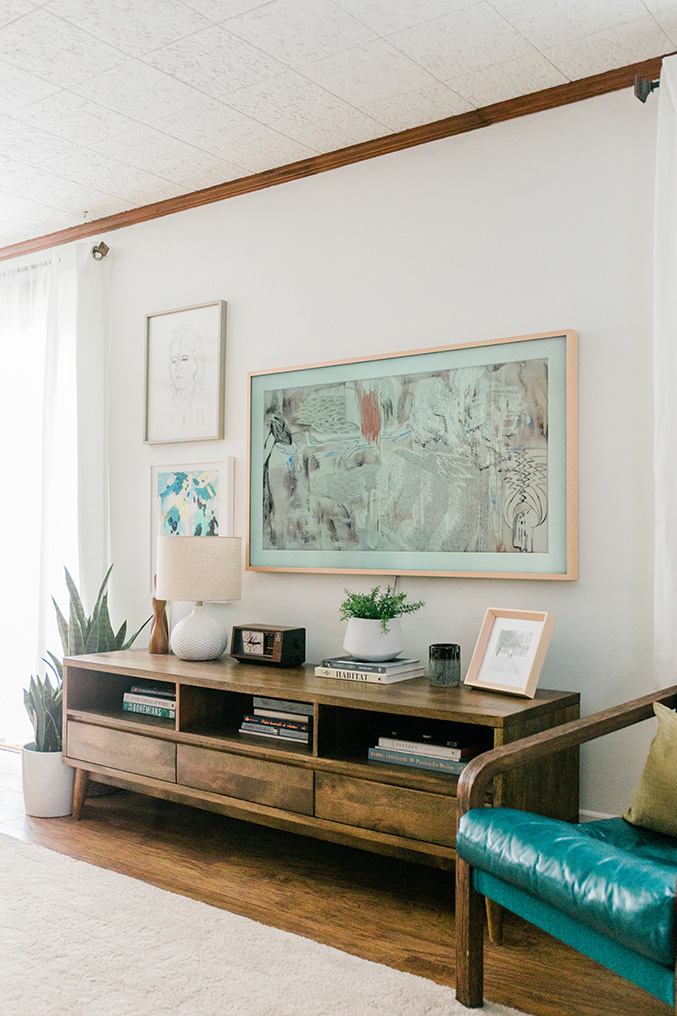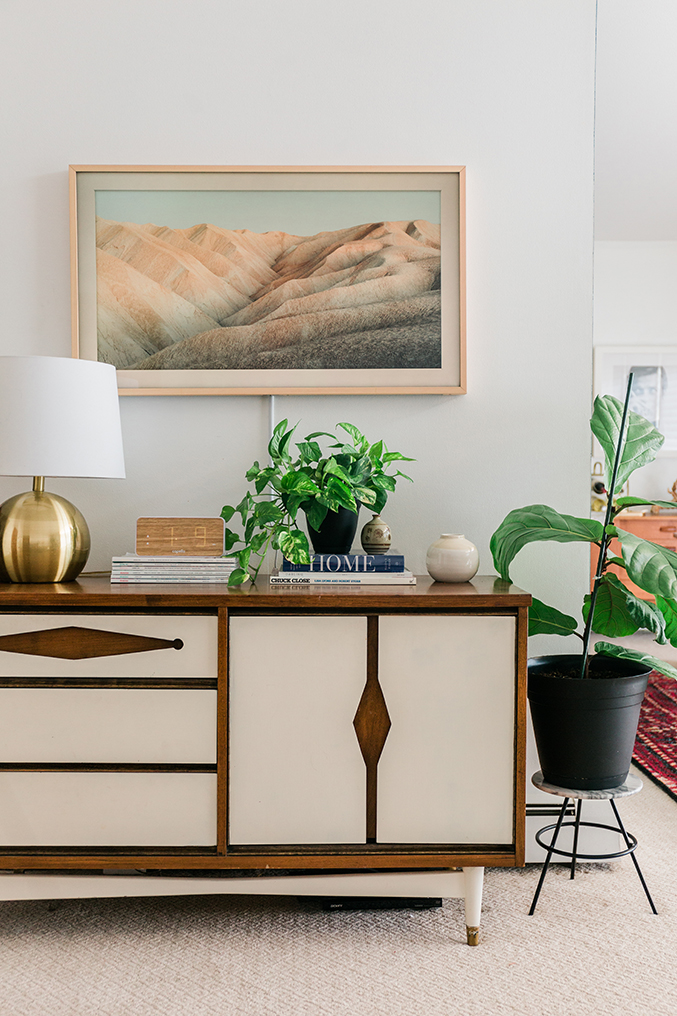 What's the story behind the wood and white sideboard?
That sideboard came from a little boutique vintage goods shop that has since closed in Lynchburg, Virginia. I love how the painted portions of the piece really set off those angular retro cutouts. It actually came with an upper shelving unit, too, but we took that off to make a little more space for decorative accents. The shelves now live in our basement to keep our tools organized.
What is your best advice for mixing and matching vintage items with new?
When we first bought our home, I was still in my twenties, and even now in my 30s, our home budget is tight. Luckily, retro home decor is pretty on-trend these days, so lots of "Big Box" brands carry fairly believable versions of authentic mid-century chairs, sofas, and tables. As time goes on, we plan to replace these reproductions with true antiques to gradually have the vintage home décor collection of our dreams.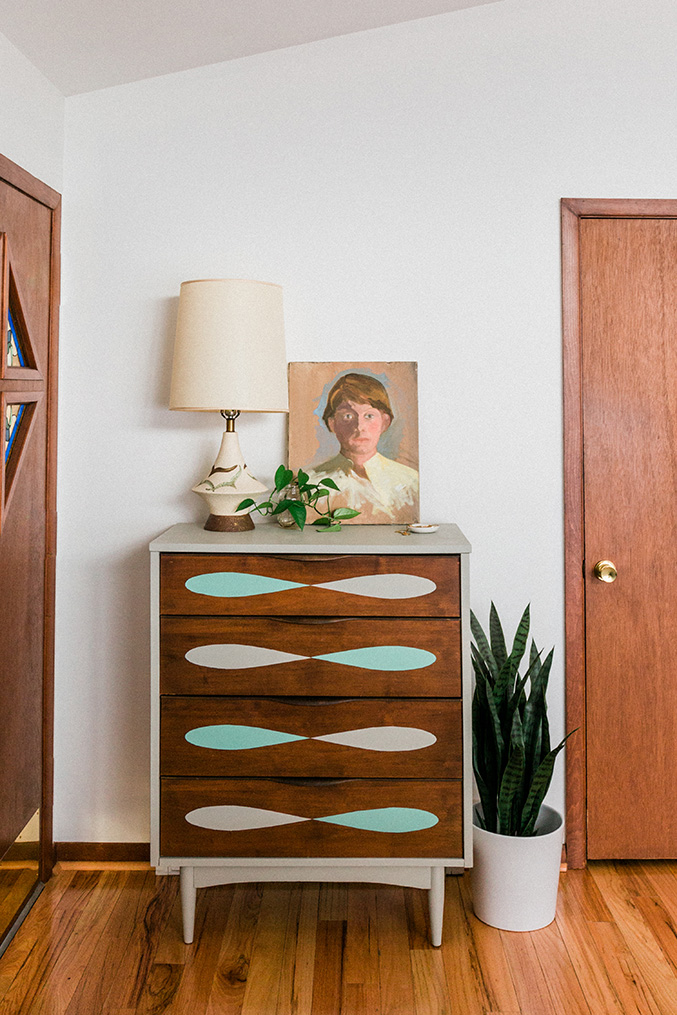 Where did you find the dresser with those blue and gray teardrop shapes on it? Was this one of your DIY projects? Where did you find the portrait sitting on top?
I found the wooden mid-century dresser at a thrift store here in town, and managed to haggle my way to owning it for less than $60. After getting it home, I designed my own teardrop-shaped templates, traced them on the drawer fronts, and filled them in with different colors of chalk finish paint. You can see the full DIY tutorial here! The portrait came from Circa in Charlottesville, Virginia.
What are some of your favorite records?
I'm a huge fan of classic 1960s movies, and especially appreciate the music in those films. Most of my record collection is made up of retro soundtracks. I searched eBay for the Sunday In New York soundtrack on vinyl and was lucky to find one! You just can't beat Peter Nero on a Sunday morning, cup of steamy coffee in hand. Butch Cassidy and the Sundance Kid is another favorite soundtrack I listen to on repeat, as is the Barbra and Kris version of A Star Is Born.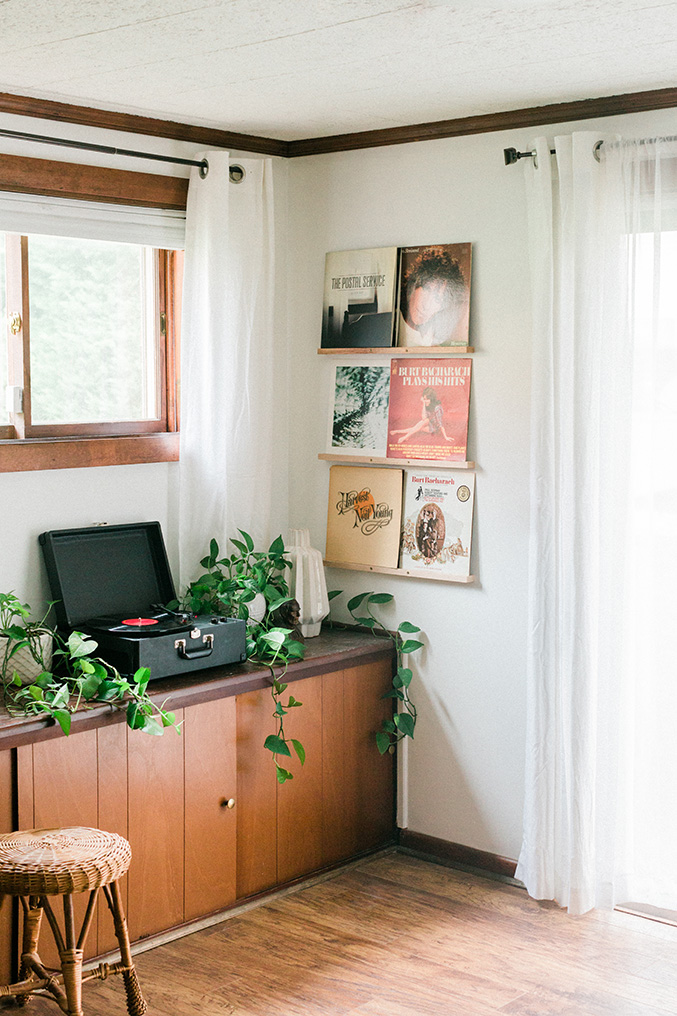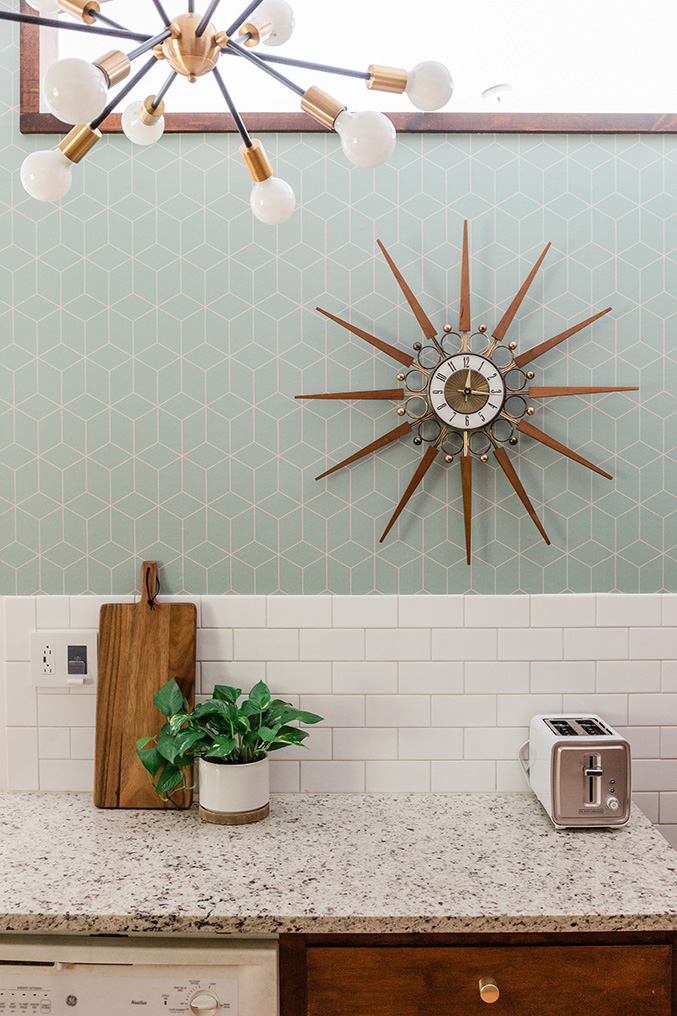 Where did you get the atomic wall clock?
My husband and I found the atomic wall clock in a box at one of our favorite estate sale shops several years ago. It was missing half of its wooden starburst arms, but at $12, I couldn't leave it behind. My dad helped me build replica versions of the lost arms to make it complete once more.
Favorite cocktails?
I'm more of a red-wine-and-cheese type of gal, but I'll never turn down a classic mojito! 
Where did you get the pendant light, dining furniture, and lamps in your dining room?
The pendant light came from LampsPlus, but is no longer available. Here's a similar option. The dining table was purchased at Galaxie Modern in Lynchburg, Virginia, as a housewarming gift to ourselves when we moved into the house back in 2015. The chairs that we bought a few years afterward to go with the table are from Circa in Charlottesville, Virginia. The two green lamps were another vintage find from Staunton Antiques Center. My husband was mortified to be seen walking down the road carrying them back to our car from the antique store, and he still hasn't come around to them, but they're one of my favorite secondhand finds yet.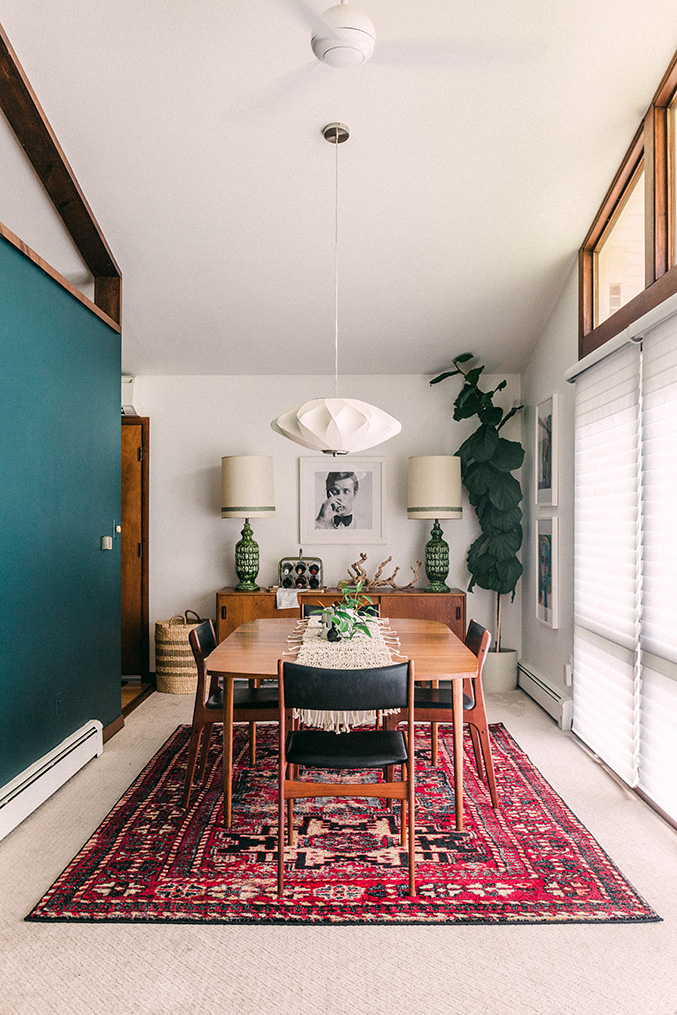 You can check out the full story and home tour over on Atomic Ranch this way, and big thanks to the writer of the piece, Shelby Deering, for making my little dream come true with this feature. What a great way to start a brand new week!
Now tell me in the comments…What's your favorite type of home tour to see? Are you as into mid-century design as I am, or are you drawn to traditional décor? Maybe minimalism or farmhouse style is more your jam? I honestly love taking virtual or print tours of just about any kind of décor style, but 1950s/'60s/'70s design is clearly my favorite. Let me know your pick below!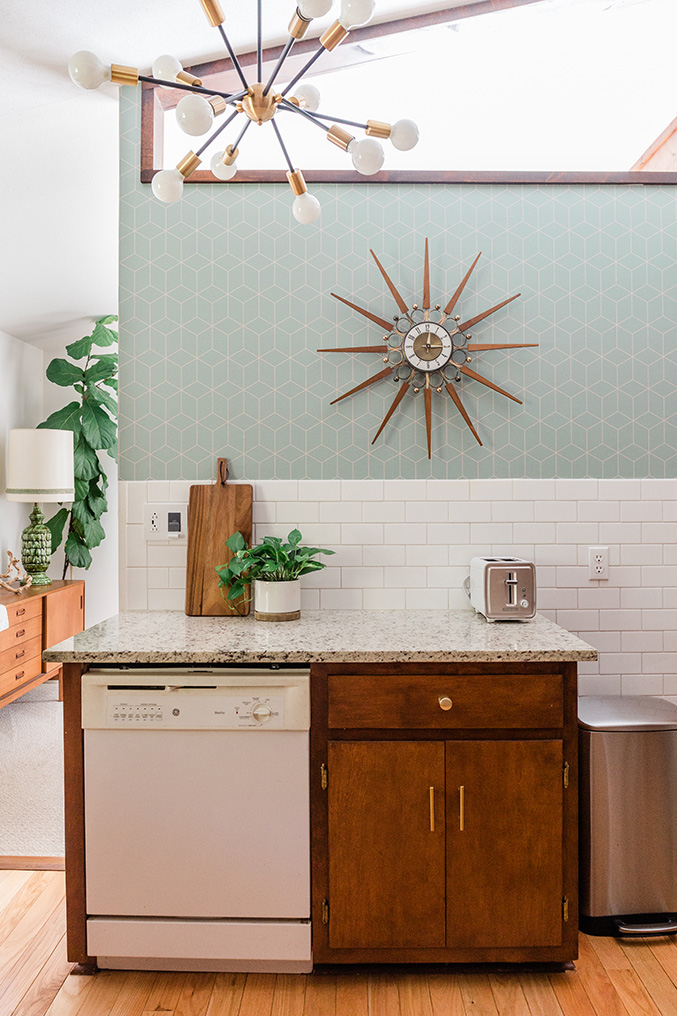 The post Our Home Tour On Atomic Ranch appeared first on Dream Green DIY.