Mature Style: Summer Shapewear for Women Over 50
Summer clothes have a way of deceiving us:  They look flowy comfortable and easy, but we know better.  That strappy number requires a strapless bra, the maxi looks best with a smooth line underneath, and those cute shorts and sleeveless top… well our arms and legs will show!  
Should we even consider mini dresses at our age?  With our arms and legs on display, we think of our saggy, or dimpled skin…at least I do. There are some solutions and I am here to spill the beans. We're talking shape wear today, ladies.  How to look good in clothes when you are over 50.  And more specifically, summer clothes.
A blogger friend took a random survey asking who among her readers wore shape wear.  Most said they didn't because it was uncomfortable, it rolled, (few things are more uncomfortable) it bunched, it cut off circulation.  Nobody wants that! Especially when it's hot outside.  In short, they said they hate shape wear.
So what do we need?  Can we really find summer shapewear that makes us look amazing and is comfortable at the same time?  It takes a bit of doing, but I've been on the hunt and have a few ideas for you.
First,  I'm sixty, and I make no apologies for the fact that I have a 60 year old body.  My body that has survived with me, and together, we weathered all sorts of sorts storms.  My body nurtured my daughter, has danced, snow skied, and explored bits of the world.  It's not as buff as it once was.  As a person, I am softer, more compassionate, more loving and content.  To hate my body while trying to be a loving person simply can't be done, any more than you can hate yourself and love someone else.  (Here's a link to my weight loss story and how I learned to love my body).
While the media embraces a variety of body types, mature bodies are not among them, but I don't care.  I am going to choose clothes that make me feel amazing and wear them with confidence.  Some clothes need a little help to make them look their best, and that's when I dig to the bottom of my lingerie drawer, and pull out a bit of shape wear.
A few general tips to find the perfect Summer Shapewear :
Take your time when trying shape wear on.  When trying on a bra, pull a t-shirt on over it to make sure it is smooth and gapping cant be seen under the shirt.
Don't forget to look at yourself from behind.  Make sure you know what the shape wear is doing.
Sit down, raise your arms, and bend forward.  Do a few dance steps or bounces to make sure you can actually move in it.  Shape wear can roll, strapless bras slip, and we don't want any of that.
Rather than sizing down, wear your normal size.  If it's too tight, go up a size.  Your circulation should not be cut off, nor should you feel as if you are going to burst.  The shape wear is meant to smooth bumps and hold you in a bit, not drop your clothing size.  
The Best Summer Shapewear for the Mature Woman:
Bras:
During summer, my bra situation runs the gambit from lacy barrettes peaking out here or there, nipple covers for the rare (mainly evening) outfit where a bra is impossible to wear, bandeau bras, (mine was $10 from Arie) strapless which I can't wait to tell you about, and racer back and halter bras.
Let me say, first and foremost, my chest isn't what it once was and I prefer wearing clothes that allow me to wear my normal bra.  But if I find a top I really want to wear, and it requires a specialty bra, I want the most comfortable option for my size and shape.
Torso:
Kim Kardashian has generated a huge amount of buzz around her "nipped" waist and ample behind.  While embracing bigger behinds offers a huge relief for most women, a cinched waist harkens to the Victorian era when women passed out regularly because their corsets were too tight.  Today, we can opt for surgery, as Kim did, or you can opt for her shape wear which is designed to create a tiny waist.  
If this is all too much, (I know  it is for me) and you simply want a smoother line, a simple cami style shaper may be just the ticket.  This type of shaper can be worn as a top or under clothing, so having one in a nude tone and some to wear on their own in your favorite colors is a great idea.  Some tops come with an lining that smooths.  I like these but they can be a little hot in the summer.
Hips and Thighs
More ample hips and thighs are "fashionable" again, but we still want a smooth line.  This is where the biker length summer shapewear comes into play.  Make sure the fit is smooth, the waist doesn't roll and the legs are smooth.  (I learned this the hard way; mine actually have a little ridge)
Lower Belly
Smoothing the lower belly is the easiest to do.  A pair of high waisted, control top panties are just the ticket.  Since they have been around forever, you can easily find beautiful sets of matching bra and panties that harken back to the fifties.  (I am all in for this, personally). 
Arms and Legs
Lets talk a bit about our arms and legs.  My upper arms are a bit saggy, and no amount of exercise is going to change the fact that my skin is loose there.  The options: surgery which leaves scars that are sometimes worse than the problem, getting gigantic tattoos to distract the eye, wearing long sleeves all the time and roasting  during the summer months, or caring for your skin, maybe use some self tanner, and choose a comfortable sleeve (or sleeveless top that makes you feel amazing and just go for it).
The same options go for legs.  Mine are a little bumpy, and my knees are a bit knobby.  Do I cover them?  NO.   I choose an over all silhouette that works, make sure my legs are moisturized and maybe a little tan and go for it.   That's what I have opted for.  There are creams that temporarily smooth the legs, treatments for veins, and with legs, exercise does improve the shape, so a little gym time can work wonders if you are so inclined.  
I have considered whether or not to wear shorts and short dresses in recent years, but have decided to take them an outfit at a time rather than saying I won't wear them at all.  I'm not a huge fan of shorts, but I do wear them from time to time.  When I consider a short dress, I personally avoid things that are too cute however, I'm 5'7" woman.  Shorter curvier women can pull off cute.  I don't think I can.  The point here is to try on the look, take a few pictures of yourself, and make a decision as to weather you like the whole look.  I have found that seeing an outfit photographed gives me a better sense of proportion than seeing myself in a mirror.
To sum things up, it may take a little time to find the "right" bra, cami, or lower body shaper, but it's definitely worth the time to get it right.  Here are a few brands and styles to consider.
SHOP MY FAVORITE SUMMER SHAPEWEAR: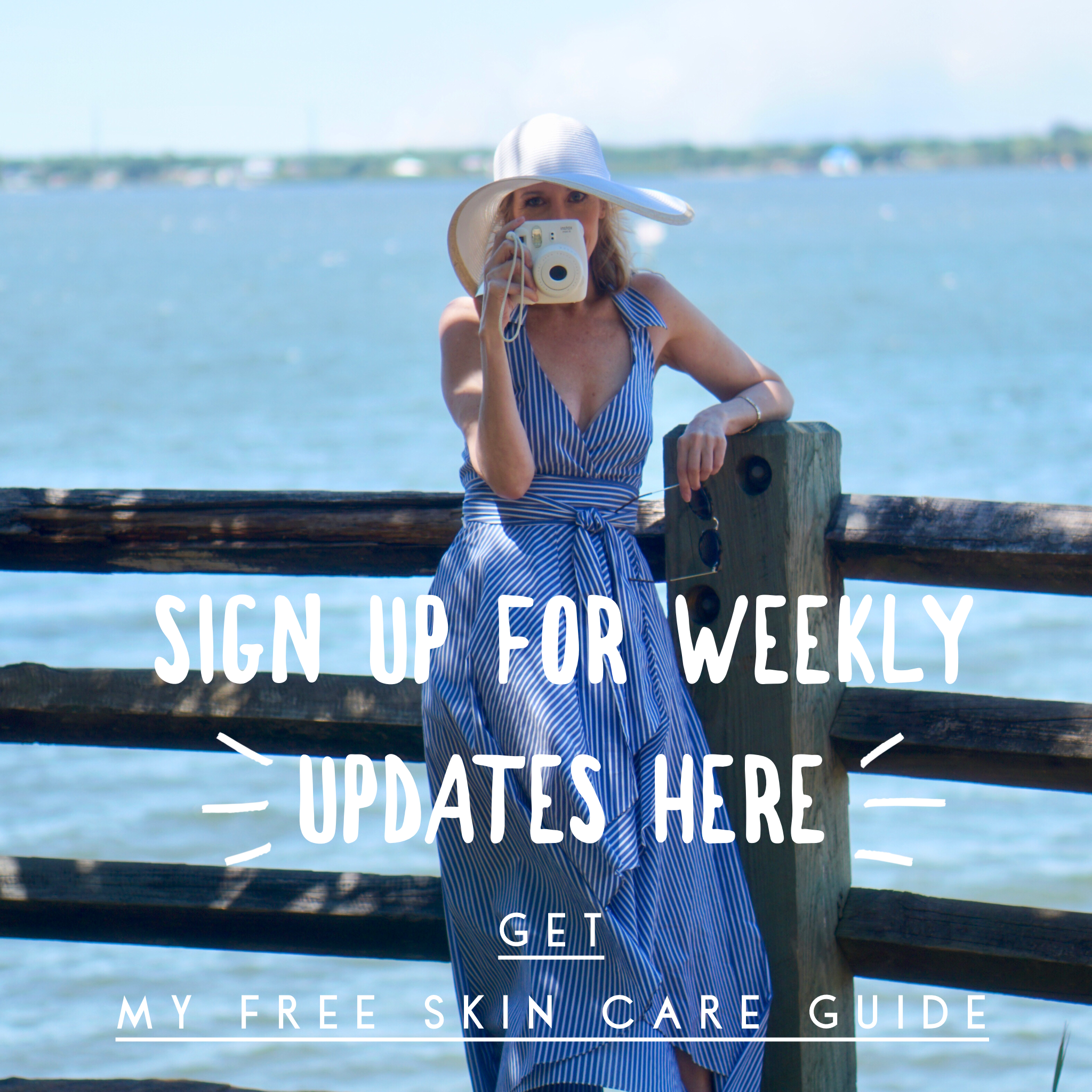 P.S.   I'd like personally invite you to join our community here at Sharing a Journey.  Grab my free beauty guide and receive weekly updates by clicking the image below or right here.  http://sharingajourney.com/land/ . I've been pinning like a mad woman on Pinterest, so if you love fashion, beauty, recipies and decor, be sure to follow along. I'm super active on Instagram so if you want to get a behind the scenes glimpse of what goes on here at the casa, follow my stories, and if you want to see more fashion, check out my in feed posts. I love hearing from you, so if you have a tip or comment, please be sure to share it. We all learn from each other.
The post Mature Style: Summer Shapewear for Women Over 50 appeared first on Sharing A Journey.