How to Save Money on Kitchen Cabinets with a Cost-Saving Design Guide
Saving money on kitchen cabinet remodeling can be very difficult. Everything you want in your dream kitchen could drive the cost of the kitchen higher than the anticipated budget. Average kitchens can range from $4,000 to $13,000. Massive numbers like this during the kitchen estimate may deter customers from buying the cabinets or even going through with the remodel. 
The "perfect" kitchen will not always be able to be recreated, but some changes upon further thought can drastically change the price. No, not by just a little, but a fraction of the price. As expected, the more you add on, the higher the cost of the kitchen remodel will be. Here are some tips on trying to save money on your kitchen remodel.
Custom versus RTA: Save Money on Kitchen Cabinets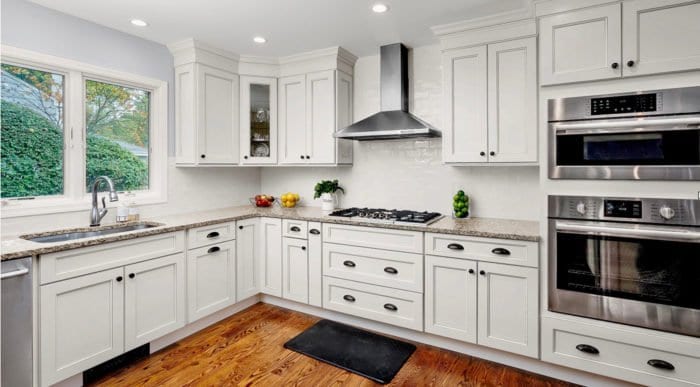 Custom cabinets are the biggest price change for someone looking for a kitchen remodel. These cabinets offer options beyond one's imagination. Custom raised-panel doors, specific size glass doors, and even very specific tones of colored paint are available with this option. The price tag for these options may be double or triple what one would normally get from a regular kitchen remodeling project. This may always be the first adjustment to save money on kitchen remodels.
Who would go for a custom cabinet remodel? Interior designers who are looking to raise the value of a home will probably go with custom. They will want to choose an aesthetic that matches very specific color palettes, lucrative doors, and even unique cabinet support columns that are not available for typical ready to assemble stock cabinets. A standard person looking to do a home remodel can stick with ready to assemble cabinets and save the costs for another part of the remodel.
You don't need multiple trash bin cabinets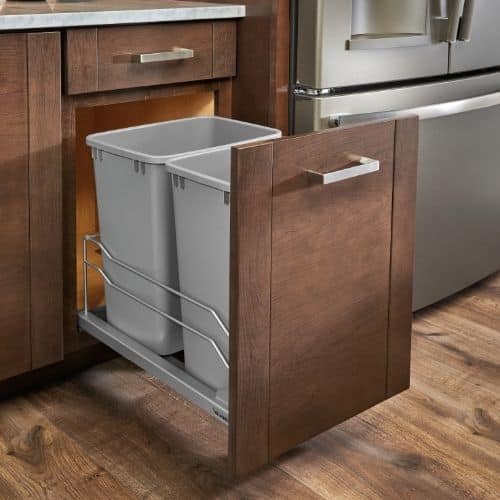 Cabinets will have the option for trash bin cabinets. These commonly are 15" or 18" wide. The 15" cabinet has a single bin while the 18" has two bins. The recommended option is that households that want a trash and recycling bin option would choose the 18" trash cabinet. Customers looking for a single bin to store more would select the 15" cabinet. However, one should not choose more than one trash bin cabinet for their home. The difference between the regular cabinet and the trash bin option typically range from $100 to $150 increase. Getting two 15" trash bin cabinets can run you close to $900 versus a single 30" cabinet going for half that price tag but with lots of storage.
Although it is nice to have your trash concealed and hidden from the public, the trash cabinets eat up your storage space. Having one 15" cabinet for trash should be more than enough for the average kitchen. Even homes with a large island should not need more than one trash cabinet. For some people, simply buying an individual trash bin to have in the kitchen can also save a lot of money as well as increase the storage space in the kitchen.
Only one lazy Susan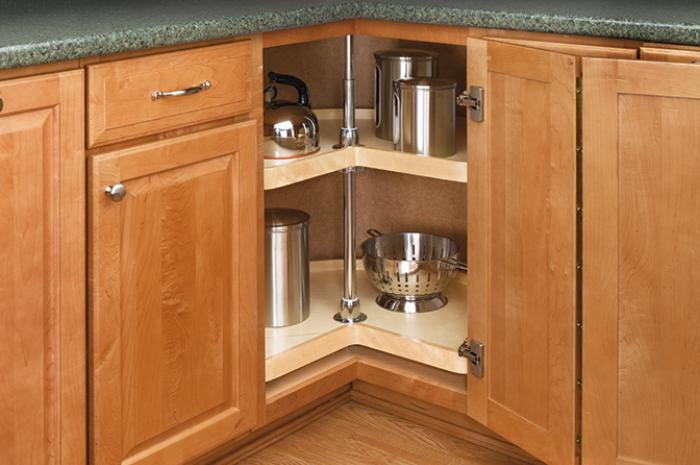 Arguably one of the most expensive cabinets in the kitchen. People will defend the lazy susan as being the king of corner cabinets. The L-shape makes the best use of the space to be accessible with the revolving turntables. The inside components and amount of wood to construct the shape of the cabinet drive the price higher than most bank of drawers. Having only one of these behemoths is enough. These cabinets require a large amount of space committed to put one in the corner and do not offer the best storage space out there. Cost wise, the lazy susan almost equates to one and a half large cabinets on its own. Choosing a different cabinet than the lazy susan can either upgrade another cabinet to a larger size or simply add more storage to a different one. 
So if one does not go with the lazy susan option, what else is there? Dead corner? Of course not. The blind corner cabinet is deep enough to fit into the dead corner and has an 18" door. Since the cabinet is actually 36" deep, the blind corner can actually store a lot more than a lazy susan. It's called a blind corner because the space occupied is hidden away from view. There are upgrades to the cabinet like the Magic Corner that can maximize the ease of access to the corner. Switching one lazy susan to a blind corner can save you a good amount of remodeling cost, so never go with more than one.
Only one large bank of drawers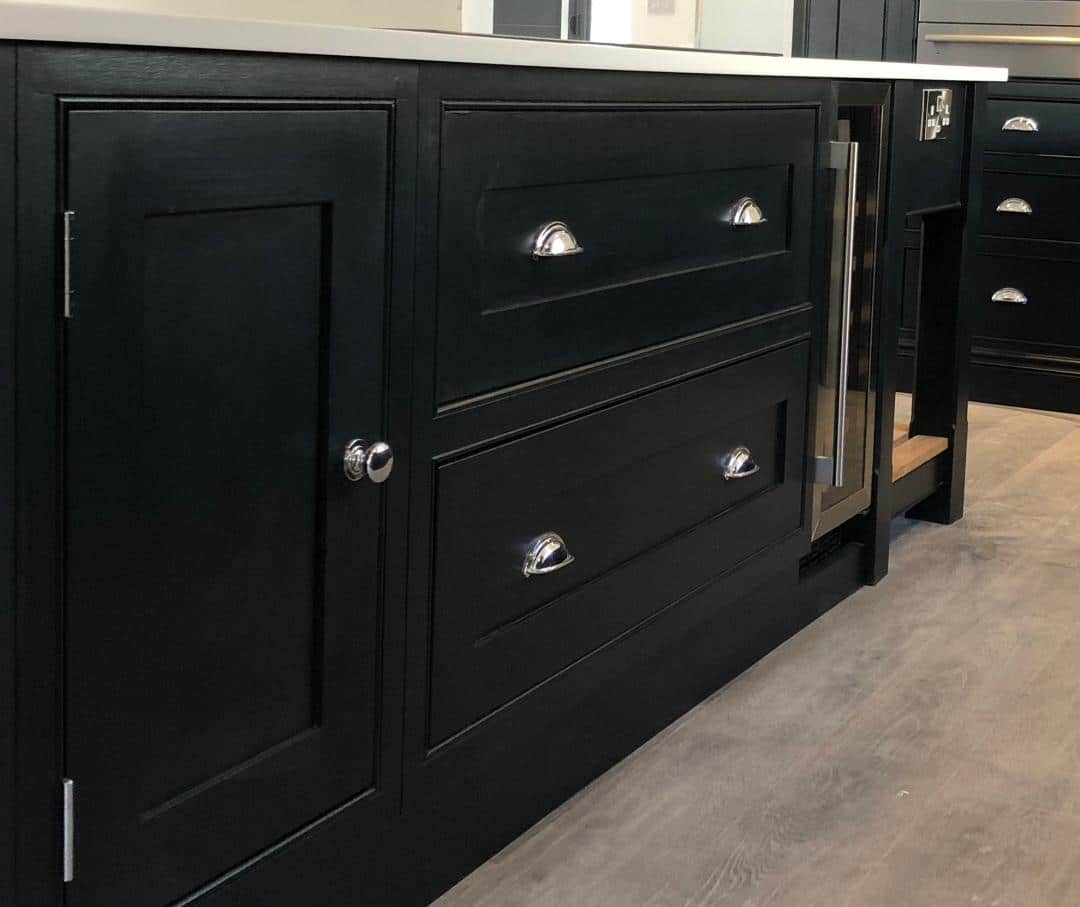 Drawers are the kings of storage. The ease of access, durability, and size options make these cabinets a must for all kitchens no matter the shape. Customers should avoid going with having too many drawers. Having one drawer bank is required for many homeowners to store large pots, baking trays, and heavy pans. Having multiple drawers is excessive, especially larger size versions. Large drawers are available in 30" or 36", but multiple drawers are not needed.
Base cabinets will typically have a drawer on top with the same width as the cabinet, excluding full height door cabinets. They will not have the same feature as the drawer, but the same storage as them. Should people not have any drawers? No, each person should only have one bank of drawers. Having multiple does grant a lot of needed storage for the homeowner, but at what cost?
Do you really need a spice rack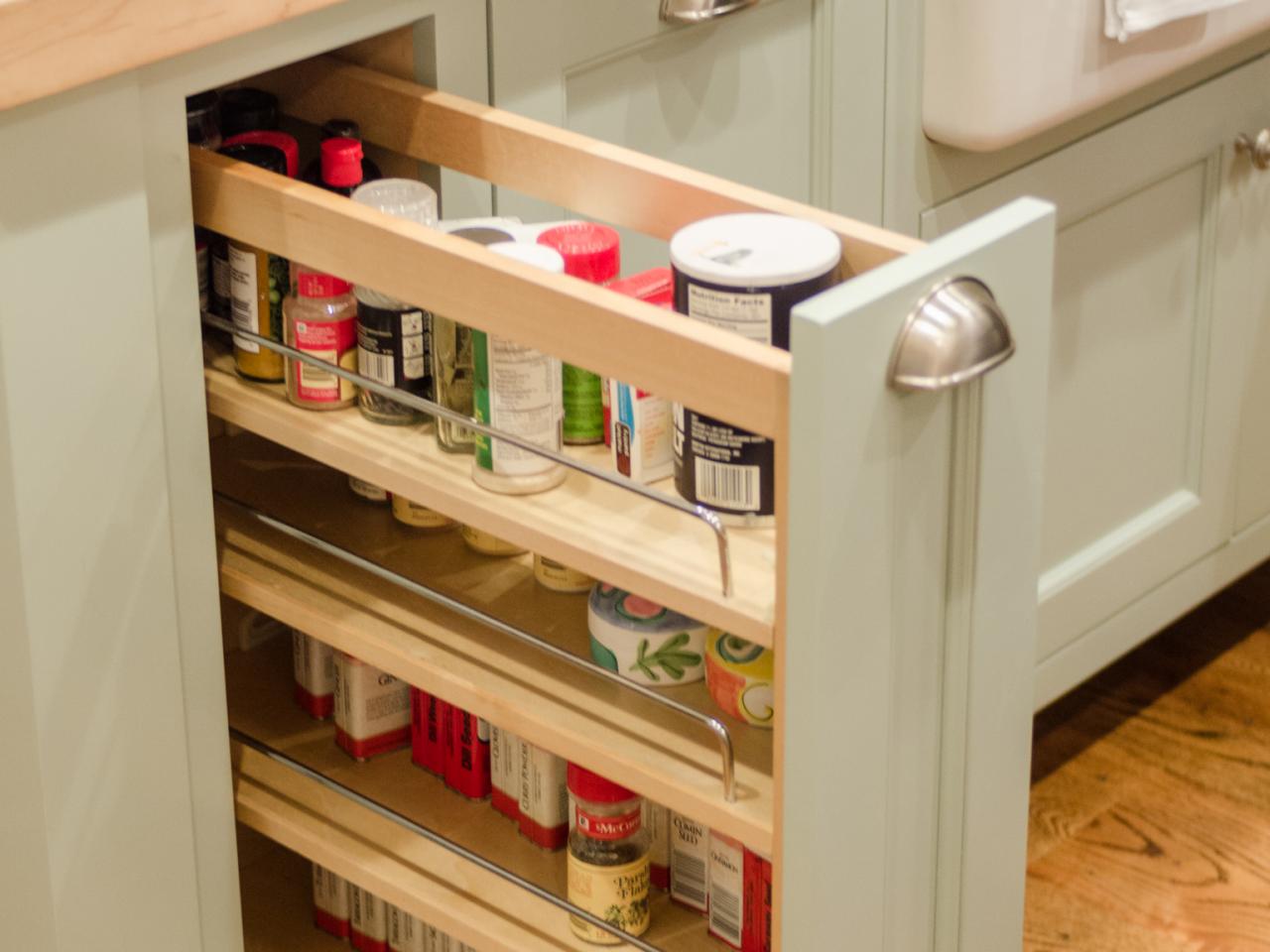 This cabinet is a cabinet many customers can pass on because of the purpose it has. It only stores spices and is a very narrow cabinet. They are typically available from 9" to 12" wide and have 2 to 3 layers for spice and sauce storage. Spice racks are indeed helpful to have next to the stove when one is cooking, but are not necessary. There are some factors to consider when adding one of these to a kitchen.
Are spice rack cabinets pricey? As surprising as it is, yes, they are. A single spice rack cabinet can run as much as a double-door cabinet. Comparing the space for storage, that is 24" of space compared to 9 or 12". A 9" spice rack can even change a small cabinet to store large pots and pans by the stove anyways. Spice rack holders that hang inside cabinet doors are a budget-friendly option that does the job the same thing. Smaller add-ons later on really help save money on the kitchen remodel.
Less custom modifications
"How do I save money on kitchen cabinets with fewer modifications?" Doing less costs less. The less out-of-ordinary changes needed, the cheaper the cabinet will be. This affects the cost of installing the cabinets more than people who have a contractor. Although most people will have the cabinets built how they see them in the cabinet store showroom, there may be some people looking to elevate their cabinets even more. These may include elevated crown molding, building a platform for island cabinets, or cutting a cabinet to fit due to an obstruction.  Doing these require extra labor on top of installing cabinets and will typically be calculated when counting labor costs.
There are a few situations where modifications need to be made. These include water lines, gas lines, soffits, and wall obstructions. Water and gas lines may not be able to be moved due to construction limitations. Cabinet installers will simply just need to cut a hole in certain cabinets to accommodate the pipe that needs to connect to the specific location . Soffits and wall obstructions are able to be adjusted with a filler. These cases can be solved easily, but adding many technical details may need more costs to be added. Best to avoid going too crazy here.
Glass doors are pretty but a hassle
Glass doors on display are beautiful. They show the interior of the cabinet with the light shining through. This may convince one to decorate their kitchen to replicate the glass doors they see. However, glass doors require a lot of maintenance. Just like car windows, glass doors collect dust and need to be cleaned constantly. Showrooms will constantly clean them to show the luminosity of these doors. These doors can get grease stains from the stove that are not present in the showroom.
What do glass doors have to do with the cost? Quite a lot in fact. Glass doors are not always an individual glass panel. Certain cabinet doors that have 5-piece construction will have a cheaper option to just sell the glass panel insert that one can swap the center panel with. Otherwise, glass doors are extra costs from the cabinet itself. They can range from $100 to $150 per individual door. Multiples of these will start stockpiling to the total costs.
Don't go crazy with roll-out trays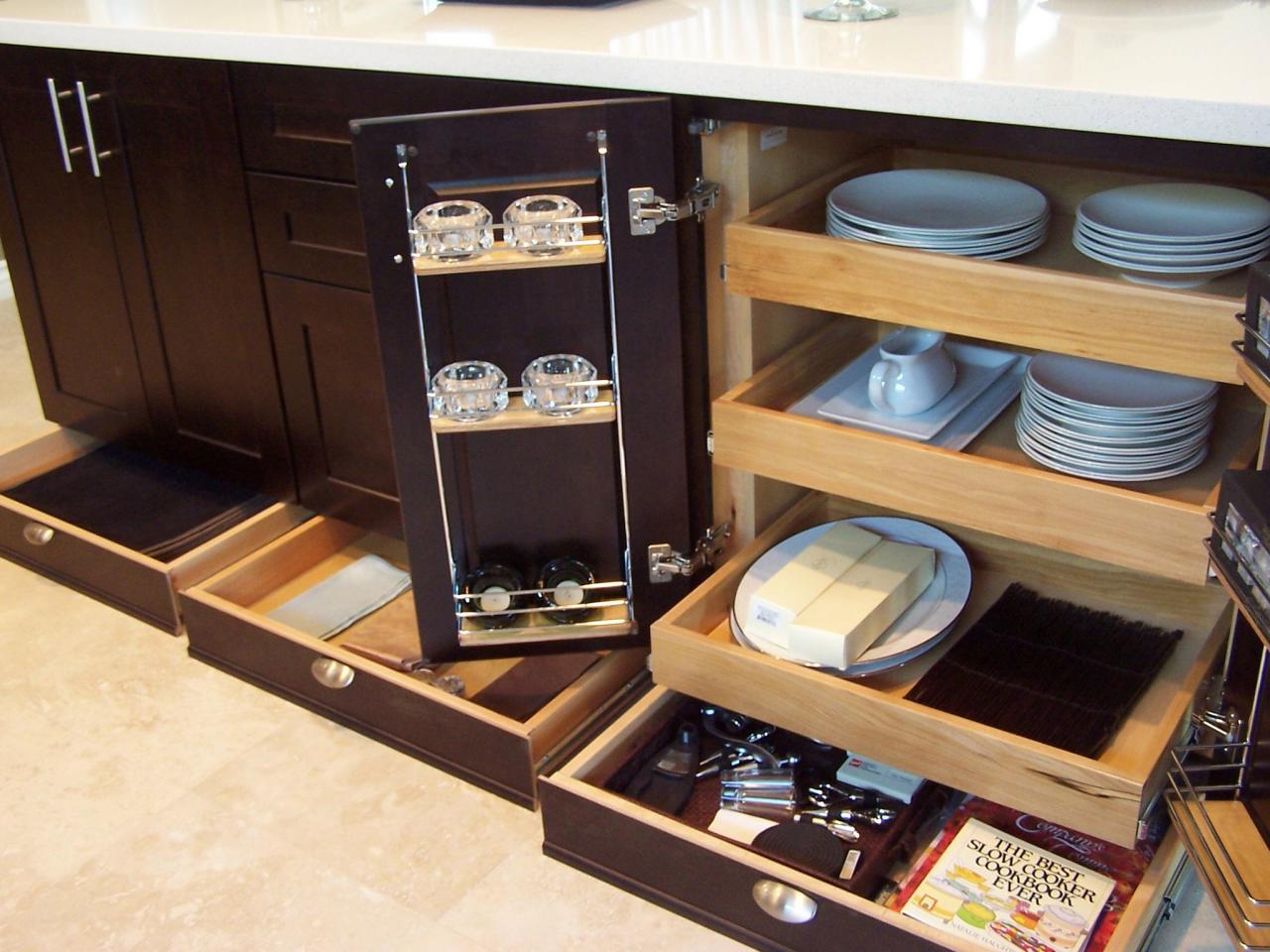 One might think that adding roll-out trays into a cabinet will be cheaper than a bank of drawers right? Yes, but when adding many of these continues, they can add a whole chunk of the cost. Each drawer can cost around $100 depending on the size of each roll-out tray. One or two where it is needed is logical and may not change the final cost too much. Adding too many can change the kitchen's function and cost surprisingly. 
Adding a roll-out tray is mounted either on the shelf of the base cabinet. The space removed to add the functionality of the roll-out is not much, but putting tall appliances in there could be a struggle. So what's the best option? Use the roll-out trays for a cabinet that will greatly benefit from the ease of access. Do not splurge and get too many. The overall cost will otherwise spike out of control.
Premium… cabinet handles?
Cabinet handles should mix functionality and design together to balance with kitchen cabinet doors. There is no need for them to be so luxurious. Cabinet handles should not exceed a few dollars, as the whole kitchen needs the same handles most of the time. Having premium handles that exceed $10 each will drive the cost in the blink of an eye. These will be the last thing you expect to drastically change the total cost. Keep the handles simple without overspending. Many people will choose simplicity with a price that won't hurt their wallets. 
Trends versus functionality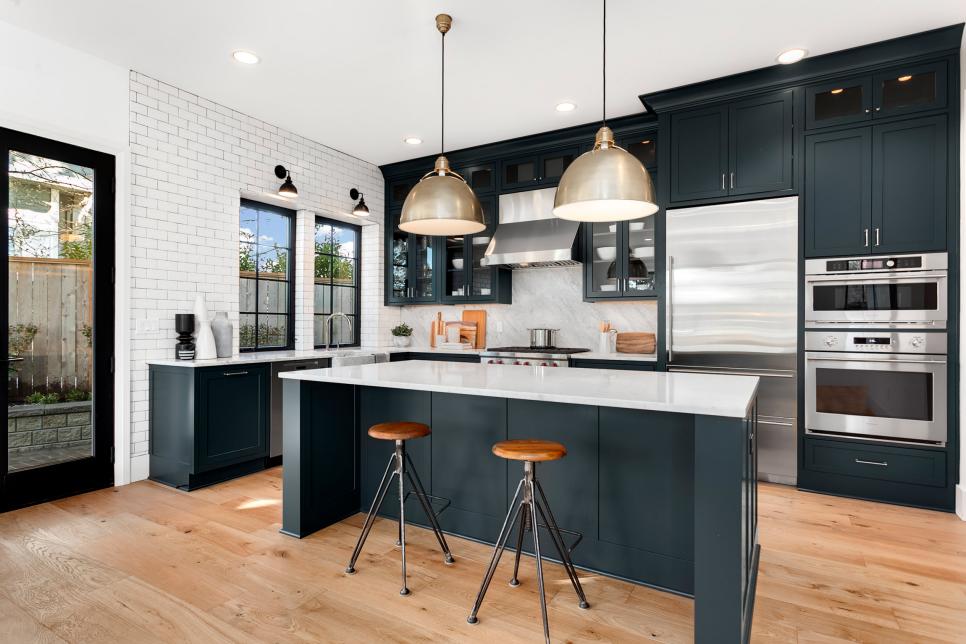 Some people want to be the trendsetter and follow the latest style and designs. This may be the same with their home decor and remodeling projects. A common trend is the farmhouse apron sink. Some people love the design and decor of it while others want to keep the sink traditional. 
Fashionistas and hypebeasts pay a fortune for luxury clothing. That translates to trends for kitchen cabinets as well. Trends like the apron sink can cost double the price compared to a regular double basin sink. Are styles and kitchen trends worth the additional fortune or is functionality more important?
Countertop counter argument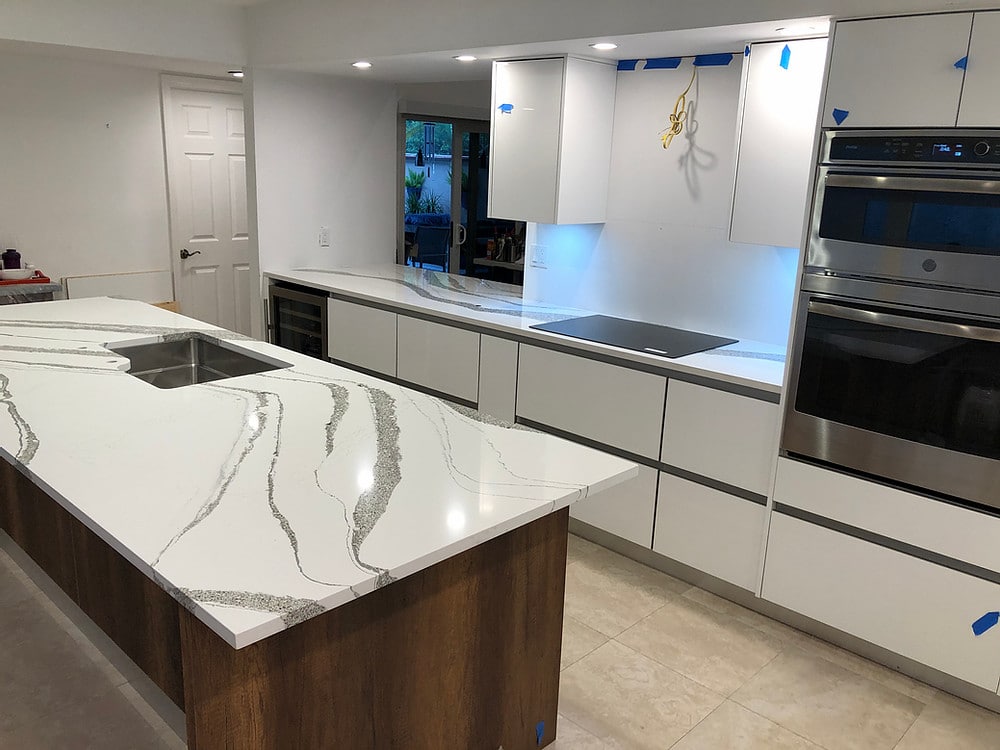 Countertop has changed the most in terms of material, and can typically be the last thing to tip the price tag of the cabinets one way or another. Depending on the material, the countertop can change the aesthetic appeal, visual contrast, and even the functionality of the kitchen surfaces. The ever-common quartz has many variations on its own to mimic marble countertops. Higher-end stones like Caesarstone will cost a hefty fortune. The stones can be the cherry on top or the nail in the coffin. If the cost is too big, there are quartz options that look identical to high-end brands out there. Countertops are the last additional when remodeling cabinets, but can be the biggest way to save money on kitchen remodels.
The post How to Save Money on Kitchen Cabinets with a Cost-Saving Design Guide appeared first on Best Online Cabinets.