Homestar Recalls 33,000 Dressers Due to Tip-Over Risk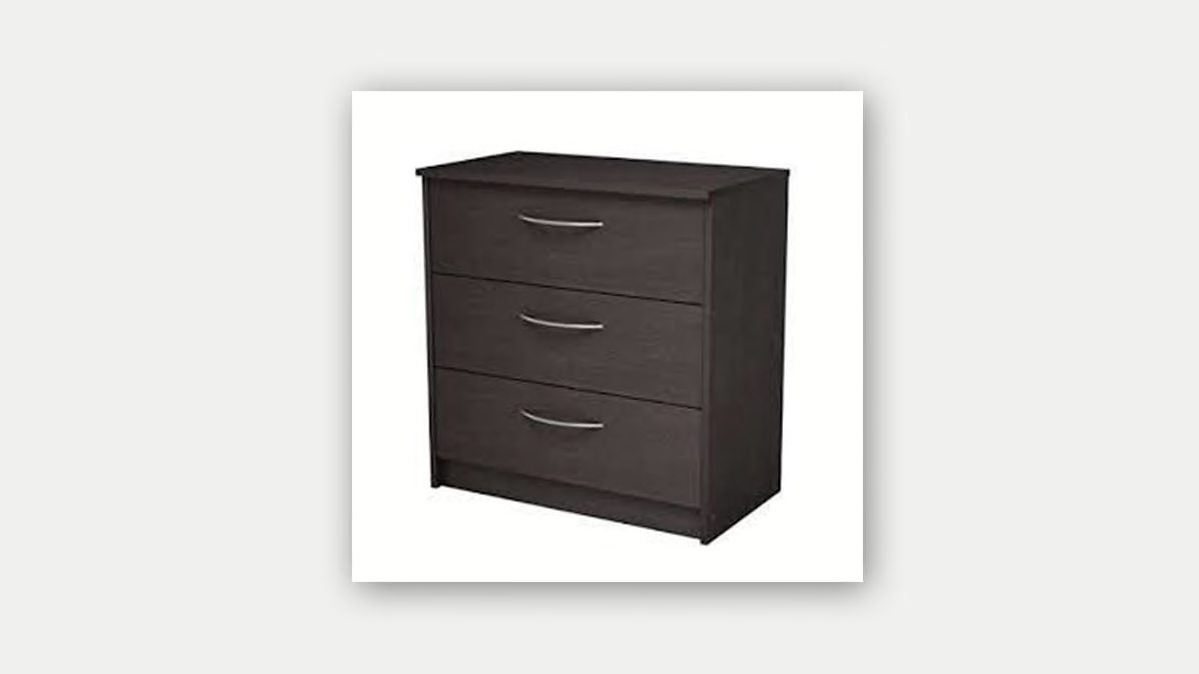 Consumer Reports has no financial relationship with advertisers on this site.
Furniture manufacturer Homestar—now owned by Ashley Furniture—recalled about 33,300 Finch three-drawer dressers because they are unstable and pose a serious tip-over risk that can lead to death or injuries, according to an announcement today from the Consumer Product Safety Commission.
Consumers should immediately stop using the recalled dressers and place them in a room children can't access.
The recall involves all Homestar Finch three-drawer dressers in maple/bank alder (EB10873BA), black (EB108738Q), Torino walnut (EB108738TW), and white (EB108738W), sold alone or as part of a matching bedroom collection. "Homestar North America" and the model number are printed on a label on the back of the recalled dressers, which are 28 inches high and weigh about 47 pounds.
The products were sold online at retailers including Amazon, Hayneedle, Overstock, and Walmart from January 2016 through May 2019 for about $90.
Homestar is not offering customers a refund for the recalled dressers. Instead, it says people who own one of the dressers should contact the company to receive a free tip-over restraint kit and a one-time free in-home installation of the kit. Customers can call 877-353-5999, email CPSCanti-tip@homestarltd.com or go online to reach the company.
But safety experts at Consumer Reports say this restraint kit solution does not ensure that the dressers will not be moved at a later date and used without a wall anchor. The best remedy for the recall of any unsafe product is to offer a full refund for consumers to remove the hazardous product from their homes and return it to the manufacturer, says Oriene Shin, CR's policy counsel for home and product safety.
"Unstable dressers put children at serious risk of getting hurt or killed, and a full refund is needed to prompt people to take action," Shin says.
Janet McGee, whose 22-month-old son Ted died from a dresser tip-over in February 2016, says this recall offer leaves children dangerously unprotected. "This is exactly what happened in our situation. In 2015, Ikea offered anchor kits for millions of their dressers, yet that message didn't reach countless households, including mine," McGee says. "Just months after their repair kit program was issued, my son Ted died when an Ikea Malm dresser fell over onto him. Finally, four months after his death, the company recalled the dressers and offered to pick them up. This company is risking a lot, not only to consumers but to themselves, by not allowing these dressers to be returned."
Crystal Ellis, whose 2-year-old son Camden died in June 2014 after an Ikea Malm dresser tipped over onto him, is also disappointed by this recall offer. "Homestar has a chance to save lives, and they are choosing the half measure that Ikea has already proved to be a failure," says Ellis, who, along with McGee, is a founding member of Parents Against Tip-Overs, a consumer advocacy group made up of parents whose children have died in a tip-over incident.
When CR asked Ashley Furniture, which bought Homestar, why it was not offering a refund, a spokesperson said, "this recall does not relate to a product ever manufactured or sold by Ashley Furniture. Any inquiries regarding this matter should be directed to Homestar North America, LLC."
Homestar did not respond to a request for comment.
Why Unstable Dressers Are Being Recalled
One person is injured about every 20 minutes—and one child dies about every two weeks—when a piece of furniture, an appliance, or a television falls onto them, according to the CPSC. Each year, thousands of those incidents involve dressers. Dresser tip-overs alone have killed at least 212 people since 2000, mostly children 6 and younger.
Today's recall comes after the CPSC tested more than 150 models of dressers, chests, and other clothing storage units to see whether they complied with the industry's voluntary stability standard, with the aim of getting unsafe dressers off the market. The CPSC confirmed to CR that the Homestar Finch three-drawer dresser did not pass that testing.
There is currently no mandatory government standard requiring furniture manufacturers to test their products and prove they are stable before putting them on the market. Instead, there is a voluntary industry standard that was created via ASTM International, an organization that helps develop voluntary standards for dressers and thousands of other products. The voluntary standard states that a dresser 27 inches or taller should stay upright when a 50-pound weight is hung on a single open drawer while the others are closed.
The voluntary standard previously applied only to dressers taller than 30 inches. But short dressers can also be dangerous. So after substantial work by consumer safety groups, including CR, the voluntary standard was revised in August 2019 to include dressers as short as 27 inches. Because the Homestar Finch dresser is 28 inches, it is now subject to the updated standard, and does not meet the stability rules.
When CR asked the CPSC why the company didn't recall the hazardous dresser as soon as the voluntary standard was updated in August 2019, a spokesperson for the government agency said, "each negotiated corrective action takes time to reach agreement. It is a voluntary agreement, a voluntary recall."
McGee is frustrated that the company did not recall the dressers in August 2019 when it was clear that it did not meet the new voluntary standard. "The fact that it took this long for the company to issue a recall is unacceptable," McGee says.
A different Homestar model—the Central Park Three Drawer Chest—which is still available for sale, failed Consumer Reports' tip-over tests in 2018. At the time, that dresser was not covered under the industry's voluntary standard because it was only 30 inches tall. 
Homestar did not respond to CR's question about whether this dresser has been tested to the new standard and was compliant.
The Need for Mandatory Rules
If dressers were required to adhere to a mandatory standard, instead of a voluntary one, the CPSC could much more eaily initiate a recall of dressers that don't comply.
But with only a voluntary standard, many dressers can remain on the market without passing stability testing. "My son was killed by a dresser that did not meet the industry's voluntary standard," Ellis says. For this reason, safety groups, including PAT and CR, have backed the Stop Tip-Overs of Unstable, Risky Dressers on Youth (STURDY) Act, which would require the CPSC to create a new rule that is both mandatory and includes tougher stability requirements. The U.S. House of Representatives recently passed the bill, and it is now awaiting a vote in the Senate.
"Congress needs to pass the STURDY Act, so the CPSC can act quickly to reduce the risk of additional child injuries or deaths," Shin says.
To report a dangerous product or a product-related injury, go to the SaferProducts.gov website.
Consumer Reports is an independent, nonprofit organization that works side by side with consumers to create a fairer, safer, and healthier world. CR does not endorse products or services, and does not accept advertising. Copyright © 2020, Consumer Reports, Inc.