Best Portable Work Benches
We might not be the most professional woodworkers or carpenters in the world, but we do our fair share of handiwork based housework from our garage and were note afraid to invest in decent pieces to help us along the way when we need to. Recently, we realized that the projects we take on would be a lot easier if we had a decent work bench to complete them on, but were not frequent enough handiworkers with space enough to spare to justify purchasing a full sized wall length bench that would fill up, say, the whole end of the garage. Thats why weve been scouring the Internet for quality miniature benches that are portable and versatile enough to be moved around but still give us what we need.
We actually found so many great options that we basically compiled a recommendations list before we even chose the one we wanted! We really like when other people post the options they looked at when theyre investing in something new, so we decided to share the work benches we found here. Check out the nine best home work benches that we came across in our search!
Even though youre not a full carpenter, do you find yourself doing quite hands-on work here and there that takes a toll on your tools and supplies and involves a lot of pressure? Then we think youll need something like this design fromBlack + Decker!
The biggest appeal of this particular model is its ability to bear weight, which means it can bear the weight of your project, your own weight, and likely the weight of any pressure you could possibly apply over the course of a home project. It can take up to 550 lbs! Additionally, it features simple quick clamps and is easy to fold and carry, even if you only have one hand free.
View price on

Amazon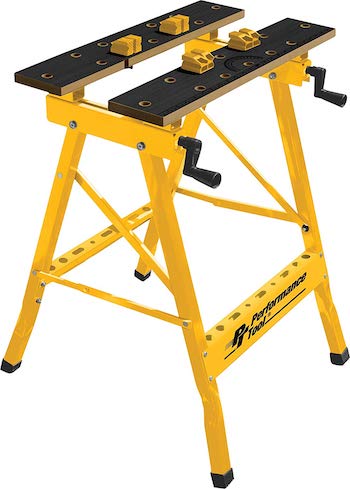 Are you quite interested in some of the features the previous design had but youre working on more of a budget than that particular design allows for? Then we think you might get along a little better with something like this model fromPerformance Tool.
For just over $30, this work bench offers you not just a weight bearing surface for up to 200 lbs, but also a vice feature in the centre for holding pieces youre working on steady and still while you work. As if thats not already great, this piece also folds up impressively small which makes it easier to store.
View price on

Amazon
Were you quite impressed by the weight bearing capacity of the first option we showed you, but youd actually much prefer one that can beareven more weight, just in case? Then were pretty sureKeter has just the model for you.
This particular, very durable model can actually bear up to 1000 lbs of weight or pressure. Part of the reason for this strength is that the piece is made from an extremely solid reinforced resin. Rather than coming with its own vice, this package includes two strong 12 inch clips for holding projects and pieces in place.
View price on

Amazon
Do you actually have a full work bench already for bearing the weight and storage of most of your projects and tools but youre looking for an additional surface for at least a few things? Then wed suggest taking a look at this bench fromWorx!
The main draw of this particular model of work bench, besides its durability and the ease with which it collapses for discreet storage, is the fact that it was specifically built to be a saw horse as well with just one quick fold. The way its legs lock into position for security is lauded well in its reviews too.
View price on

Amazon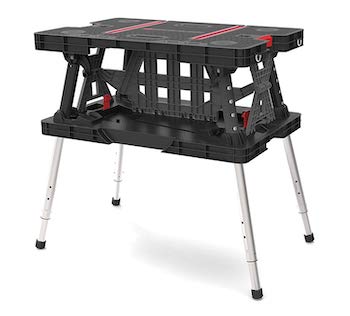 Are you feeling very enthusiastic indeed about this idea of a work bench that can also be quickly folded into a saw horse but you like to consider your options and look at all kinds of things before making a decision? Then wed encourage you to take a look at this bench fromKeter as well.
This bench holds a solid 700 lbs, an impressive weight, but it also gives you a nicely customizable experience thanks to the way its legs extend solidly for more or less length in order to give you a range of heights. This bench is also one of the only designs that features a sturdy carrying handle to make it particularly portable once youve folded it up.
View price on

Amazon
Are you much less concerned with the ability to turn your work bench into a saw horse and instead youre looking for simply an additional surface that you can use in your handiwork projects and move around as you need? Then we think this design fromWorx might be a little more beneficial for you.
This table has several desirable features that make it unique. Firstly, the feet of its metal legs each have their own silicone covers to prevent slipping as you work. When you want to store the piece, the tabletop turns into a carrying case that the rest of the table folds and collapses down into. Finally, the pack this table is a part of features four sturdy clamps.
View price on

Amazon
Have you actually been hoping to find an option thatis a little more like the permanent garage work benches we talked about previously, rather than just the collapsible and portable kind youve seen so far? Then maybe this design fromS Afstar will appeal to you.
The great appeal of this workbench is that its full sized and gives you lots of space to work with like the classic design, but its not so clunky and grandiose as the old fashioned handmade wooden ones you might have seen adults have when you were a kid. Its a simple, useful workstation that lets you store your tools on a pegboard and in a drawer without sprawling so deep and wide that suddenly theres no more room in your garage for your car.
View price on

Amazon
Is the saw horse turned work bench idea that weve talked quite a lot about so far actually the most appealing to you, but youre tempted to buy two of them since you use saw horsesquite often? Well, thanks to this design fromWorx, you wont actually have to do that!
Instead, check out the way this package features a double saw horse feature that, with the addition of a separate piece n top, turns into a work bench easy, clicking into place over both peaked pieces underneath. When everything is clipped into place and the included clamps are put to good use, this thermoplastic polymer material can bear up to 1000 lbs, just like the resin design.
View price on

Amazon
Have you actually got more of a need for a multi-purpose surface and stable piece that you can use for all kinds of things in your garage and during your handiwork, rather than something that turns specifically into, saw, a saw horse? Then wed suggest taking a look at whatGiantex has to offer!
Technically, this low but durable metal piece is actually a stool. Because of its non-slip feet, gripping top, and folding portability, however, it also makes a great temporary but supplementary work surface for all manner of handiwork based home projects.
View price on

Amazon
Conclusion
Do you know another woodworking and handiwork enthusiast who has been wanting to invest in a new portable work bench but who could use a little helping making their choice? Share this post with them to give them a little more guidance!
The post Best Portable Work Benches appeared first on DIYs.com.