Asian Week and Valentine's flowers: ALDI Finds week of 2/9/22
ALDI Finds for the week of 2/9/22 include Valentine's Day flowers, Asian Week foods, meal prep containers, and so much more. Check them all out below, and let me know what catches your eye!
Let's talk about Valentine's Day flowers and plants today, because ALDI has stepped up their game for the holiday. Featured in this week's ad:
10-stem tulip bouquet (see price in store)
5″ anthurium, $9.99
5″ easy orchid, $11.99
Premium Valentine's Day bouquet, $14.99
Valentine's Day 12-stem rose bouquet, $9.99
Valentine's Day cactus or succulent, see price in store
Live plants, however, may not be available in all locations.
Note that both advertised and unadvertised ALDI prices can vary by store and by region. But now, let's talk about the rest of the top ALDI Finds for the week of 2/9/22. You'll also Find some on 2/6/22 in Sunday ad markets, or if your store tends to put products out early.
Top ALDI Finds of the week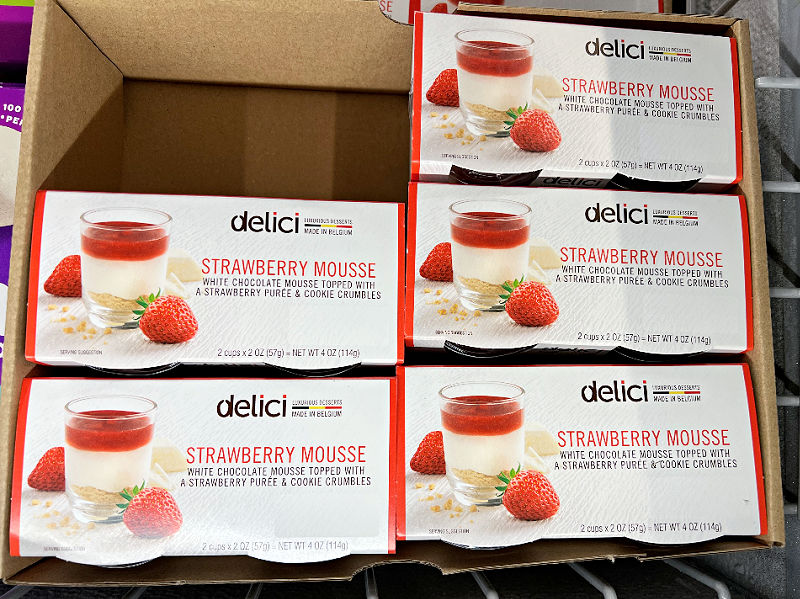 In no particular order, here are 15 more of my top ALDI food Finds and 20 top non-food Finds as we continue to rocket through February 2022. Then, let's talk about a bunch of great Asian Week Finds — including this week's deal on toasted sesame oil, and what to use it for!
Top fifteen food Finds this week
Here are 15 top food Finds to look for the next time you're out at ALDI. Then I've pulled out Asian Week Finds into their own separate section, because there are just so many good ones!
Elevation ready to drink protein shakes in cafe latte or mochaccino, $5.95
L'Oven Fresh keto friendly bagels, $3.99
L'Oven Fresh keto wrap, $3.49
Specially Selected mozzarella pesto or roasted vegetable flatbread, $3.79
Mama Cozzi's stone baked pizza, 4 cheese or veggie, $4.19
PopCorners flex protein crisps in BBQ or buffalo, $2.98
Savoritz Parmesan crisps in four cheese or everything, $2.99
Southern Grove chickpea snacks, sea salt or BBQ, $2.99
Turkey Creek dill pickle or chili lime pork rinds, $1.49
Palmini hearts of palm rice, $2.69
Loma Linda plant-based protein meal, $2.99
Simply Nature crunchy PB spread with flaxseed & chia, $2.79
Simply Nature 28 oz coconut oil, $7.99
Tuscan Garden savory or sweet keto salad topping, $1.99
Delici strawberry white chocolate mousse cups, $3.79
Yes, this week's other theme is keto: If you've been waiting for the keto-friendly bagels and wraps to come back, stock on up.
And Turkey Creek dill pickle or chili lime pork rinds are back again at $1.49 per bag. If you are a chicharrones fan, try these different flavors for a change of pace!
Parmesan crisps are also quite keto-friendly, and quite delicious. They're also quite easy to make at home instead, if you feel so inspired.
Asian Week Finds
You'll see why these Finds get their own separate section this week, because: Yum. 🙂 First off, you can try out some different flavors of My/Mochi ice cream ($4.88 a box), including green tea, guava, and coconut.
Fusia potstickers are delicious, and will run you $3.99 per 16 oz bag this week. Fry these up in a pan on your stovetop, or use them in recipes such as shortcut wonton soup with spinach. (This soup also uses ALDI sesame oil, which we'll talk about next!)
Don't these little samosas look yummy? Journey to India mini samosas come in chicken tikka or vegetable flavor, but are a bit pricey at $4.69 per 10.2 oz box.
If you are looking to cook up your own pho or ramen, you're covered here as well. Fusia pho or ramen broth is $1.79 per 32 oz box, while fusia ramen or pho noodles will run you $2.89 per 8 oz package.
Other Asian Week Finds this week include:
Annie Chun noodle bowls, $2.54
Fusia noodle soup or curry rice noodle bowls, $2.19
Fusia various Asian sauces, $2.45
Fusia crunchy rice rolls, $1.79
Maruchan Yakisoba beef or chicken, see price in store
What are you cooking up this week?
Sesame oil and what to make with it
Carlini toasted sesame oil gets its very OWN separate section, because it's great. If you don't yet have a bottle of this in your pantry, make a point of picking some up — $5.99 is a great price for a 16.9 oz bottle, and a little goes a long way, so it will last you a while.
See our ALDI sesame oil review from last year, and use it in SO many recipes… Including just a few:
Just a touch of sesame oil adds so much to everything from stir fry to fried rice.
Forget takeout, and enjoy that flavor at home: Sesame oil is part of the secret.
Top twenty non-Food Finds this week
From fire safety to candles, from meal prep to spoil your pets, here are 20 non-food Finds in this week's ALDI ad.
Crofton mega bakeware, $9.99
Crofton 20-piece meal prep containers, $4.99
Huntington Home sofa cover, $19.99
Huntington Home wax melts — scented, $1.69, or odor-eliminating, $2.29
Huntington Home 10-drawer rolling storage cart, $28.99
Huntington Home essential oils, $4.99
Huntington Home 3-wick candles, $4.29, or single wick, $2.49
First Alert photoelectric smoke alarm or carbon monoxide alarm, $14.99
First Alert HOME1 rechargeable fire extinguisher, $16.99
WORKZONE all purpose mats: 18″x30″, $5.99, or 3'x4′, $14.99
Serra faux fur slides, $6.99
Serra Ladies' 4-piece set, $14.99
Children's hat, gloves, and scarf set, $6.99
Visage heated massager, $18.99
Heart to Tail cat scratching post or corner condo, $14.99
Heart to Tail assorted natural dog chews, $5.99
Heart to Tail plush pet bed, $19.99
Heart to Tail bone or fish basket, $19.99
Pure Being assorted premium dental dog chews, $5.99
Easy Home portable vacuum cleaner, $24.99
The fire extinguisher is up $2 from last year, but still a great price. Think about updating your fire safety equipment this week, if it's been a while..
Crofton meal prep containers are back again in this week's ad (yes, two weeks in a row — so hopefully they restock?). Pick up single or double compartment 20-piece sets, which contain 10 containers + 10 lids. These stack nicely, and are great for leftovers, meal prep, portion control, and lunches.
What's Up with ALDI Finds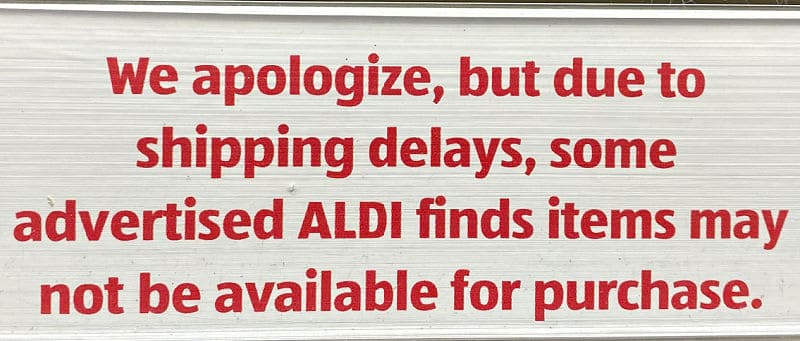 What's up with ALDI Finds? Well, these are limited time special buy items that are available in stores only while supplies last. So if you spot something you like, be sure to pick it up while you can.
Before shopping for new Finds this week, you might wish to visit the ALDI Finds product delays page. Because of ongoing shipping delays and materials shortages affecting ALDI and many other retailers, certain advertised products may not be available in all locations.
Finding the Finds
Where do you Find all of this week's special buys?
Check out the "ALDI Finds" and current weekly ad tabs (or mobile menu choices) on the ALDI site to window shop from home.
If you're planning an in-store shopping trip, use their online ad to help determine what you'll grab and purchase if you do see it in the store.
Products mentioned in this post were either spotted in store or are from the ads starting 2/6/22 in Sunday ad markets, 2/9/22 in Wednesday ad markets. What caught your eye among this week's ALDI Finds?