6 More Outdated Kitchen Design Features Worth Addressing in Your Remodel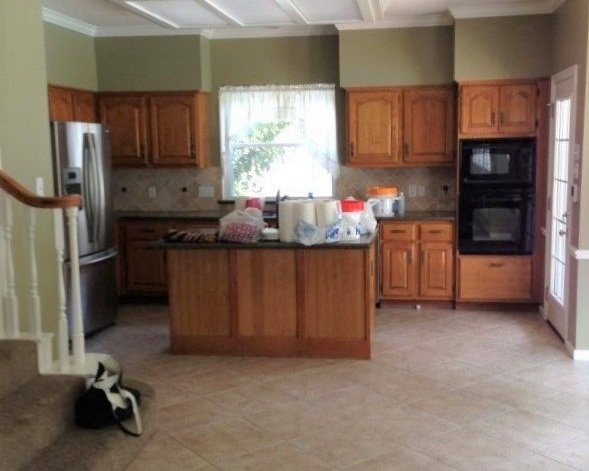 I have 6 more outdated kitchen features that are worth addressing in your next remodel here, today.
I'm basing these suggestions on what clients and consultations have been asking to change in their kitchens over the last few years. I learn about trends in building and design from attending trade shows and constantly learning about products and materials, so this list is a result of all that experience.
Here are more outdated kitchen features with lots of examples, below. And if you haven't seen the first 10 Outdated Kitchen Design Features, I have those linked at the bottom of this post. :-)
Desk in the kitchen

Caged-in kitchen

Cabinet hanging over open bar area

Soffit or furr down over upper cabinets

Microwaves in upper cabinets, hanging over countertops

Half-sheetrock wall / half-cabinet kitchen island
1) Desk in the kitchen
We are pulling these out and using this space for more dedicated cabinetry and better storage these days. Look at these images below! These spaces below are obviously not being used.
Now that we have laptops and devices, no one wants to sit in the kitchen in a cubby and stare at the wall. People would rather work at the kitchen table, perch at an island or just take it to the sofa. :-)
And yes, I've written a post about desks in a kitchen a few years ago too, if you want more before and afters.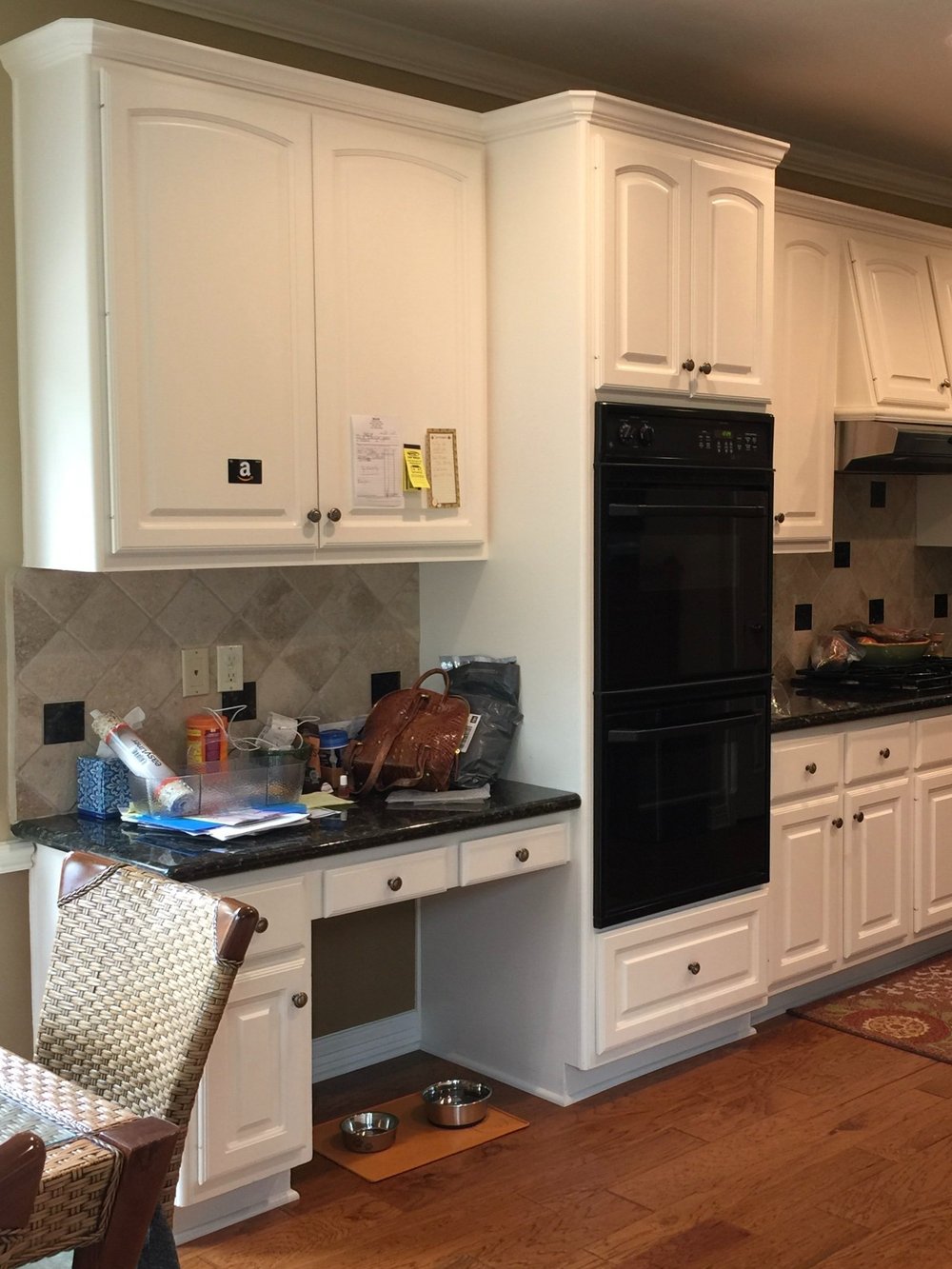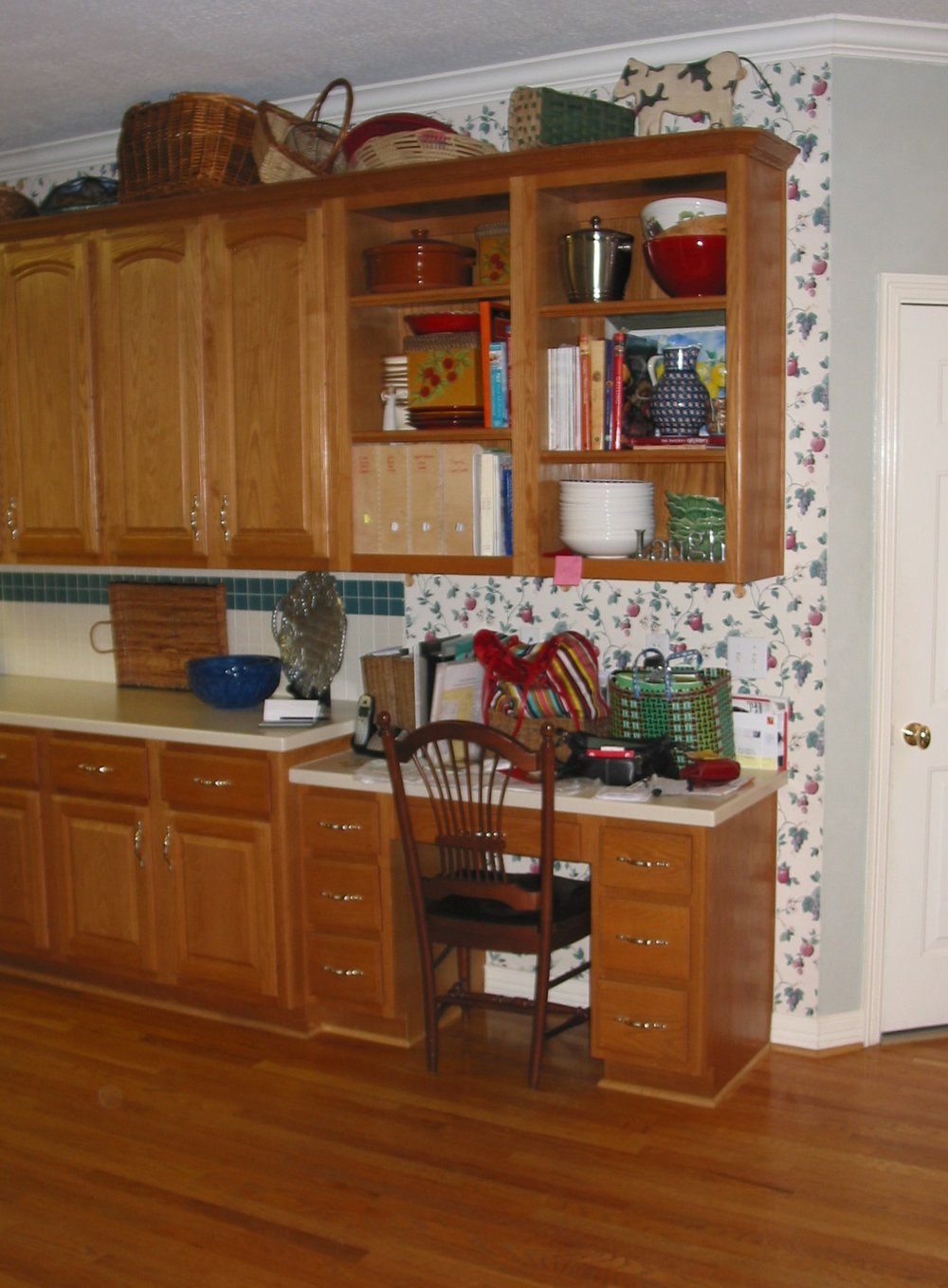 It always seems to me that these are more catch-alls for clutter than anything else.
2) Caged in Kitchen
This is a major expense, of course, to make structural changes, but people don't like feeling enclosed in their kitchens. Especially when it sort of looks like a cage. :-)
It's shocking how often I see this. I don't think it ever really appealed to anyone.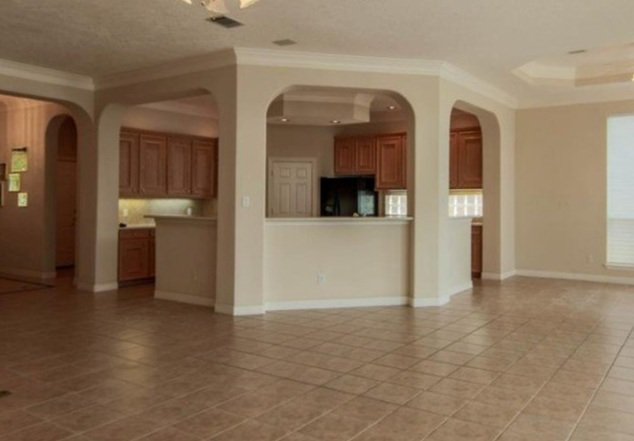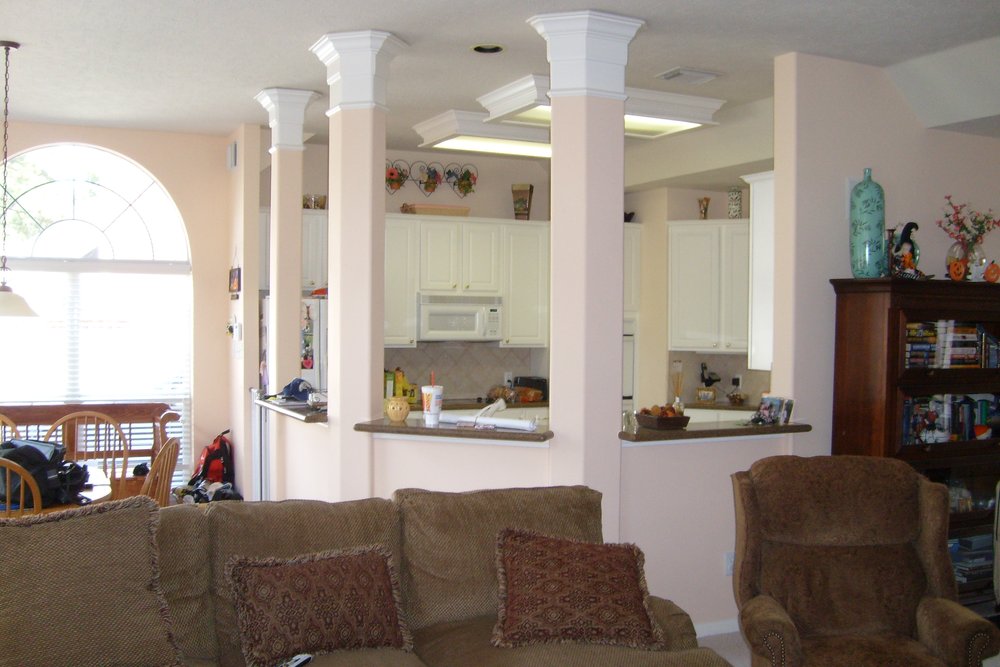 3) Cabinet hanging over open bar area
This is really an old trend, I had one in my old kitchen in Dallas about 25 years ago and it was ripped down before we moved back then. I did see one most recently in a custom home here in my area about 2 years ago, so they are still around.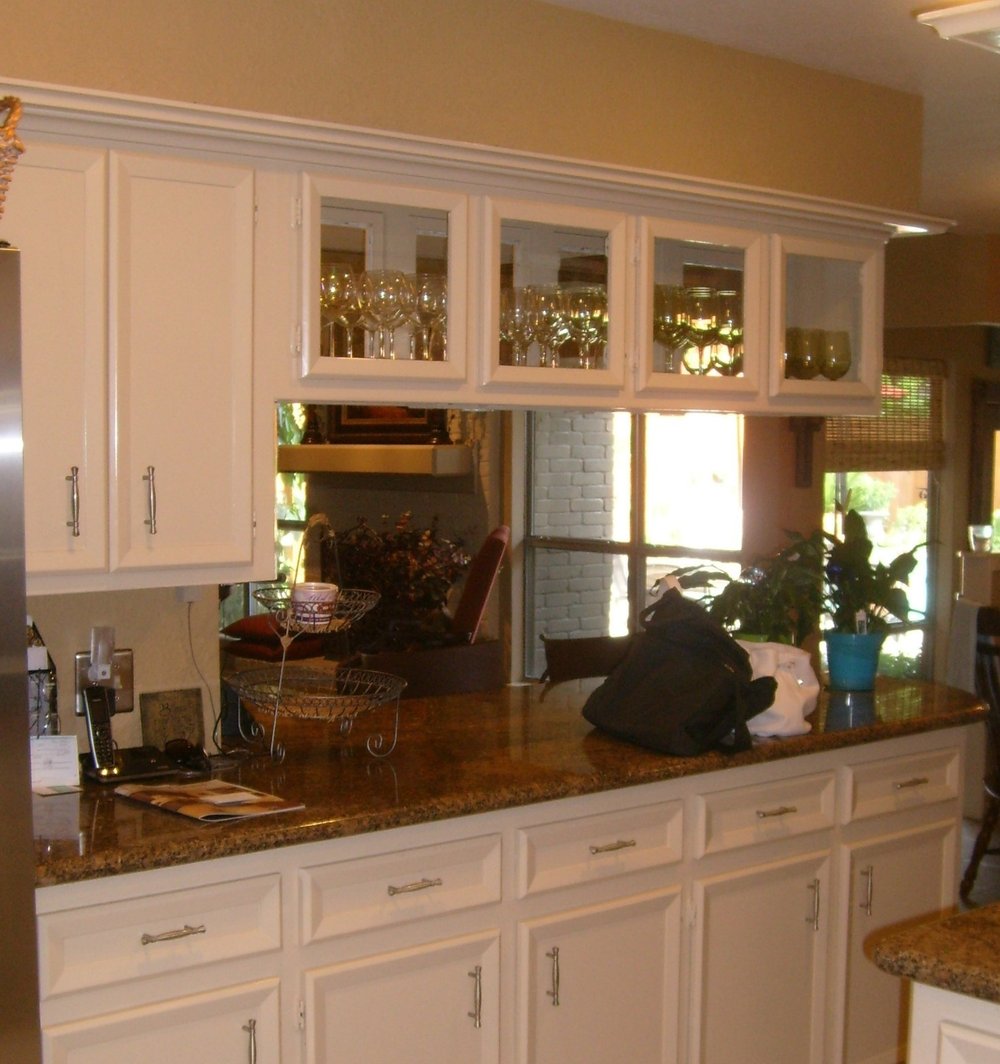 4) Soffit or Furr Down above upper cabinets
This is typically also an older feature, but one I still see often. If you can tear out the soffit and take those cabinets to the ceiling…..how much more current and useful a kitchen that would be! :-)
If cabinets are inset into a sheetrock area, purposely for a clean look, that's different. But building a soffit to top the cabinets, like in these above, is an outdated look.
5) Microwaves in upper cabinets over cabinets
While these aren't too bad looking, having a deep microwave in a cabinet that hangs over a countertop generally makes that counter pretty useless. Things get shoved under there and it is not a really good workable counterspace.
We are definitely using more drawer microwaves now, even when there are ovens in cabinets. Most people would rather have two ovens in a cabinet and put the microwave somewhere else than have an oven/microwave combo.
It can also completely omit the tall oven cabinet from the kitchen if you do a range with ovens in there. We often do that when we need more counterspace in a kitchen and the homeowner doesn't mind a lower oven or wants a pro style range.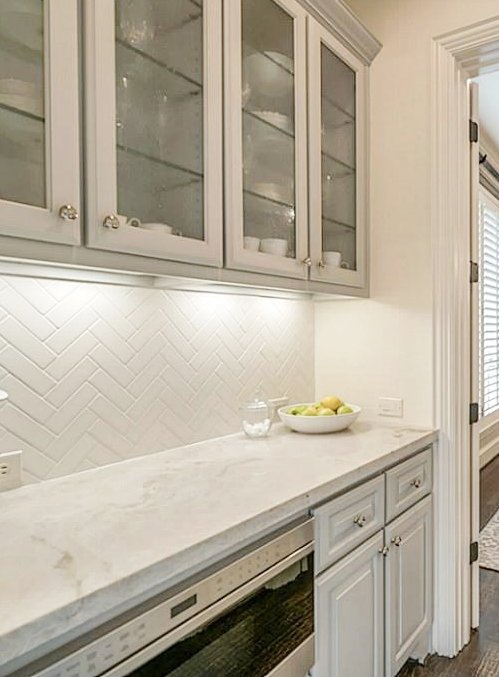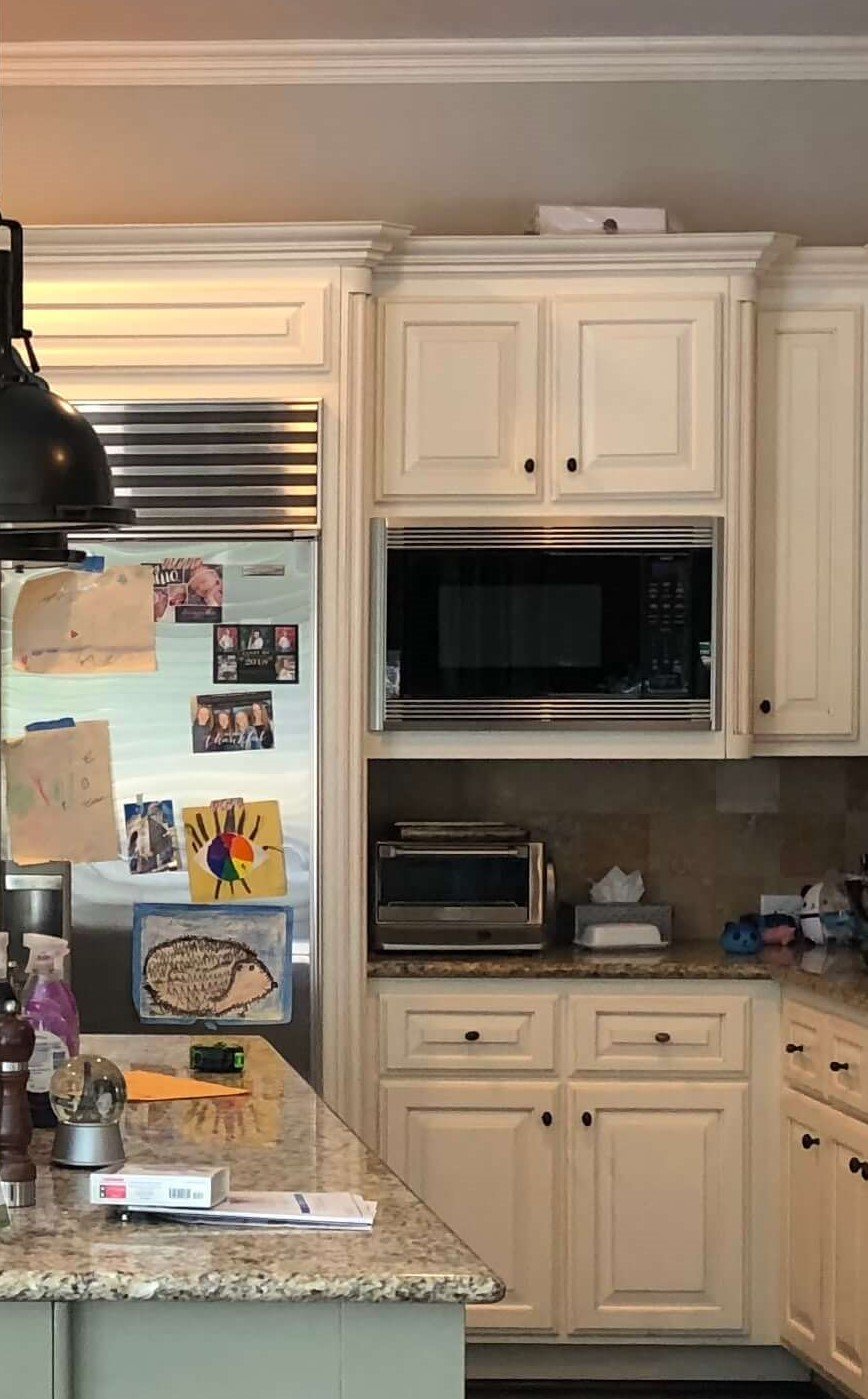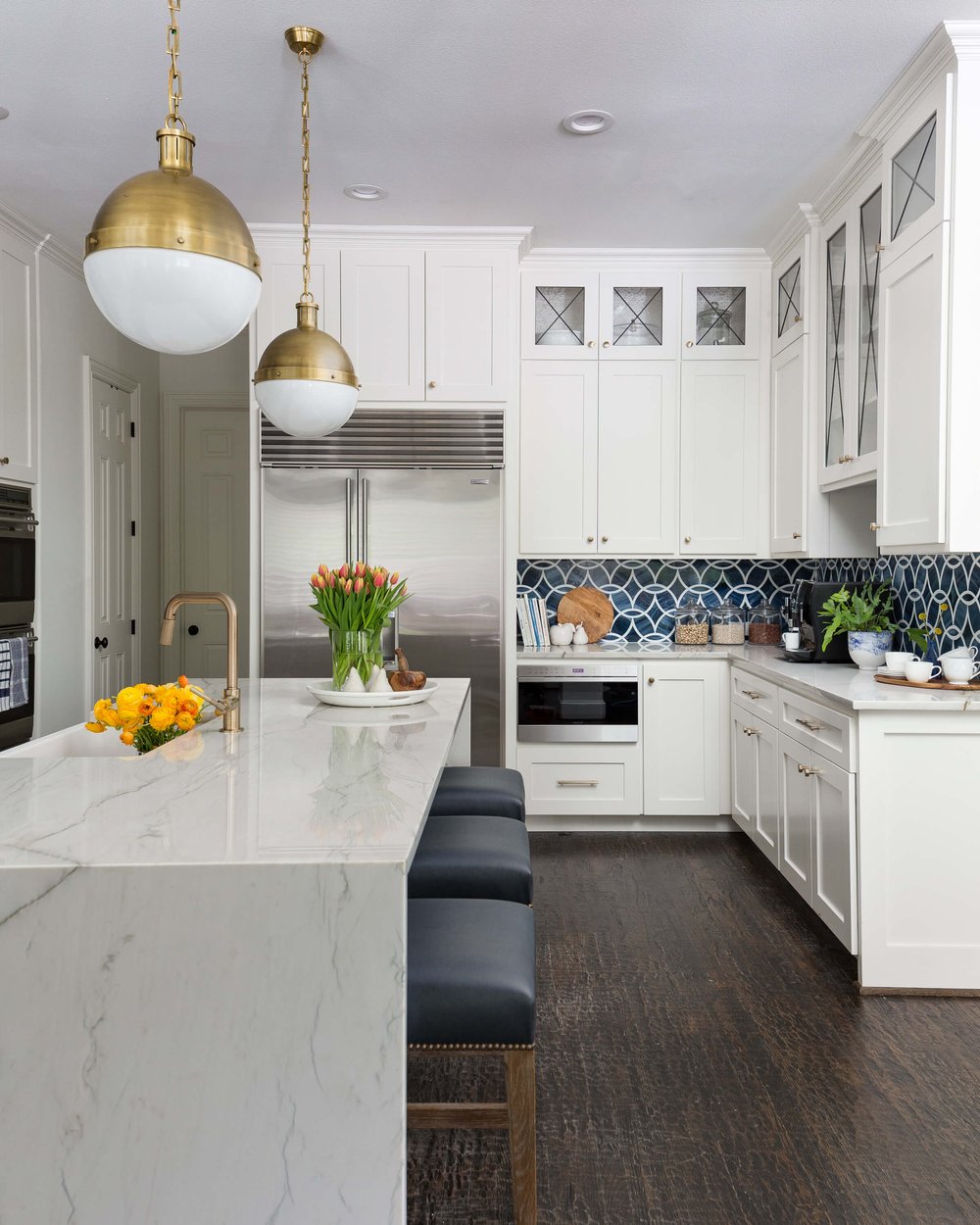 This client, below, didn't cook, just heated things up now and then. He did not want two ovens and didn't like the big microwave hanging over the countertop.
We did do a combo microwave and oven unit in the oven tower here, and just redid the upper cabinet for a simpler look above the countertop.
6) Half sheetrock wall, half cabinet island
This usually bugs me more than the homeowners, but the half sheetrock wall is such a cheap way to build an island. I'd always prefer it all to be clad in wood, not just a painted half wall.
One trick if you can't pay to add wood panels to the face and sides, is to paint it the color of the cabinets. That helps it not stand out so much.
Here's what I suggested for the situation above in this consultation, to clad the sides and face in wood panels and paint to match the cabinets (which they were going to paint anyway).
I'm not forgetting one of the biggest considerations of all, cabinet color and finish. That deserves a post all by itself though. :-)
See my first post with 10 of those kitchen design features that seem to crop up first.