5 things to love about Celebrity Beyond
Editor's note: TPG editor Erica Silverstein sailed on Celebrity Beyond on a free trip provided by Celebrity Cruises. The opinions expressed below are entirely hers and weren't subject to review by the line.
---
It's a risky move to name a ship Beyond, but Celebrity Cruises' third Edge-class ship goes above and beyond in ways both expected and not.
The ship is the line's biggest yet, one deck higher and 20 meters longer than the two other ships in Celebrity's newest class, Celebrity Edge (which launched the line's new ship design concept in 2018) and Celebrity Apex (which debuted after a pandemic delay in 2021). The extra space allows for expanded and enhanced onboard venues as compared to Beyond's sister ships.
The detail and design that went into both public spaces and accommodations go beyond what I've seen on other cruise ships. And, hopefully, with an April launch, the ship will take cruisers past the limits of pandemic-era travel and into a new heyday for post-COVID-19 travel.
I was beyond thrilled to experience my first Edge-class ship during a two-night preview cruise to introduce Celebrity Beyond before its official debut cruise on April 27.
It's a ship targeted at Gen Xers, said Lisa Lutoff-Perlo, Celebrity Cruises' president and CEO, but with appeal for all. That's my generation, and I admit I fell hard for the ship's design-forward looks, inviting conversational nooks and cabins that are both modern and functional.
For cruise news, reviews and tips, sign up for TPG's cruise newsletter.
A short sailing was not enough time to truly experience all Celebrity Beyond has to offer and to learn where it shines and where it could still use some polish. Still, based on my intense two-day bonding session with the ship, here are five things to love about Celebrity Beyond.
Grand Plaza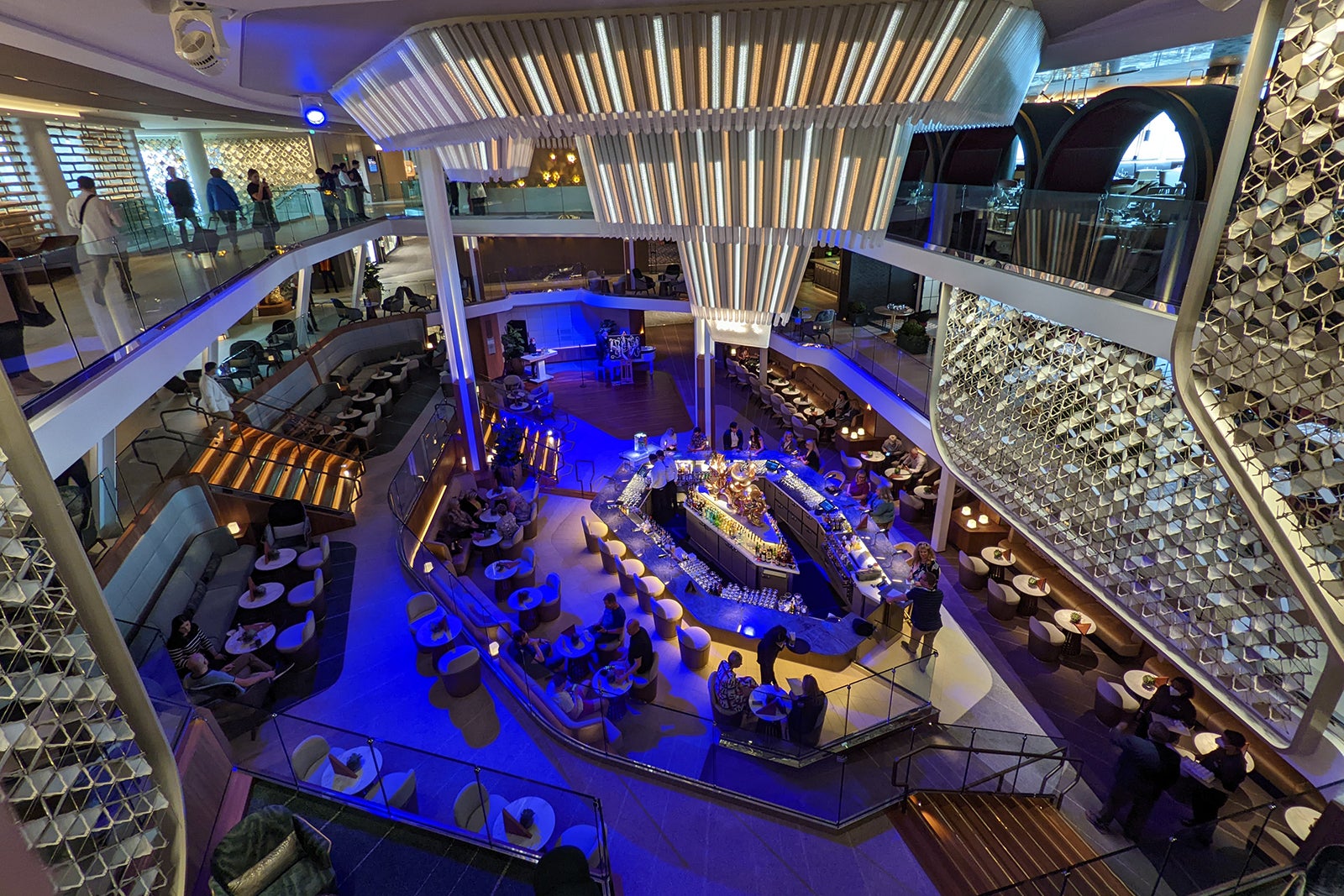 The Grand Plaza is Celebrity's three-deck atrium area that the line has smartly designed to become the social heart of the ship. It's not a new concept for Celebrity or even its Edge class, but Beyond's version might just be the best because it was expanded to include one new restaurant (Daniel Boulud's Le Voyage) and one new-to-Edge-class bar (World Class Bar, previously found only on Solstice-class ships).
On older cruise ships across cruise lines, the atrium area can be dominated by shops, guest services and uninspiring lobby bars that are more convenience stops than destinations. Celebrity places those outlets elsewhere, anchors the Grand Plaza with its renowned Martini Bar and surrounds it with its top restaurants, coffee shop and bars. Not only is the Grand Plaza a key destination on the ship, but it's easy to get sucked into its lively scene when you're passing by on the way to or from dinner or the theater.
Related: 4 types of Celebrity Cruises ships, explained
By day, everyone pops round to Cafe al Bacio for a coffee or a complimentary pastry or to grab a beer and check the scores at Craft Social Bar. At night, the atrium is all abuzz with cruisers grabbing a pre- or post-dinner cocktail, watching the juggling martini bartenders compete with the LED chandelier for best show and grabbing a table at the terraced landings for a quick catch-up.
Dining venues like Raw on 5 and Fine Cut Steakhouse have lattice-style walls facing the plaza for diners who want to feel a part of the social hub, with seats along the windows as well for those who prefer sea views and quiet chats during mealtime. Only Le Voyage is hidden away behind sliding opaque doors, but the music and laughter leak in every time a new party comes through to dinner.
Sunset Bar and Rooftop Garden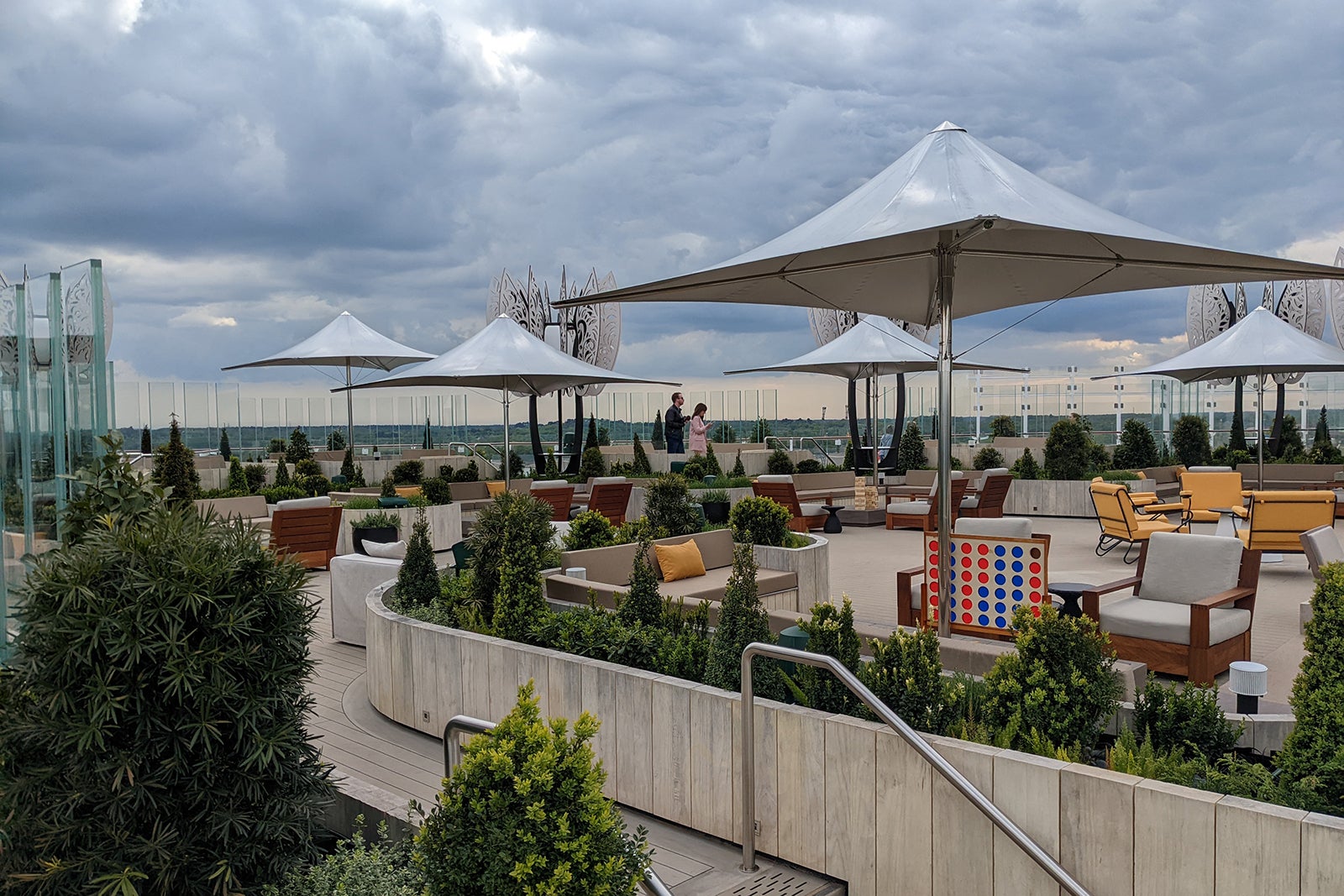 Celebrity took some of Beyond's extra length and used it to expand the Rooftop Garden and Sunset Bar area of its top deck. The cruise line also let its design ambassador, Nate Berkus, have his way with the bar area. The result is an alfresco lounge area that feels like a chic resort hangout rather than simply another poolside bar.
The Rooftop Garden has gained two plunge pools cantilevered over the side of the ship. (Note: They're pools, not hot tubs.) You encounter them first as you make your way into the garden where patio seating sits between a large LED screen and the alfresco Rooftop Grill.
Related: The ultimate guide to Celebrity Cruises ships and itineraries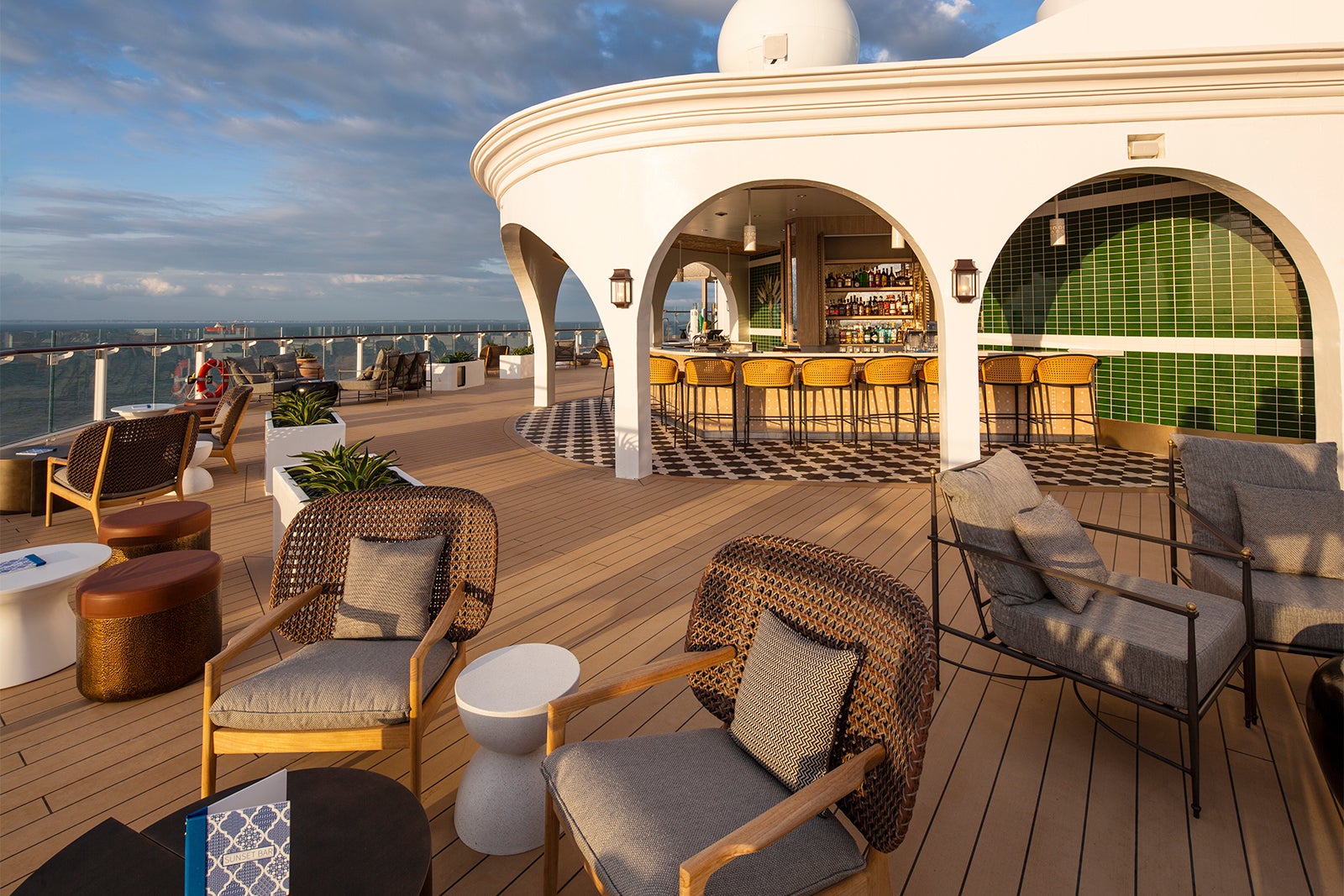 If you don't get distracted here by a meal or a movie, keep heading aft to the Sunset Bar. You'll be tempted to grab a seat at one of the inviting conversation nooks, but make your way first to the tropical-resort-style bar inspired by Berkus' travels. Here you can pick up a cool cocktail to sip while preening in your designer shades and sarong. You'll feel like an old-time movie star living it up in Miami, Havana, Singapore … or wherever Beyond is currently sailing.
Cabin design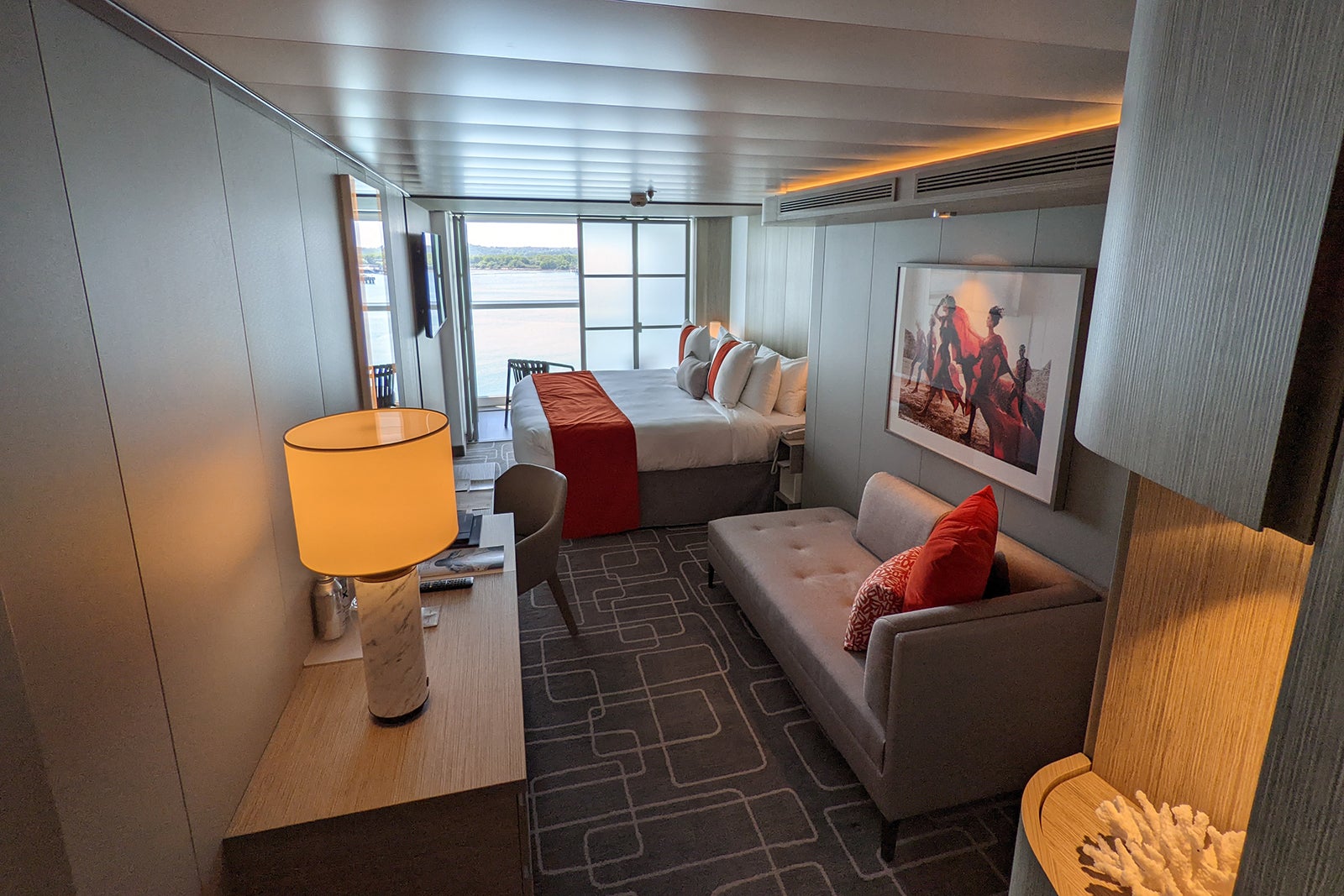 Celebrity put a lot of thought into designing accommodations for its Edge-class ships, and I instantly felt the difference when entering my AquaClass cabin. Not only does the room feel more spacious than your average cruise room, it was more functional as well.
Storage is always a tricky spot for cruise ship cabins, and I often complain about a lack of usable drawer space. Not on Celebrity Beyond. The closet is small, yes – especially with two giant spa bathrobes taking up half the space – but it's sectioned into one full-length hanging section and a shorter hanging section with three drawers underneath, perfectly sized for underwear, socks and swimsuits.
Related: Everything you need to know about Celebrity Cruises cabins and suites
Built into the wall next to it was additional hidden shelf storage. Out in the room, instead of a desk-style vanity with shallow drawers suitable only for small knick-knacks, Celebrity gave a nod to clean, Scandinavian design and paired a simple desktop with no shelves and a full-length mirror with an Ikea-style three-drawer bureau and hidden minifridge. All the drawers I needed, none of the ones I didn't.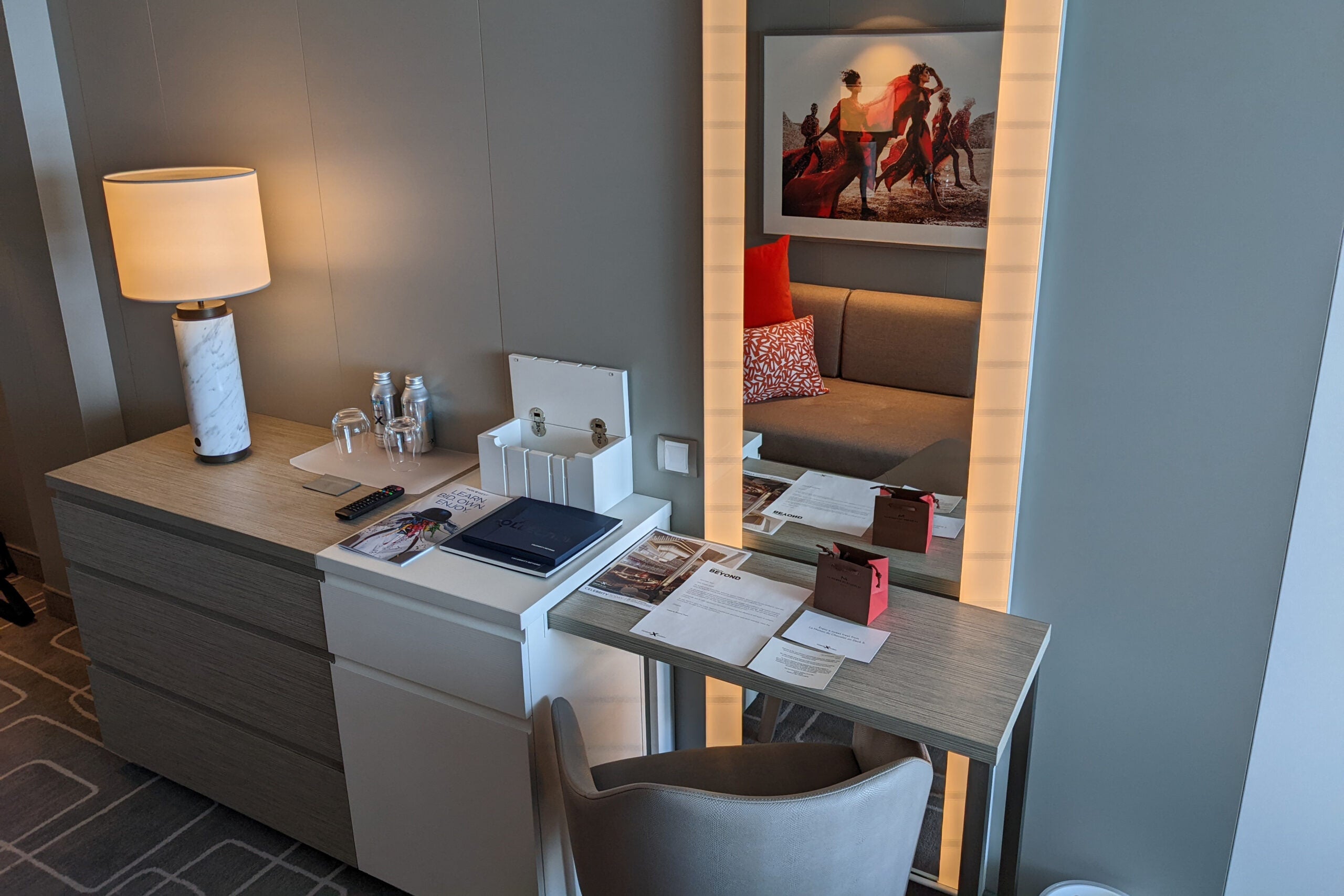 You don't spend much time sitting side by side on a cruise ship couch, especially when the TV is across from the bed. So Celebrity ditched the traditional love seat for a chaise lounge-style sofa, where mostly I dumped my daypacks, but also I could lay back with my legs up and Wi-Fi call my family.
Celebrity Beyond, like its Edge-class sister ships, sports the line's controversial "infinite verandas." Instead of adding balconies externally to each cabin, Celebrity added a seating area and a wall of windows, where the top half comes down, like a car window, with the push of a button. Close the folding shutters behind the sitting area and you get a makeshift balcony. Leave them open and fresh air floods into the room.
I've heard that this concept isn't great in the hot, humid tropics. However, with cool, spring temperatures off the coast of England, it was amazing to lie on the bed with a book in the middle of the day and have the fresh air flow in. It does take more time to open and close the electric window and blinds, as well as the folding doors, than it does to draw drapes with a pull cord and open a door onto your private veranda.
The Retreat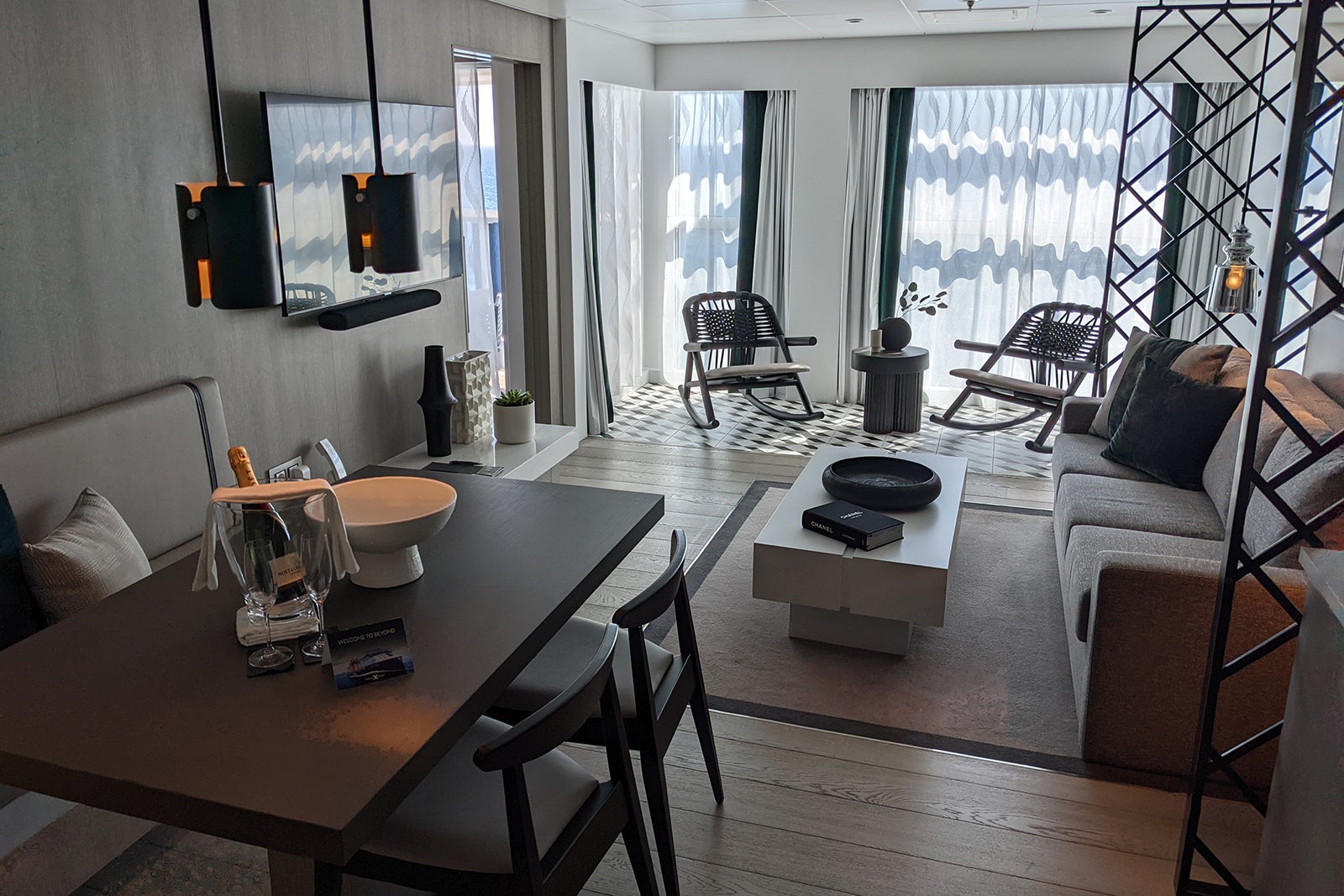 If you can afford the suite life, Celebrity has taken its suite area a step beyond with this new ship. The suites and the suite spaces, designed by Kelly Hoppen, are gorgeous and have been regularly selling out, even with the ship not sailing full due to the pandemic.
Celebrity Beyond offers 22 more suites than its Edge-class siblings. That includes a new category of AquaClass Sky suites, which combine traditional Retreat suite perks and cabin size with AquaClass amenities, such as free passes to the thermal suite and breakfast and lunch at Blu, the AquaClass-only "clean cuisine" restaurant. The Iconic Suite is the largest in Celebrity's fleet, with an expansive private sun deck with hot tub and even a Peloton bike in the living room. Two-story Edge villas also impress with a private plunge pool and living wall.
Related: First look at Celebrity Apex, the second Edge-class ship
All of the 216 suites come with access to the Retreat Lounge, two-level sun deck (now 40% larger) with pool and Jacuzzi, and Luminae, the suite-only restaurant, with dishes created by chef Cornelius Gallagher and the line's culinary ambassador, Daniel Boulud. Cruisers also receive the services of a Personal Retreat Host (read: butler), 24-hour complimentary room service, premium Wi-Fi and drinks package, onboard and shore excursion credits, and priority everything, from boarding to theater seating.
Dining choices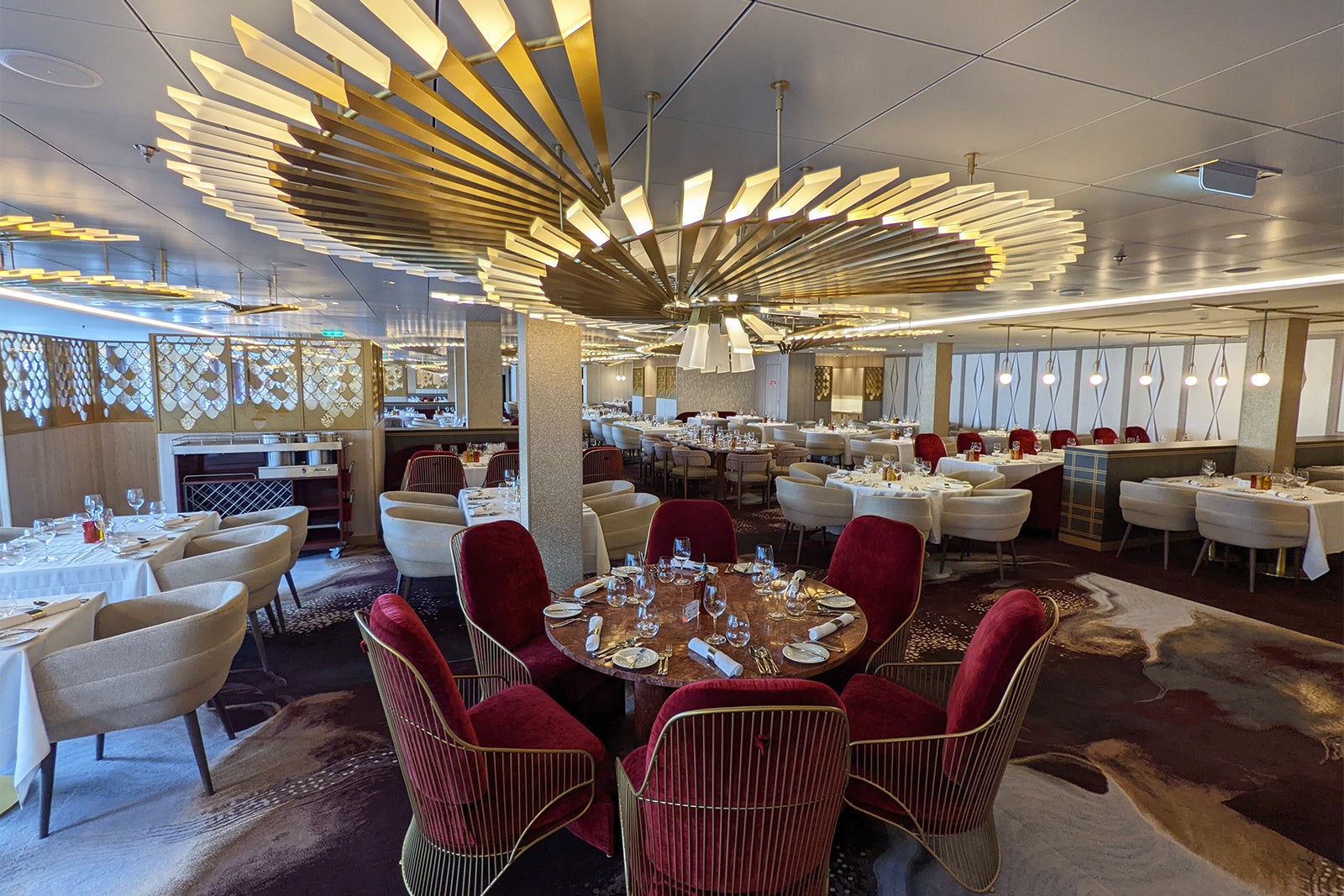 I can't rate all of Beyond's dining after less than 48 hours on board, but the onboard dining concept deserves a shoutout. With the Edge class, Celebrity has taken both its complimentary and extra-charge restaurants to the next level.
On the included front, I loved the sleek and airy Oceanview Cafe buffet restaurant that actually feels inviting and spacious, rather than cramped with low ceilings, like on some cruise lines. Shoutouts to dedicated Indian food and gluten-free stations, not to mention a lunchtime cake display that put my own wedding cake to shame. The assortment of made-from-scratch breads and baked goods was always impressive.
Celebrity ditched the traditional main dining room for four themed restaurants that feel more intimate than banquet hall. The menus rotate nightly and are 75% the same, with the remaining quarter dedicated to exclusive dishes based on the theme of the venue (American, French, Italian and Mediterranean). You don't have to pay extra to eat in a different restaurant every night.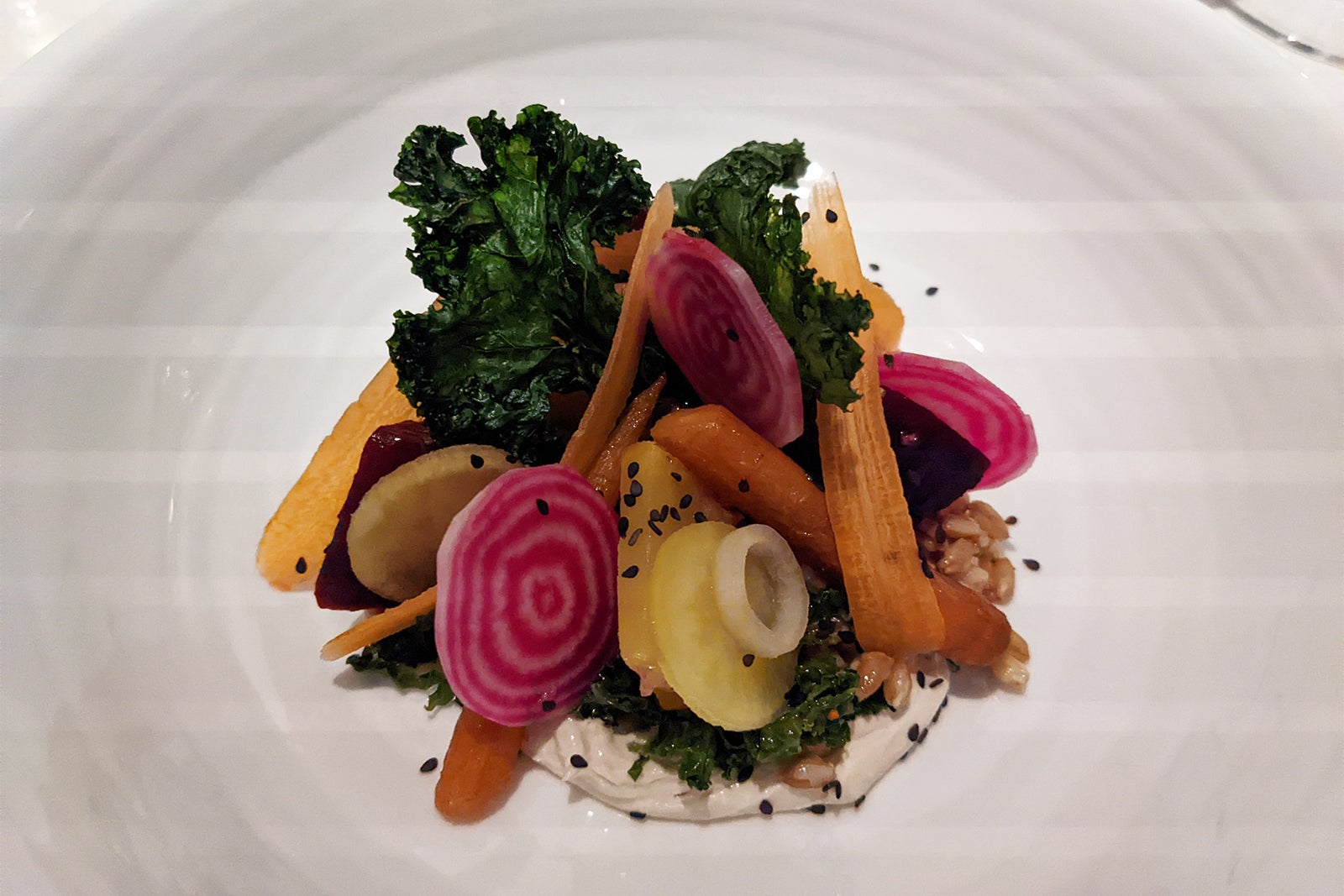 Among the extra-fee specialty venues, Celebrity Beyond boasts the first-ever Daniel Boulud restaurant at sea, Le Voyage, where he blends global flavors with his French cooking techniques. Honestly, I'd love to sample more of the buttery, warm brioche, but my meal in general was fine but didn't wow. I heard that the menu is still being fine-tuned as this was only Le Voyage's first week hosting guests, so perhaps in a few months meals will live up to Boulud's reputation and the $75 price tag to eat there.
The small venue can seat only 50 diners; a tasting menu ($125 cover charge) will soon roll out to accompany the current a la carte menu. Le Voyage is located just off the atrium, so grab a drink at the Martini Bar or World Class Bar before moseying on down for your two-hour dinner.
Related: The best meals you can have at sea
I was thoroughly wowed by my meal at Eden Restaurant, the back-of-ship dining and entertainment space filled with plants, views from a three-deck-high glass wall and more than a touch of whimsy. My halibut was beautifully crispy on top and moist inside, and the lemon berry tart was one of the better desserts I've eaten on a cruise ship. A meal here costs $55 per person.
Diners will also find numerous restaurant choices around the Grand Plaza, like a buzzy city neighborhood where something's always going on. These include Raw on 5, Fine Cut Steakhouse and Le Grand Bistro, which serves French bakery-style sandwiches and entrees at lunch and the animated Le Petit Chef menu in the evening.
Planning a cruise? Start with these stories:
Featured photo by Steve Dunlop/Celebrity Cruises.