3 Ways to Organize Your Garage Workspace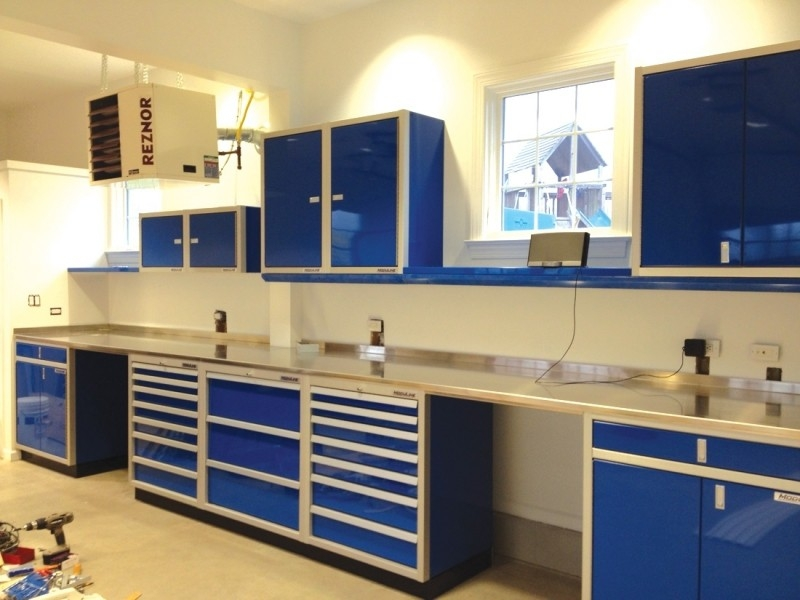 Organizing Your Garage Space
When you own a car, you have to take good care of it. It makes it much easier to be able to maintain your car when you have a garage that is organized in a way that you do not have to search for things. A lot of garages do not have a lot of space so finding a way to add organizational shelves and garage storage cabinets can be difficult. With Moduline Cabinets, we have a solution for every garage space, no matter the size.
What Type of Organization Is Best?
There are many ways to organize your things. You can use cabinets, bins, and shelves just to name some examples. So, which ones are best for you? We break down some of the top ways each of these storage solutions are used in the garage.
1. Cabinets We have different types of garage cabinets you can choose from, including wall, closet and base. The base cabinets are easily accessible on the floor and usually store things like parts, fluids, and other items.
The closet cabinets are tall, and you can have a hanging rod inside to store your out-of-season clothes. You can also use them for larger items like a vacuum, broom, or other taller items.
Wall cabinets are used to store things at eye level or higher. You may want to store more easily accessible items in these cabinets.
2. Shelves Install shelves inside closets and base cabinets to help you organize things like cleaning products for your car, paint, oil and other things that you need to maintain your vehicle. This keeps the things that you need for your vehicle at a very easy access point.
3. Bins Plastic Bins can help you sort any kind of hooks, screws, nuts, bolts, and anything else that you may need. Instead of piling things into a drawer and forgetting about it, bins can separate each item from the others. It makes it easier to find those nuts and bolts when you need them.
It Is Easy To Organize
Using all of these organizational systems will allow you easier and quicker access to all of the things that you need. It will also help you gain more space in your garage because you will not have things laying everywhere.
Moduline Cabinets wants to help you organize your garage space. If you are interested in all the ways that you can organize your space, then just give us a quick call at 888-343-4463.

The post 3 Ways to Organize Your Garage Workspace appeared first on Moduline.