15 Wooden Kitchen Utensils (+ Organizers) That Are Safe for Baby
Look at these safe wooden kitchen utensils for cooking and for baby!
We did it as kids and now your own kids do it too…
Pull out all the utensils in the kitchen drawers and play with them.
While there are lots of fun things for kids to play with in those crumb filled kitchen drawers, a parent has to wonder…how safe are these wooden spoons for cooking the baby likes to chew on?
While you might not think much of letting your little one play with those wooden kitchen utensils you've had forever, there are some things to consider.
Will they splinter if they are chewed on?
How can you make sure that they are thoroughly cleaned and free of bacteria?
Does the type of wood the spoon is made out of matter?
Don't worry, this post will answer all of those questions and more!
So let's get into it!
Wooden Spoons for Cooking
Wooden kitchen utensils are a simple yet essential tool in any kitchen.
They won't scratch pots and pans like steel utensils and are safe to use on other non-stick surfaces.
You never have to worry about them melting if you accidentally leave them on a hot surface, and they won't burn your hand if you leave them in a hot pot for too long.
Not to mention they are durable and sturdy, perfect for stirring thick batters and great for scraping down the sides of a bowl.
The best and most durable wooden kitchen utensils are made from hardwoods. These include poplar, black walnut, soft maple, and cherry woods. The benefit of using these hardwoods is that there are fewer pores and a finer grain to the wood which is great for prolonged use and more sanitary.
Other popular woods to use for kitchen utensils are teak and bamboo.
These are highly sustainable and durable woods as well.
Other benefits to switch to using wooden spoons for cooking are:
wooden spoons are a safe option for cooking
wooden spoons do not harbor any harmful bacteria
they are smooth and do not have any sharp edges that can hurt a baby
wooden spoons are versatile, easy to use, and long lasting
So if you want a safe and sustainable option for your kitchen utensils, look no further than wooden spoons! You'll be glad you made the switch.​
Wooden Utensil Set
While it's great to have that one wooden spoon that you use for everything, having a set is even better!
1. 7-Piece Wooden Utensil Set
This beautiful wooden kitchen utensil set is made with teak wood.
They are sturdy and odor-free and can withstand the daily wear and tear of flipping pancakes, making spaghetti, and baking brownies.
Each utensil is made from one piece of wood, so you never have to worry about them falling apart.
With this natural wooden utensil set, you'll be able to cook up a storm in the kitchen! With a natural wooden texture, these utensils will add a touch of nature to your cooking and make it more interesting and fun.
2. Chef Craft Premium with Silicone Handle
This durable 14 inch wooden and silicone spoon is great for cooking your favorite meals and doubles as a chew toy for babies.
Available in a set of one or three, this is sure to quickly become your favorite spoon.
The ergonomically shaped handle with silicone overlay is easy on your hand while also protecting the baby's sensitive mouth.
I like how the bright silicone handle is fun and adds a pop of color to my kitchen. Best of all, the hole in the handle allows for easy storage.
Handwashing is recommended to preserve the long lasting beauty of the wood.
3. 12 Piece Wooden Cooking Utensils

Another beautiful and sturdy set of teak wooden kitchen utensils that you love using.
Take good care of these and you can even hand them down to your kids for all of their cooking needs.
With several spoons, spatulas, a whisk, and ladles, this set is sure to last a lifetime while also being safe for babies.
This set is very sturdy and extremely easy to clean.
4. GEEKHOM Bamboo Cooking Utensils
These highly durable and safe kitchen wooden utensils are made of 100% bamboo and are healthy for your family – especially little baby –  and have a longer lifespan than traditional kitchen utensils.
This set is also perfect for high heat stirring – and they won't scratch your non-stick cookware!
5. Wooden Cooking Utensils, Kitchen Utensils Set with Holder
This beautiful kitchen utensil wooden set is made of 100% natural Teak wood, making it a durable and long-lasting addition to your kitchen.
They are almost too gorgeous to cook with!
The smooth finish and superb design of these utensils make them a pleasure to use since they won't damage your most expensive pans. Plus, the included wooden barrel and spoon rest make cooking even more convenient. This set is a must-have for any serious cook!
And I personally like the wooden holder for the set of cook ware.
6. Ribnican Kitchen 4 Piece Wooden Kitchen Utensils Set Cherry Wood
Made with high quality cherry wood, this kitchen wooden utensil set includes a spatula, BBQ tongs, cooking spoon, and fork.
You'll love the sleek and stylish design of these kitchen utensils, and they're perfect for stirring, mixing, tasting, frying, and more!
Plus, they won't scratch or damage your non-stick cookware.
For easy care, simply wash with water and wipe with a cloth before allowing to dry.
Get your set today!
How to Clean Wooden Spoons
Much like other kitchen items that people have been using forever, like cast iron pans, wooden spoons and kitchen utensils also need to be cleaned (and dried) a specific way in order to maintain their integrity.
When it comes to cleaning your wooden spoons, cutting boards, bowls, plates, etc, you should never put them in the dishwasher.
Exposing these wooden kitchen items to such high heat and extended moisture is bad for the wood. When you repeatedly place these items in the dishwasher, they can warp, splinter, and break apart.
Not things you want a baby to be playing with. Heaven forbid they get a wood splinter in their hand or mouth! Ouch!
It is best to always hand wash wooden utensils with warm water and a mild soap. This includes spoons, latels, spatulas, and cutting boards.
When you properly care for your wooden kitchen utensils, they can last a lifetime.
1. Use Murphy's Oil Soap
One of the best recommended soaps for washing your wooden kitchen items is Murphy's oil soap.
While the wooden spoons and other kitchen items should be cleaned with soap and water after every use, there are a few other steps to keep those items lasting a long time.
In addition to never putting them in the dishwasher, you should never soak them either.
Letting them soak only allows the bacteria and food particles to penetrate deeper into the wood, which of course can be a health risk.
The first step in properly washing your wooden spoons is to rinse them under hot water and rub with a mild soap, like Murphy's oil soap until all the food particles are removed.
If there are some tougher things to remove, you can use a sponge or nylon scrubbing pad.
After you have thoroughly cleaned your spoon, pat it dry with a towel and let it air dry the rest of the way before putting it in a drawer or utensil container.
This will help to keep the wood from warping or cracking due to retained moisture.
Set a reminder in the calendar with your other monthly cleaning routines to rub down your wooden kitchen utensils with mineral oil.
A food-grade mineral oil will quickly absorb into the wood and help utensils to repel water and to keep their original vibrancy. 
2. Beeswax Compound
You can also use a beeswax based compound like Walrus oil wood wax that contains mineral oil, beeswax, coconut oil, and vitamin E for ultimate protection and for larger items like cutting boards.
You do not want to use olive oil or canola oil as those can go rancid and make your utensils smell.
It's never a bad idea to have an oil and wax applicator on hand as well to make sure that the oil gets worked into the wood well.
Over time your wooden utensils might get a bit roughed up, don't worry, there's a simple solution to fix that.
Simply grab some fine grit sandpaper and sand the rough spot out then treat with mineral oil or wax.
If you use your spoons for everything in the kitchen, then you might have a spoon with some stains from spaghetti or berries. No worries, try to wash them off right away as usual. If that doesn't work, sprinkle some baking soda on there and scrub it with the cut half of a lemon.
Scrub directly on the stain then rinse off with warm water and wash again with your preferred soap.
If this doesn't work, it's ok, it doesn't mean your spoon is ruined.
Simple clean and treat as usual and the stain will likely fade over time.
And of course, caring for your wooden kitchen utensils like this will keep them safe for babies as well.
What Cannot be Used to Dry Utensils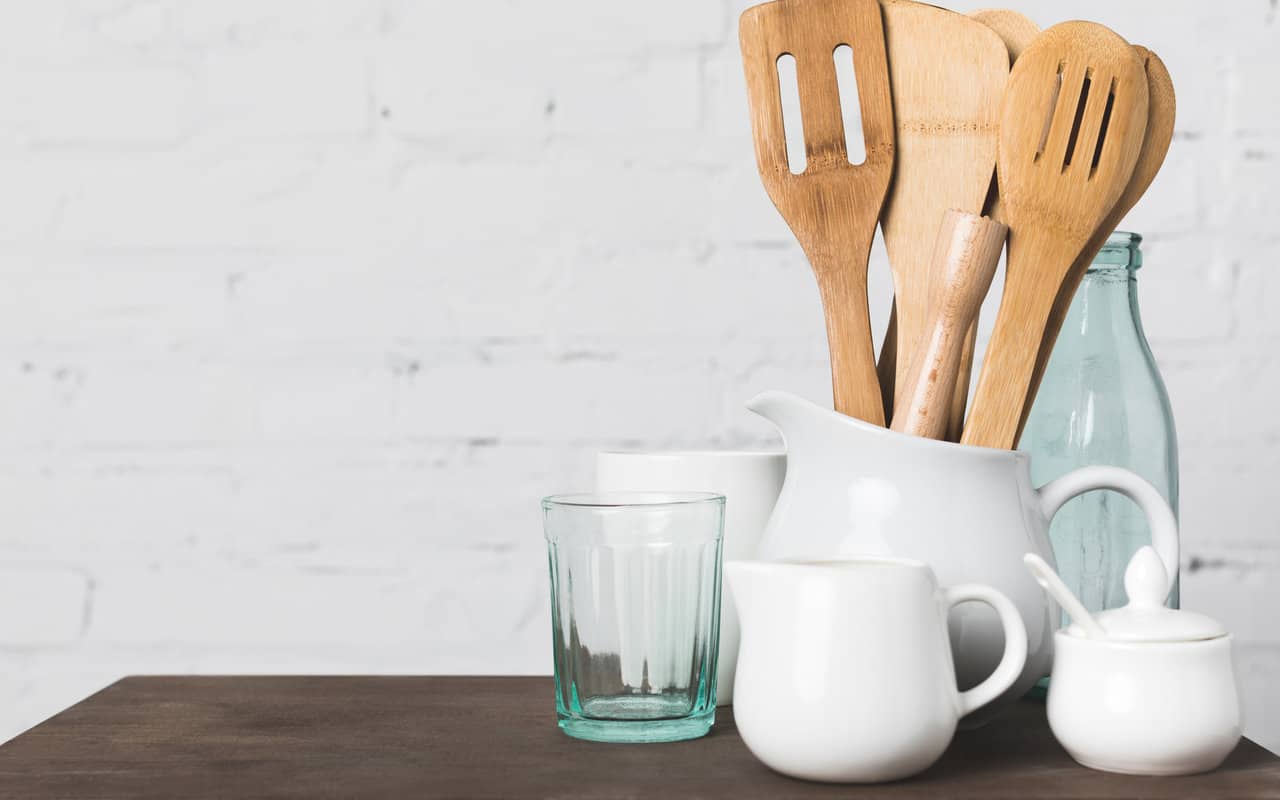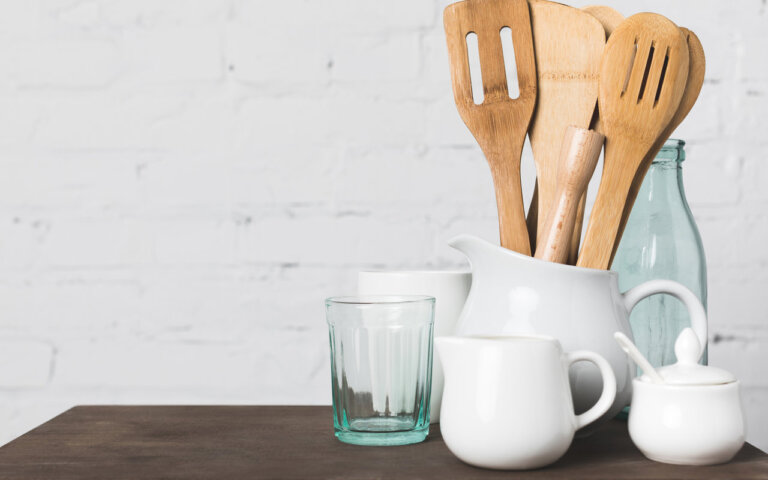 Again, we can't stress this enough, you don't want to put your wooden utensils in the dishwasher and let them dry on the heat cycle. This will dry them out too much and lead to cracking, splintering, and breaking.
Microfiber clothes are always a good choice when it comes to drying your wooden kitchen utensils. They are absorbent, non-abrasive, and lint free.
Having a dish drying rack that allows for good air circulation is also a great idea for helping to properly dry your wooden kitchen utensils.
You should avoid using any towels or anything else to dry them that uses a high heat, is abrasive and can lead to lots of scratches, or that might leave lint on the utensils.
Baby Wooden Kitchen Utensils
As a first-time mom, I was always looking for safe kitchen utensils for my twin babies.
I wanted something that was durable and would last for a long time.
I also wanted something that was easy to clean and would not harbor any harmful bacteria.
So, when I came across wooden kitchen utensils, I knew I had found the perfect solution!
Wooden kitchen utensils are smooth and do not have any harsh edges that can cause injury to a baby.
They are also easy to clean and do not harbor any harmful bacteria. So, if you are looking for a safe option for your little one, go for wooden kitchen utensils.
So, if you are looking for a safe and sustainable option for your baby, go for wooden kitchen utensils. 
Check out these safe and recommended wooden baby utensils and sets.
7. Avanchy Bamboo Baby Spoons Set
Aren't these fun and cute wooden baby spoons?
These spoons are designed to help your child learn how to feed themselves, and they're also eco-friendly.
I love the big head on these spoons because they are perfect for training babies and kids who are just starting to use a spoon, and the bamboo material is gentle on tender gums. Plus, the silicone feeding spoon is lightweight and durable, making it perfect for every mealtime.
8. To Go Ware Kids Reusable Bamboo Utensils
These reusable utensils are made of durable bamboo and are perfect for everyday use.
They are easy to pack and clean and I'm not worried that they will break if I send them off to camp with my kids.
And, once your toddler outgrows this wooden utensil set, you can use the spoons for scooping jam and things like that.
9. BABY K Self Feeding Bamboo Baby Spoons
Using these bamboo baby spoons are the perfect way to introduce your little one to solid foods!
Made of lightweight bamboo, these spoons are easy for little hands to hold and portable enough to take with you on the go. With a soft silicone tip, these baby spoons protect your baby's teeth and gums from metal or plastic scraping.
Plus, they're great for teething babies!
10. Bamboo Baby Plate with Suction
Isn't this wooden baby plate just the cutest??
The award-winning design is packed with features that make mealtimes easier, including a suction grip that prevents spills and flips.
The beautiful bamboo construction is also eco-friendly and sustainable, making it the perfect choice for parents who care about their child's future.
You can get these plates in different designs too:
11. Avanchy Bamboo Baby Bowl & Spoon
This cute and functional bowl comes with a silicone suction ring to keep it firmly in place on any surface, making it perfect for baby-led weaning or self-feeding.
The included bamboo spoon is soft on tender gums and fits adult hands for easy feeding. Plus, cleanup is a breeze with this dishwasher-safe plate.
And, doesn't the wooden set look sleek?
Kitchen Utensil Organizer
There are many great kitchen organizers to keep your wooden kitchen utensils clean and organized.
12. Multifunctional Kitchen Wall Storage
This kitchen wall kitchen utensil storage shelf is great for handing all of your wooden kitchen utensils on. You'll never have to worry about putting your utensils away if they aren't completely dry. This is also great if you have limited counter space.
13. Utensil Rack with Movable Hooks
Just want a simple and space saving rack to hang your wooden kitchen utensils from?
This utensil rack is ideal for hanging up all of your wooden spoons while being space saving.
You can place this on the inside of a cabinet or a kitchen wall. Just make sure that if you are purchasing new spoons, you look for ones with holes on the ends of the handles or ties so that you can hang them on there.
14. Expandable Kitchen Drawer Organizer
While most drawer organizers are meant for smaller items like serving spoons and forks, this expandable one is ideal for fitting larger items like wooden spoons and knives.
Made from bamboo it's sustainable and durable.
15. Rustic Wood Farmhouse Kitchen Storage
You know those round kitchen utensil holders that when you try to pull one thing out, everything else comes out along with it?
You don't have to worry about that with this spacious farmhouse inspired countertop organizer.
There are three compartments big enough to hold all of your kitchen utensils while keeping them organized.
This fist well with a pole-barn home decor look.
FAQs on Wooden Kitchen Utensils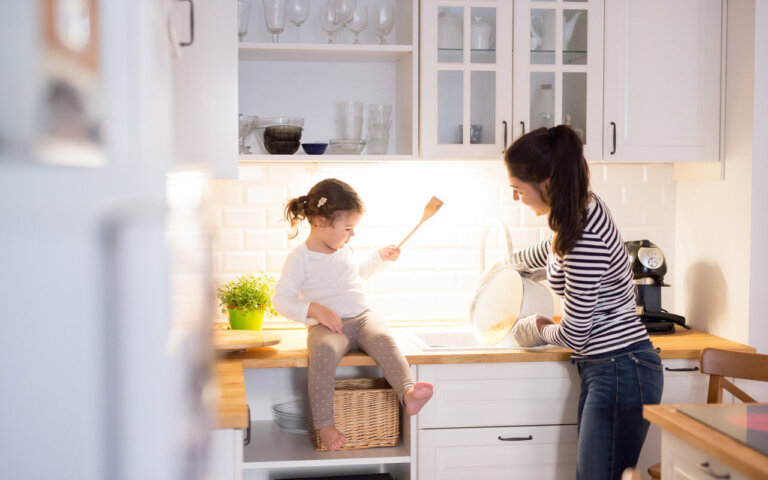 1. Are wooden spoons toxic?
Wooden spoons are a good non-toxic option to cooking. Wooden utensils are typically food safe and biodegradable making them eco-friendly.
In general, wooden kitchen utensils are considered safe and there is no need to avoid using them when cooking for your baby.​
2. Are wooden kitchen utensils safe for baby?
Yes, wooden kitchen utensils are extremely safe for baby.
They are smooth and do not have any sharp edges that can cause injury to a baby. They are also easy to clean and do not harbor any harmful bacteria.
So, if you are looking for a safe option for your little one, go for wooden kitchen utensils.​
3. Why should I switch to wooden kitchen utensils?
To care for your wooden kitchen utensils, it is important to follow a few key guidelines. First, make sure you properly clean and dry them after each use.
You should also avoid washing them in the dishwasher or using harsh cleaning chemicals on them, as this can damage the wood and reduce their durability over time.
Wash them according to how I already mentioned with a safe oil.
Finally, be sure to store your wooden kitchen utensils in a cool, dry place – like a wall kitchen organizer – to prevent them from becoming damaged or warped.​
Enjoy Using Wooden Kitchen Utensils
Whether you use them for cooking or to feed your baby with, there are a lot of good things that come out of using wooden kitchen utensils.
Tell me in the comments if you use wooden spoons with your baby or not!
Please Pin me!