123 Projects You Can Make With A Cricut Maker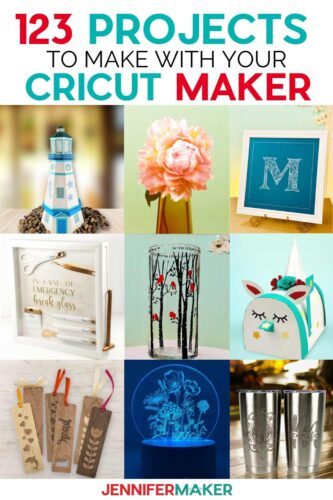 My most popular free projects you can make with a Cricut Maker (and Maker 3) use the amazing machines' powerful features!
One of the most common questions I am asked is: "What can you make with a Cricut Maker?" Whether you have the original Maker or the Maker 3, you can do SO MUCH with your cutting machine! The Maker series can work with more than 300 materials since they are powerful and have the Adaptive Tool System. I've gathered 123 of my favorite projects just for you!
123 Answers to "What Can You Make With a Cricut Maker?"
There, now when you wonder, "What can you make with a Cricut Maker?" you'll have 100+ options! I had so much fun putting this list together and hope you find many projects to try!
If you make one of these Cricut Maker projects, I'd love to see it! Please share your projects in my Cricut Crafters & Makers group where you'll find hundreds of thousands of crafters like you, sharing their tips, crafts, and inspiration … including projects using their Makers!
Love,
Answers to Your Questions About What Can You Make With A Cricut Maker
What can a Cricut Maker cut?
Officially, a Cricut Maker can cut more than 300 materials! As long as you have the right blades, Design Space has special material settings for most items you may want to cut, from tough leather to delicate tissue paper. Every machine is different, though, so I always suggest cutting a test piece and adjusting the settings as needed. 
Maker and Maker 3 can usually work with materials up to 2.4 mm in height, depending on the rigidity. Some of the most interesting materials on Cricut's official list are carbon fiber, craft foam, EVA foam, faux fur, freezer paper, grocery bag, denim, and kevlar!
What wood can a Cricut Maker cut?
Depending on the hardness, thickness, and quality, Cricut Maker can cut several types of wood including Balsa, Basswood, and Natural Wood Veneer.
Can a Cricut Maker cut metal?
Cricut Maker can't cut through most metals. But it can engrave many metals. Machines like the Cricut Explore and newer can actually cut aluminum foil with a deep point blade!
Can Cricut Maker cut fondant?
No, the Cricut Maker, Explore, Explore Air, and Joy families of machines are not meant to cut food. The tools are not food-safe and you could harm the machine. No one wants crumbs in their electronic cutting machine! However, I have experimented with ways to safely use my Cricut crafts in the kitchen!
Can you make cookie cutters with a Cricut Maker?
I haven't tried to make cookie cutters, but you could cut food-grade stencils and use them to trace shapes on soft dough. 
The post 123 Projects You Can Make With A Cricut Maker appeared first on Jennifer Maker.