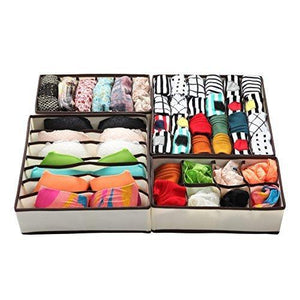 Brand: Finnhhomy
Color: Beige
Features:
Multi Functions: 4 kind of storage space to meet your different organization needs, 6 cell for towels,handkerchiefs and scarves or ties, 7 cell for bras,8 cell for pants and 24 cell for socks or other accessories
Lightweight and Durable: Made by thicken and non-woven fabric and hard cardboard or PE board, durable and no deformation
Easy assembly and disassembly: With removable lining panel( PE board)and bottom zipper, you can assemble them easily and fold them up when not in use.
Easy Storage and Cleaning: Collapsible construction for space-saving storage, and clean with a dry rag or soft brushes in few minutes.
Approximate Dimensions: 12.6"L x 6.28"W x 4.125"H,12.6"L x 12.6"W x 4.125"H,15.375"L x 11.75"W x 4.125"H,12.6"L x 12.6"W x 4.125"H
Publisher: Finnhhomy
Details:
Description:
Finnhomy set of 4 fabric storage cube is perfect for organizing and control your clutter. The compartments within each one are designed to separate different size items such as underwear, bras, socks, neck ties,towels,handkerchiefs and scarves. There is a zipper at the bottom of the box to make it easy to fold them flat for space saving when not in use. Our boxes are made of high quality non-woven fabric, which is moth-proof, mould-proof,and very durable. Lining panels are made from cardboard and PE board. After being used over a period of time, if there is any dust, you can wipe the storage box with a dry rag. If there are stains, you can use a small brush to clean the surface slightly, and then air them out in ventilated place until they are totally dry. Please avoid washing them in water or expose them directly to strong sunlight.If there are odours (harmless), just air them out in ventilated place for a few hours.

UPC: 603894341299
EAN: 603894341299
Package Dimensions: 13.1 x 5.5 x 2.9 inches