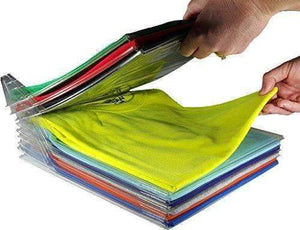 EZSTAX Closet Organizer and Shirt Folder | Regular Size, 20-Pack -

Brand: EZSTAX
Color: Clear
Features:
CLOSET ORGANIZATION MADE EASY - Bye bye messy drawers and piles of shirts! Each 13.5" by 11.5" interlocking divider acts like a mini shelf allowing you to stack your clothes neatly and accessibly - and even pull items from the middle without disturbing the stack. Equally great on shelves as a shelf divider or as a drawer divider to keep an organized dresser!
INFINITE OFFICE SHELVES - Like a combination expanding file folder and letter tray organizer, EZSTAX makes a compact desk organizer taking up only as much room as the papers you've placed on each tidy, interlocking shelf. They make a great document organizer, file organizer, coupon organizer, bill organizer and more. Spread out and stack back up any time you like!
ORGANIZED TRAVEL ACCESSORY - EZSTAX are also an innovative luggage organizer. The stackable organizer system fits neatly into your suitcase to keep your clothes from bunching and wrinkling. Better than packing cubes as there is no need to unpack. Just pull what you want from the middle!
FOLD AND SORT LAUNDRY FAST - EZSTAX acts as a shirt folding board and laundry sorter too. Fold right onto EZSTAX, then stack and organize your whole family's laundry into neat straight piles, stacked high as you need. Simply return the empty ones to the laundry room with your dirty clothes for re-stacking! Better than other tshirt folders since with EZSTAX you leave the shirt on the folding board which goes with your shirt to the closet so your piles STAY neat all the time.
CRAFTING STORAGE AND FABRIC STORAGE - Use EZSTAX to sort and organize anything that folds flat to 10" wide and up to 2" tall. They make great scrapbooking paper organizers for your 8.5" x 11" supplies. Fabric storage, art supply storage and craft storage are all made easy with EZSTAX.
Publisher: EZSTAX LLC
Warranty: No warranty. Items damaged during shipping can be returned within 30 days of purchase.
Details: STAY organized in your closet, dresser, laundry room, suitcase, office, and more! Our patent pending innovative interlocking clothing dividers allow you to pull an item from the middle of a stack of clothes without making a mess out of the rest. You can also stack higher, and organize easier in your laundry room helping you make the most out of limited counter space. In the office, EZSTAX acts as an infinite series of shelves that take up only as much room as the papers you put on them. Spread out on EZSTAX, stack up, and spread back out again any time you like. Made in the USA from recycled plastic so you can rest assured you're helping the environment instead of harming it. EZSTAX comes in two sizes - Regular (11.5" wide x 13.5" deep x 2" tall) and Small (9.9" wide x 12.3" deep x 2" tall). Regular is great for standard sized clothes, shelving, and dressers and works great to help organize office papers if you like a little more surface area on the divider. Small is great for smaller sized clothes shelves, dressers, and has a 8.6" space between the fins that works great to keep letter sized papers organized.
UPC: 861209000204
EAN: 0861209000204
USD price as of publishing date listed on our website-