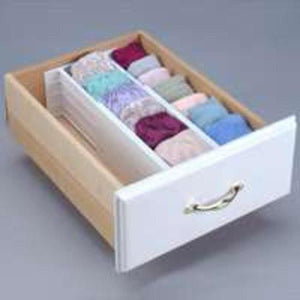 Spring-Loaded Drawer Dividers
Color:White
Perfect for socks and undergarments
Stay organized all the time!

4.1 x 4.5 x 18.5 inches
Are you tired of mismatched socks and having your underwear tangled together in an unrecognizable mess? Well no more! With Dial Industries Spring-Loaded Drawer Dividers, you can enjoy organized undergarments all the time. Made to fit and expand most drawers, you can easily slip these in and turn your mess into a success! The perfect gift for the organizationally-challenged, you will love giving the gift of cleanliness to those you love!