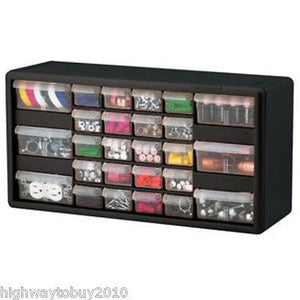 Lot sale of (4) new 26 Drawer Hardware Storage / Organization Cabinets by Akro Mils Inc.
Quantity of (4) :
26 Drawer Hardware Storage Cabinets
Rugged, High Impact Polystyrene Frame Resists Damage In Shipping & Storage 

Frame Back Interlocks Into Face Of Cabinets To Endure Abuse & Extreme Temperatures 

No Glued Backs To Fall Apart 

Cabinets Stack Or Wall Mount 

Drawer dividers molded into back of cabinet

26 virtually unbreakable drawers 

Small Drawers measure: 2-1/8" w x 1-1/2" t x 5-1/4" long

Larger Drawers measure: 4-3/8" w x 2"  t x 5-1/4" long 

Perfect for crafts, beads, hardware, fishing and more

Measures 20" wide  x 10 .25" tall x 6 3/8" deep

Made in USA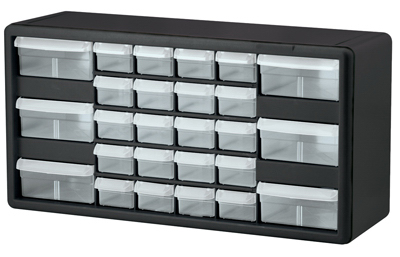 x (4) 
Unbreakable drawers, sturdy frames offer more storage space! Cabinets now offered in 100% recycled black material!
Strong plastic cabinets organize and protect loose items
Cabinets made of rugged, high-impact polystyrene frame, and unbreakable drawers
Interlocking cabinet frame and face ensure strength and durability
Cabinets stack securely and are wall-mountable
5 cabinet models offer a variety of sizes, drawer configurations
A limited number of drawer dividers included (dividers molded into backs of cabinets).  Additional dividers sold separately
100% recycled cabinet frame is eco-friendly alternative for small parts storage!